Vitamin E Moisture Cream
For dehydrated skin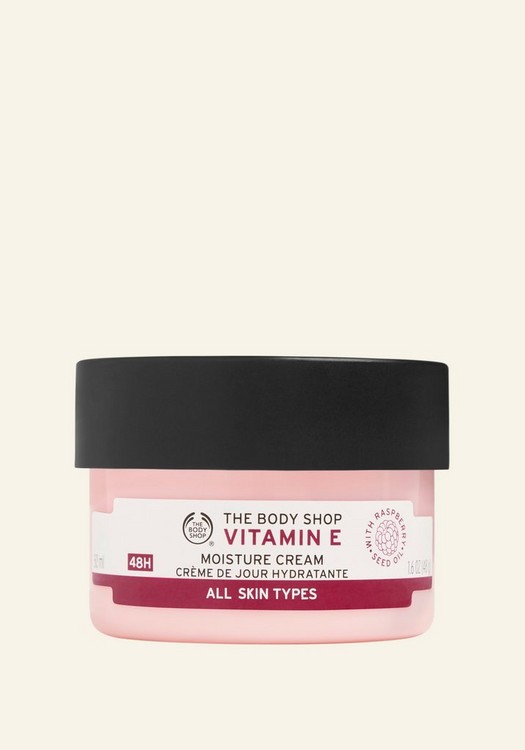 What does it do for you ?
A skincare staple since flares were first in fashion, our Vitamin E Moisture Cream helps restore moisture to your complexion, and locks in that much-needed H20. The result? A face that's sweet-smelling and satisfyingly supple.
No doubt you've heard of the vitamin E benefits for skin. But why's it so special, you ask? In short, it's a nutrient that skin loves. Our iconic 1970's formula, improved for modern times, sees vitamin E blended with naturally derived raspberry seed oil.
The last piece of the puzzle is hyaluronic acid. FYI: this might sound like something out of a lab, but it's all good, and actually occurs organically in our bods. We need a top-up as we age, not to mention to help ward off weather's drying effects.
Our easily absorbed vitamin E face cream does just that, helping to protect the skin. But more than that. It helps to restore vital hydration. To quench thirsty skin.
Little wonder, then, that our little pot of heaven has stood the test of time for generations. But heads up – as a multi-generational skincare must-have, your mum just might be pinching it from you.
Highly hydrating 48hr moisturising cream enriched with hyaluronic acid and raspberry seed oil
Ideal for all skin types, even dry skin
Dermatologically tested
Fast-absorbing, non-greasy feel
A daily go-to in your personalised skincare routine
Ingredients
194
---
---
---
Pretty good product
Vitamin E Moisture Cream
Anna xo
Time using product:
1+ month(s)
Posted date:
September 2020
This product might be good if you have dry skin but I have fairly oily skin which can be dry in areas and whilst the product is very good a moisturising the dry areas, the formula is a little too thick me and my oily skin. I started using the product at night and I think that worked best.
Was this helpful?
0 of 0 found this review helpful
---
Smells so nice
Vitamin E Moisture Cream
Button 83
Time using product:
1 week
Posted date:
September 2020
I got this as a sample in a gift set, it is just delish. I love the smell, it's soft to touch and I love how it feels on my skin, I will definitely be purchasing a full size pot when I run out
Was this helpful?
1 of 3 found this review helpful
---
Great purchase
Vitamin E Moisture Cream
Sarah369456
Posted date:
September 2020
Lovely moisturiser, my skin looks healthier and much softer after just a week if use. Would recommend this product. Smells lovely too!!
Was this helpful?
0 of 0 found this review helpful
---