Camomile Sumptuous Cleansing Butter
For sensitive skin
Gently removes make-up and impurities
Vegan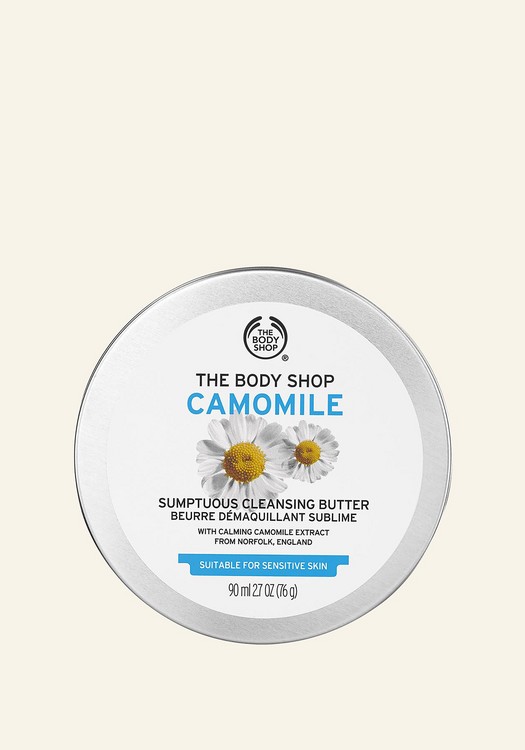 "Best on the market, I wouldn't use anything else now.."
What does it do for you ?
A lover for sensitive skin and contact lens wearers
Camomile extract from Norfolk, England
Cleanses your skin for that fresh-faced feeling
Gets rid of all that stubborn makeup and grime
Makeup. It's tough stuff – foundation, lipstick, waterproof mascara. And it gets even tougher when you try to take it off. Thankfully, our Camomile Sumptuous Cleansing Butter can help melt away makeup and all traces of impurities.
This buttery pot of goodness makes taking your makeup off at the end of the day a bit of fun. Your favourite eyeshadow? Gone in seconds. Caked-on concealer? Yep, that too. Any attempts at winged eyeliner vanish just like that. Massage our Camomile Cleansing Butter into your skin to melt the day away.
This purifying cleanser also helps to stop those hidden nasties from clogging up your pores, and used on the reg will keep skin feeling refreshed and nourished.
We know what you're thinking. After a long night out with a full face of makeup and a cocktail (or two), clean and clear skin is the last thing on your mind. But all of our Camomile products, and this rich cleansing butter in particular, effortlessly removes makeup in one quick step. Sorry, no excuses now!
Lather up with one of the best face washes for you – find yours now.
Ingredients
Camomile Sumptuous Cleansing Butter
Camomile Survival Kit
complete your routine
1979
---
---
---
Favourite cleanser.
Camomile Sumptuous Cleansing Butter
Blacksox
Time using product:
1+ year(s)
Posted date:
November 2021
Best on the market, I wouldn't use anything else now..
---
Leaves skin so soft
Camomile Sumptuous Cleansing Butter
It removes makeup easily while moisturizing skin. Love this
---
Melts waterproof mascara
Camomile Sumptuous Cleansing Butter
Luna1204
Received Free Product:
No
Posted date:
January 2019
Melts waterproof mascara better than anything I've ever used!
---