Share the Joy Advent Calendar
GET ME WHILE YOU CAN!
GET ME DELIVERED FREE
SAVE £22
NEW POP-UP DESIGN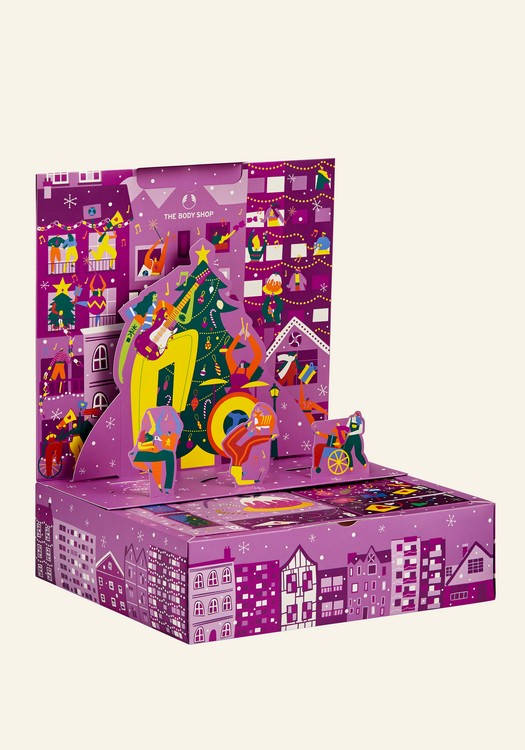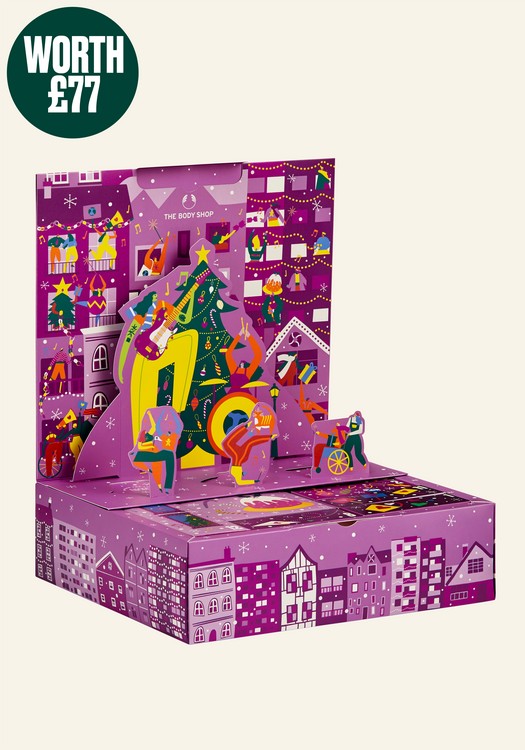 What does it do for you ?
Count down to Christmas Eve with the 24 little treats hiding inside our Share the Joy Advent Calendar.
Not only does our new beauty advent calendar have an amazing pop-up construction that transports you to our joyful Christmas world. It's packed with lots of little head-to-toe treats for keeping you and that beautiful body pampered all season.
We don't want to spoil the surprise, but we'll give you some hints on what you might discover inside…such as a couple of our wonderfully fragrant, tub-transforming Bath Bubbles. Or maybe you'll find some of our new Body Butters to love yourself with 96hr moisture. There might even be a Sheet Mask or two to pamper and refresh you and your skin.
If you can't wait, spoiler alert: our menu below tells you exactly what's waiting for you
Inside every box, you'll also find a little act of kindness so you can share some selfless love and joy with your friends, family and community. If you want to spread joy even further, why not share a few of your body-loving surprises with your favourite humans too?
Length 31cm x Depth 28cm x Height 8.3cm. Weight 1.7kg.
Not sure which calendar to choose, check out our advent calendar buying guide.
Ingredients
You have already added the maximum allowed quantity
19
---
---
---
Very Happy
Share the Joy Advent Calendar
happy ustomer
Posted date:
September 2021
bought as a gift recipient very happy
Was this helpful?
1 of 8 found this review helpful
---
Wooo! Lovely
Share the Joy Advent Calendar
Kerry A D
Time using product:
1 week
Posted date:
September 2021
I was gifted this and 100% couldn't wait to open it! Firstly, the packaging is fantastic really lovely quality and definitely reusable. Nice mixture of products, all smelling fantastic. I don't buy the lip balms generally as I find them a bit unhygienic but happy to receive them in this as it was a gift. This would have got five stars from me but although the eco-friendly shower lily is a very good idea, I do think it needs more work as it doesn't lather the shower gel enough in my opinion - maybe they just need to be a bit bigger? Anyway, fabulous for gifting or for treating yourself! Would recommend
Was this helpful?
1 of 12 found this review helpful
---
Love it!!!
Share the Joy Advent Calendar
Hant
Posted date:
September 2021
Wow! So i bought this for my mum and when it arrived i had to have a look inside and its so lovely! The packaging is very nice, i love that each item is individually boxed and it is great quality! Also great value. 55 pound for an advent calender sounds expensive but when you see the contents it is so worth it! Ordered myself one too now!
Was this helpful?
1 of 8 found this review helpful
---