Aloe Soothing Day Cream
20% off! Use code: STOCKUP20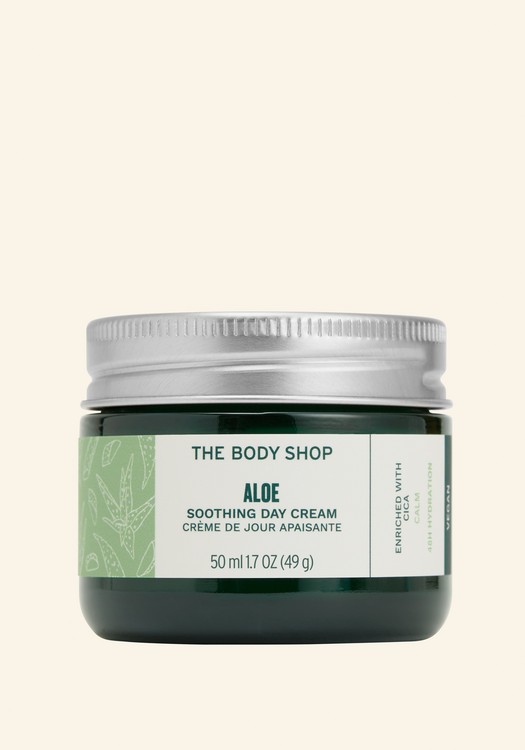 $52.00/100 ML (#1026769)
20% off! Use code: STOCKUP20
Community Fair Trade organic aloe vera
Naturally soothing on easily upset skin
Aloe vera is known for being ultra-gentle and soothing on skin. It's helped us formulate our Aloe range to handle sensitive skin with kid gloves.
It's a naturally hardy plant. Our aloe vera leaves are harvested and filleted by hand within 6 hours, which preserves the freshness and makes sure the aloe is the highest possible quality.
We source our organic aloe vera from Campeche in south-east Mexico. We work with expert farmers who really know their stuff, and can harvest the aloe while causing minimal harm to the environment. This is particularly important since the land is close to three precious rainforest biosphere reserves in the Yucatan peninsula.
Read more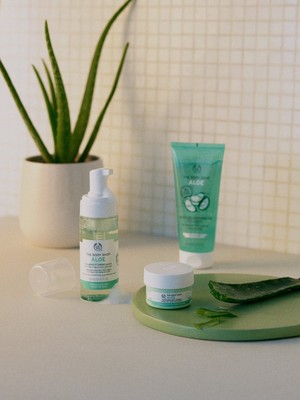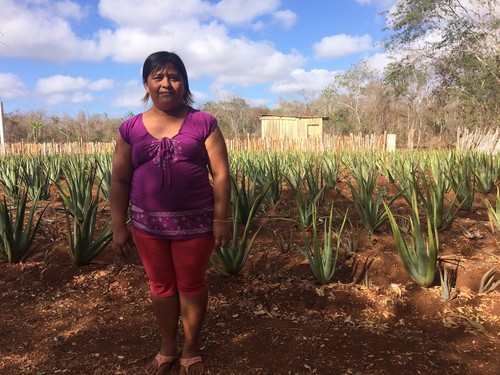 Since 2015, our trade has helped support the indigenous female farmers living on the edge of these rainforests, who could otherwise face discrimination and limited work opportunities.
What does it do for you ? Ingredients How to use Offers & Promotions Shipping and Returns Payment Methods
149
---
---
---
New formula is a miss
Aloe Soothing Day Cream
CESSs
Time using product:
1+ year(s)
Received Free Product:
No
Posted date:
December 2023
This used to be my favourite face cream and I recommended it to many. I was so pleased to see the switch from plastic to glass packaging BUT I sadly have to add to the chorus of reviews lamenting the formula change. The new product is thick and sticky and I won't be buying it again.
Response from The Body Shop:
Nevena, The Body Shop
Posted date:
Dec 8, 2023
Hi There! Thank you for your review and for giving our Aloe Soothing Day Cream a try! We are so sorry to hear that it did not compare to our old formulation. We have reformulated the Aloe Soothing Day Cream in order to make it even more ethical than before: it's now 100% vegan and certified by The Vegan Society. We appreciate you taking the time to share your feedback with us and your comments will be forwarded to the rest of our team!
---
Good
Aloe Soothing Day Cream
KM10
Received Free Product:
Yes
Posted date:
February 2023
Nice thick moisturiser, good for dry skin, not too greasy or shiny
---
Devastated in change of formula
Aloe Soothing Day Cream
Robyn1957
Time using product:
1+ year(s)
Received Free Product:
No
Posted date:
December 2023
I had bought this product for many, many years. Absolutely loved it. Sadly it has changed. It is more like the night cream and doesn't rub in quiet the same. My skin feels dry using it. This year I decided to plan ahead and bought several tubs, not knowing you had changed the formula or packaging. The glass jar is Ok. The aluminium lids dent very easily. Not attractive at all. Loved the previous version because I have sensitive eyes and that version didn't bother them. I absolutely dislike the current version and do not know what I am going to do the the extra tubs I bought. I definitely won't be using them or buying the day cream again. Added to that you appear to have discontinued the Aloe foaming face wash. Haven't been able to buy that for months.
---