Drops of Light™ Brightening Serum
For dull, uneven skin tone
Brightening
Vegetarian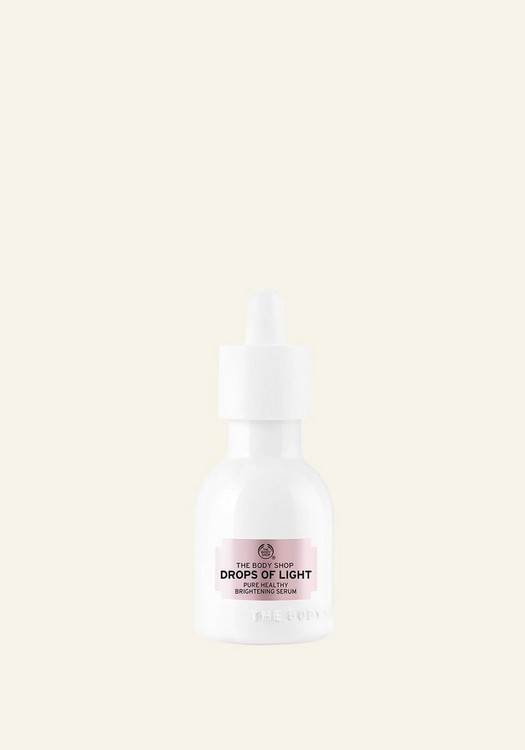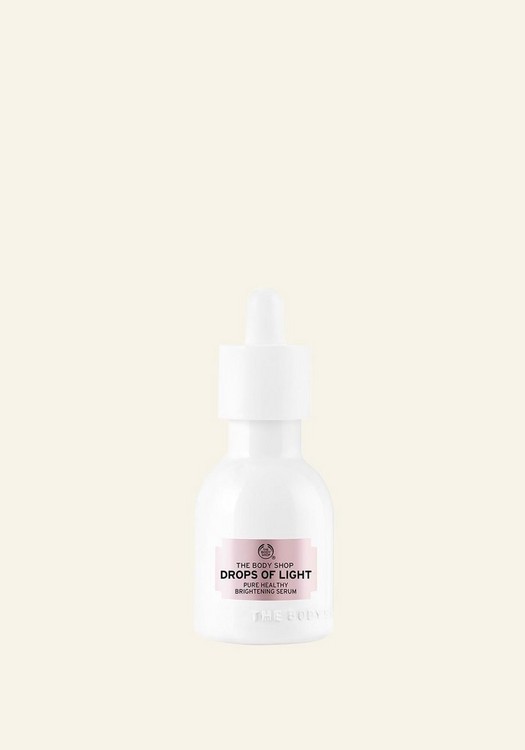 Who doesn't love sunshine on a rainy day? To celebrate the home of your sunny hardworking smile, here's our talented 'iccle bottle of brightness, our Drops of Light™ Brightening Serum, to help you pep up dull-looking skin to look more luminous and uneven skin tone appear more balanced.
Even the most healthy and vibrant skin needs a morale boost every now and then. Our Brightening Serum is your personal cheerleader when it comes to uneven skin pigmentation or tired-looking skin. This pot of joy goes on before your moisturiser and helps skin feel refreshed and helps bring out a brighter-looking complexion.
So, when you've got this serene pot of sunshine or any of our Drops of Light™ range by your side, you'll find glum days are always peppered with rainbows. You might also like our Vitamin C Brightening Serum, a past master at coaxing dull-looking skin to its radiant-looking best.
Dreamy lightweight texture, that quickly absorbs into the skin.
Dull skin instantly looks brighter and more luminous.
With regular use, skin appears smoother and more radiant with an even tone.
Take with you day and night for a burst of sunshine.
Drops of Light™ Brightening Serum
55
---
---
---
Helps with my acne scars
Drops of Light™ Brightening Serum
skepticalshopper
Skin Concern:
Hyperpigmentation
Time using product:
1+ year(s)
Posted date:
November 2020
This is my second time buying this serum. A few years ago, for the first time, I had a sudden and really bad case of acne. A large part of my right cheek was affected and when it healed I had these horrible, dark patches/scars. There wasn't a day where I didn't feel comfortable going out without being heavily covered in makeup. When I started using this serum the dark patches started disappearing! Note that there were a few months where I wasn't using anything to treat my face so I don't think they naturally faded away coincidentally at the same time I started using this serum. It's not a miracle product; my face definitely still has a few dark patches here and there. But my face is significantly less scarred now. I've gotten the confidence to go out with less makeup, or even no makeup now! This is my first time buying a pigment focused product so I'm not sure if there's something out there that works better for a lower price, but I can say this works for me so I'm happy to keep using this for now.
Was this helpful?
1 of 16 found this review helpful
---
Drops of Light™ Brightening Serum
Was this helpful?
0 of 4 found this review helpful
---
Quality Products
Drops of Light™ Brightening Serum
Delivery was fast. I had factored in when I ordered how much product I had left and gave myself enough to last a week. But I had my new items within 3 days, during a time when postage is slower then usual. The product itself is super lightweight and easy to apply. I find though if I hadn't gone into a store and spoken to a consultant then I wouldn't know how to put it on as the directions are unclear on the bottle. Not the end of the world, go into the body shop website and it tells you how to use the product. Still love the product and have seen results in my skin over the past year.
Was this helpful?
1 of 9 found this review helpful
---