Moringa Shine & Protection Conditioner
For dull hair
Vegan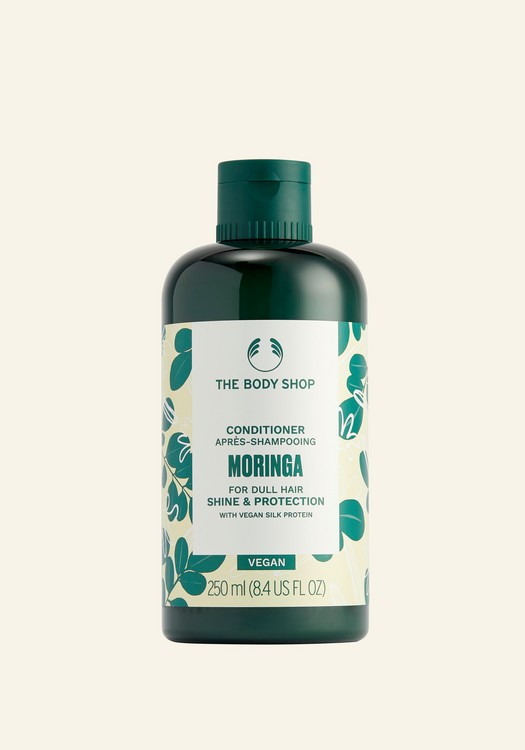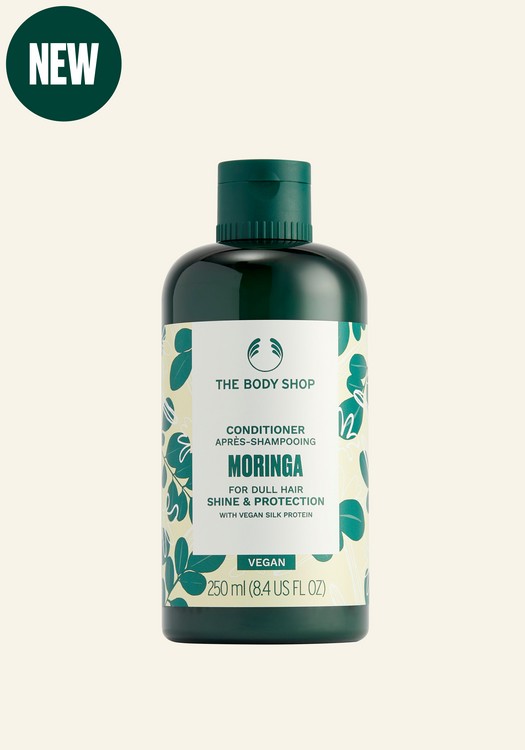 What does it do for you ?
Brighten up your barnet and bring dull hair back to life with our Moringa Shine & Protection Conditioner.

Registered by The Vegan Society and made with 96% ingredients of natural origin, including Community Fair Trade moringa seed oil and extract from Rwanda, our Moringa conditioner leaves dull hair looking shinier and more radiant and helps protect it from daily pollution.* It even leaves your hair feeling softer, smoother, healthier and as light as air.*

Made with Vegan Silk Protein, use this floral-scented conditioner as part of our 3-step Moringa hair care routine to help repair hair from the inside out.*

It also comes in bottles made with 100% recycled plastic, including Community Fair Trade recycled plastic collected off the streets of Bengaluru, India, so it does good for your do and your planet.**

*Achieved when used as a full routine of shampoo, conditioner and hair mist. Visibly repairs hair. **Lid not made with recycled plastic.
Nourishing conditioner
Perfect for dull hair
Leave hair looking shinier and more radiant*
Help protect hair from daily pollution*
Leave hair feeling softer and smoother*
Made with 96% ingredients of natural origin
Registered by The Vegan Society
Ingredients
Moringa Shine & Protection Conditioner
Community Fair Trade moringa seed oil
The miracle oil for skin
Moringa oil is a precious seed oil that's seriously rich in omega 9, and has been used to moisturise and protect skin for thousands of years. We love it.
Moringa is known as the 'miracle tree'. It grows strong in seriously challenging environments, helps other species thrive and produces super-nourishing seed oil. They don't need much water, which is good news for farmers in drought-prone areas, and the bees love the nectar of moringa flowers. Moringa trees create a canopy when they grow, which shelters nearby crops from the hot Rwandan sun, helping them thrive.
The farmers grow and handpick the moringa pods and use a process called 'winnowing' to separate the seeds from their shells.
Discover the Moringa range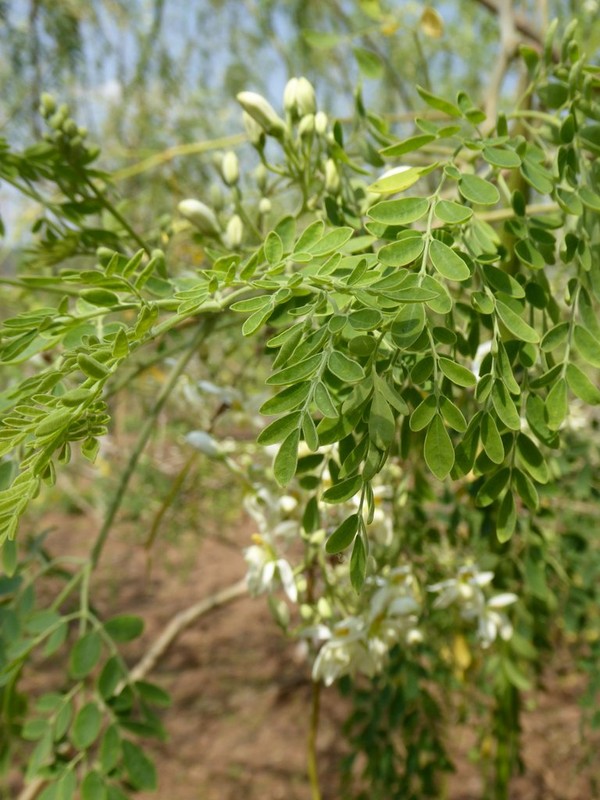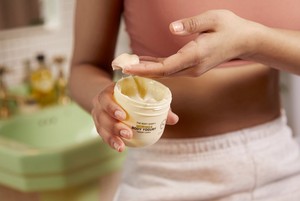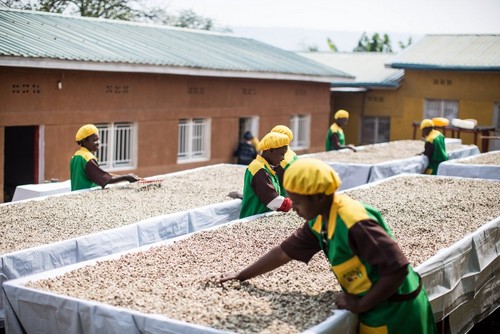 Our moringa seed oil comes from Asili Natural Oils, our Community Fair Trade partners in Rwanda. Our trade provides a sustainable income for farmers in the dry eastern provinces of Rwanda, where income opportunities are low.
1
---
---
Majorly Disappointed
Moringa Shine & Protection Conditioner
JeLovesDogs
Time using product:
1 month
Posted date:
October 2021
It took me YEARS to find my holy grail shampoo and conditioner in the Body Shop's Strawberry Glossing Shampoo and Conditioner. I hoarded that shampoo and conditioner because my hair was amazingly soft and shiny. When I found out they replaced that with the Moringa shampoo and conditioner, I wasn't concerned because Moringa is my absolute favorite scent at the Body Shop. Man, was I mistaken. While the smell is amazing, the performance is horrible. My hair feels like straw while the product is applied and while rinsing it out. When my hair dries, it is frizzy and nowhere near as shiny as when using the Strawberry Glossing line. I am so incredibly disappointed and saddened that now I will have to find a new company and product to provide my hair needs. =(
Was this helpful?
1 of 2 found this review helpful
---