What is Body Butter?
It's true, we owe a lot to our famous Body Butters, and to you for helping them reach cult status. We love that you love The Body Shop heroes and have voted for them in beauty circles. But if you're new to us, you may be wondering what all the fuss is about. It's important to say first off, it's the thousands of women in Ghana who help bring our Body Butters to you, who are the real heroes. All our Body Butters contain Community Fair Trade shea butter from Ghana. Our founder Anita Roddick first discovered shea butter in Ghana in 1992, used there for its intense moisturizing abilities.
Let's look at the science. What is it about our Body Butters that helps get limbs so deeply hydrated and ready for dancing more than your average pot? Well, a good Body Butter contains fatty acids like linoleic, oleic, stearic and palmitic, which are lapped up by your skin in a flash, helping hydrate and smooth skin. Then they form a protective layer which seals in this mega-moisturization for up to 24 hours, longer in some cases, but more on that in a bit. This also means that our joyful Body Butters are friends to almost all skin types. We have creamy tubs specially formulated for sensitive, normal, dry and very dry skin in our enthusiastic dance troupe-like range of Body Butters.
And what of this band of creamy hydrating merriment? We've gone to great lengths to bring you Body Butters with all your favorite ingredients and fragrances. We know your snozzle is the gateway to beginning the relaxation process and getting your groove on, so we reckon we have something for every nose. Here's a teaser – imagine the sweet smell of strawberry at a quintessentially British tennis tournament, the alluring aroma of coconut – not the clippity-clop variety, more the endless white beach, Samoan ones. Or perhaps the nutty notes of shea, all the way from feel-the-African-beats Ghana, or the delicate floral fragrance of moringa from Rwanda. Your senses will be making their way to the dance floor before you can open the bathroom door.
STEP 1: Scoop it out
Dive into our creamy Body Butter tubs with your fingers, scoop out a small dollop of Body Butter. Top tip – these are rich pots of our skin's favorite nutrients, so a little goes a long way.
STEP 1: Spread it on
Then take a deep breath and start enjoying spreading your favorite creamy Body Butter all over your happy body, you might even hear your skin gratefully slurp up the goodness as you go.
STEP 3: Massage it in
Go for it – using soothing circular motions, massage the Body Butter into your skin with enthusiasm, fingers, thumbs – anything goes. No need to rub too hard – these buttery beauties are formulated to absorb super-easily. Pay special attention to dry bits – hint, hardworking elbows and knees love an extra rub.
STEP 4: Let it absorb
Take a few minutes to admire your fine work and give your freshly moisturized body a little wiggle to your favourite tune. By the time you've done that, our easily absorbed Body Butters will have vanished into your skin, leaving you to get your silky-smooth bod dressed and ready for any kind of disco action the day has to offer.
Body Butters for dry skin
Body Butters for Sensitive Skin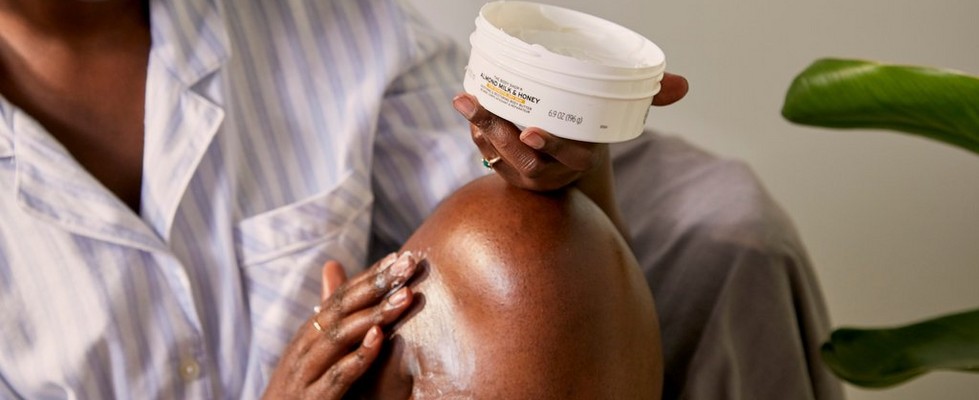 Almond Milk and Honey Soothing & Restoring Body Butter
Who's been over doing it then? Our heavenly Almond Milk & Honey Soothing & Restoring Body Butter, might just save your soul and your skin. Enriched with organic almond milk from Spain, this divine Body Butter helps to soothe tight, dry, extra-dry and sensitive skin. Uh-huh. With a lavish 48 hours of intensely hydrating attention, you'll be bouncing again in no time.
Shop now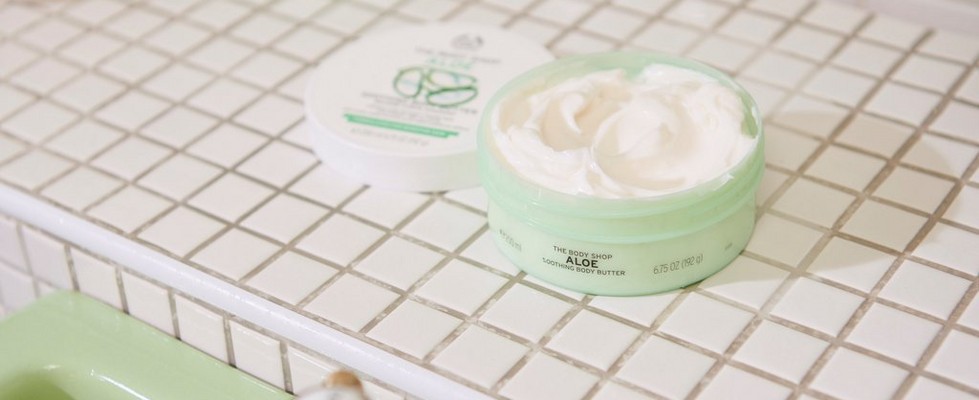 Aloe Soothing Body Butter
And now for our much adored saint of butters, Aloe Soothing Body Butter. With gentle soothing gel from our aloe vera, combined with shea butter's lavish hydration, we have a creamy tub of goodness that can calm even the most ruffled of skin. Treat your skin to an early night with the pure simple kindness of this smooth operator.
Shop now