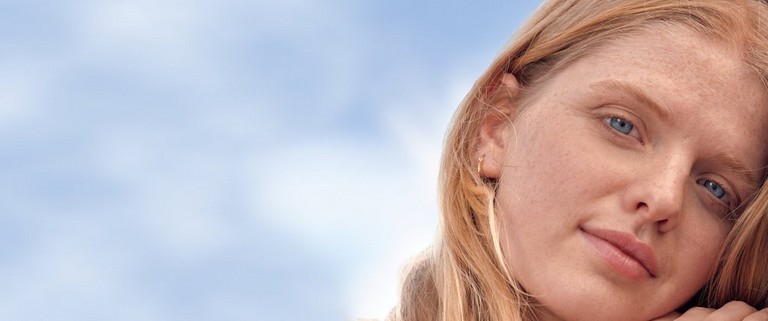 What is hyperpigmentation?
Speckles, freckles and sometimes unwanted blemishes. Otherwise known as hyperpigmentation, or nature very much doing its thing in terms of protecting your sensational skin from the sun's harmful rays. And in her own way, nature is a talented artist popping the finishing touches or beauty spots just where we like them. Or, on the other hand, sometimes going slightly off-piste and making her mark just where we don't want her to. Hyperpigmentation is light brown to black skin spots or patches appearing in any shape or size, in clusters or solo. They're very common and are mostly harmless.
What are the characteristics of hyperpigmentation?
Sun spots
Sun spots are the most common type of hyperpigmentation. We know these are caused by the body's natural defense when we over-expose it to the sun's harmful UV rays, but what do they look like? They tend to appear on parts of your body that see the sun the most, so your face and hands mostly. They can be black, brown or grey and show mostly as freckles or splodges.
Post-Inflammatory hyperpigmentation (PIH)
This is when skin changes color anywhere on your body after damage such as a wound, a rash or sometimes acne. That's because melanin is produced when skin is healing and overproduction can form patches of a different skin color, ranging from white, pink to red, purple, brown, or black, depending on your skin tone. Always see your doctor if you have any concerns.
Melasma
Melasma is another type of hyperpigmentation where your skin responds to hormonal changes in your body. It tends to be more common in women, quite often during pregnancy or if you're using hormone based contraception. Here skin tends to form patches of black or brown on the face or sometimes your tummy. Do talk to a doctor or dermatologist if you're worried.
The best products to help with hyperpigmentation
Vitamin C Glow Revealing Serum
Made with a whopping 10% vitamin C, this light and zingy serum is enriched with our highest concentration ever. It's clinically proven to help reduce the appearance of uneven pigmentation1, leaving skin feeling smoother and plumped with 24hr moisture, with a giddy glow.
Shop now
Vitamin E Moisture-Protect Emulsion SPF30
Don't forget your good friend, SPF moisturizer. Sweep on this lightweight, multitasking moisturizer every day, even in winter. Enriched with vitamin E and moisturizing wheatgerm oil. This light moisturizing lotion with SPF of 30 for UVA and UVB protection, assists in the prevention of premature skin ageing.
Shop now
Vitamin C Concealer
Enriched with vitamin C, this lightweight, crease-free formula hits the sweet spot between mid to full coverage. Tap it under the eyes and over dark spots to smooth the appearance of hyperpigmentation and spotlight skin's radiance in all the right places. It's certified by The Vegan Society, suitable for all skin types and available in 20 shades for the perfect match.
Shop now
Our new Vitamin C range is now made with at least ingredients and concentrations of up to 10% vitamin C. Our range helps reduce the appearance of uneven pigmentation and leave skin with a super glowy, radiant finish, making it perfect for every day.
The Body Shop Skincare Expert
Shop Vitamin C range
*Clinical tests performed on a 22 Asian panel over 8 weeks including both instrumental measurement (spectrophotometer) and clinical scoring, where the technician grade the subject's skin from 1-9.