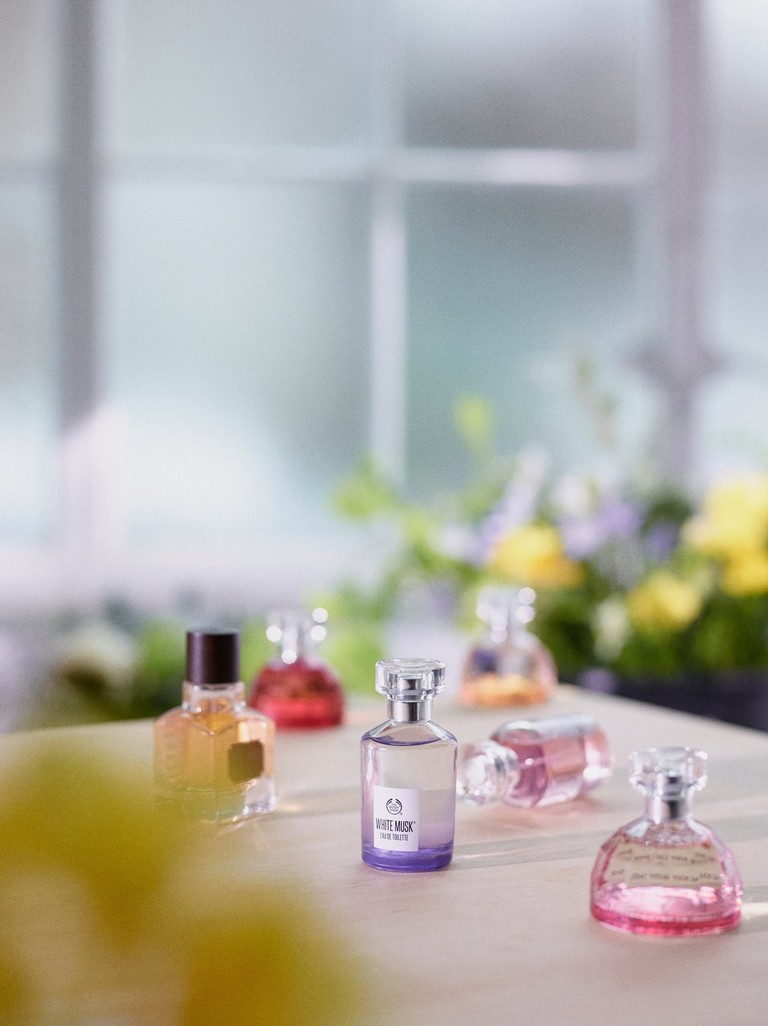 FRAGRANCE FINDER
Welcome to the mysterious world of fragrance. We're here to help you unravel the mystery of your nose and find your fragrance. There are some very good reasons why human smell is so powerful and why our experience of scent is so personal. Those wise Ancient Egyptians revered the nose as the most important of all orifices. Turns out our clever schnozzles can detect 10,000 more smells than the tongue can detect tastes. Smell was the first sense to develop in our ancient brains and it's wired to the emotional part of our brain that connects to our memory. So, let's help unleash your nose power.
How to pick the right fragrance?
Choosing a scent for yourself or someone you love can be tricky, but fear not, we're here to help you train your nose to start matching fragrances to a mood, a person or an important event. First, open your senses to identify your favorite family scent. Smell evokes powerful emotional responses – triggering feelings of happiness, sadness, excitement or calm. Now that you've become a perfumer's nose, it is time to learn the ins and outs of fragrance concentration and pick your preferred fragrance type. Eau de toilette or Eau de parfum will no longer hold any secrets for you. Read our tips to find your signature scent or choose the perfect fragrance gift for a special someone.
Compare by scent
Did you know there are such things as "fragrance families"? Yep. Just like colors, scents can be grouped together according to how closely related they are – and even matched with complementary scents, just like colors. Fragrance families can be split into four main groups – fresh, floral, warm and woody – each having distinct characteristics. You'll find your schnozzle gravitates towards one scent family over another without much help from your conscious brain. So, go with this instinctual response and sniff out scents that belong to your nose's favorite family. Have a nose round our Fragrance Finder for some inspiration.
Compare by fragrance type
For centuries humans have been trying to capture the alluring scents of nature to enhance their own smell. Perfumes combine with our own unique body chemistry and smell slightly different on every person, making choosing your fragrance all the more fun and personal. Once you've identified a scent family your nose longs for, next you have to decide how intense you want the smell to be. The word perfume comes from the Latin 'per' meaning 'through' and 'fumum', or 'smoke'. In the early days perfumes were made from natural oils and then pressed or steamed. Science now allows perfumes to be made in all kinds of clever ways in harmony with the planet. The intensity and how long a scent lasts depends on the concentration of oil it's made with – 'eau de parfum' being higher and lasting the longest, with 'eau de toilette ' being lighter and 'body mist' being the most delicate of all three.
"Have used it for many years and still receive compliments on the scent, even from strangers!"
About White Musk® Eau de Toilette
Shop now
Our best fragrances for him
Tradition says there are masculine and feminine scents, but in reality, whatever you fancy goes. Our olfactory senses meet the memory part of our brain and it may be that certain fragrances remain associated with people or gender from our past. So, back in the day, granny may have only had floral scents to choose from, meaning we might associate those more strongly with ladies. We want the guys to feel special, so we've created special fragrances for him. But ultimately it's up to you, your noses and how every individual body reacts differently with any given scent.
Woody Musk
For grounded go-getting guys, we're thinking – man at one with nature – he who gets out into the great outdoors at the drop of a hat. Who's as happy sorting out the campsite as he is sorting out the world on his laptop. If that's you or your guy try our iconic White Musk® For Men Eau de Toilette – it's a gorgeous warm yet fresh scent, enriched with enveloping notes of lavender, geranium, musk and sandalwood.
Shop now
Woody/Spicy
Next up we have something special for the passionate guy who leaves no stone unturned when fighting for the greater good. He's everyone's leader, all heart and all action – whether it's an elderly neighbor who needs a helping hand or a global issue that needs a smart idea. For him, try our Activist™ Eau de Toilette, it's the perfect life-enhancing balance of a warm and spicy heart with toe-tingling woody base notes.
Shop now
How to apply perfume?
Is there a knack for applying perfume? The answer is yes! There are ways to make sure you get the most out of your scent and help make it last longer. And who wouldn't want your nose and all the snozzles around you to enjoy whatever gorgeousness you're exuding for as long as possible. Here are some of our top tips to take you and your nose on a blissful journey into the dreamy world of scent expertise.
Step 1
First up, where's the best place to spray perfume? You're looking for your 'pulse points' – places where your blood vessels are close to the surface, helping the scent to get absorbed by your body efficiently and where there's more heat to help it diffuse. So, there's the obvious places like your wrists and neck, but you can also head to less obvious places like the inside of your elbows and your knees or just below your belly button.
Step 2
When it comes to what distance from your body to spray at, it's slightly personal and can affect the intensity of the scent. But as a general rule of thumb, or should we say nose, you don't want your skin to appear wet with the scent. You want to be far enough away so the fragrance arrives on your skin as a fine spray and is diffused over a patch of skin where it can be absorbed easily. This tends to be at least 5 inches (12cm) away from your body.
Step 3
Now for a major myth buster – you may have seen your mom or seductive actors in adverts spray onto their wrists and then dab them together as though sending the scent deep into the body or savoring it for a seductive moment. Wrong! Perfume likes best to be left to settle atom-by-atom on your skin and gently diffuse and reveal itself to you and the world in it's own time. Rubbing it may encourage it to vanish faster than if you leave it to its own devices.
Step 4
Now this may sound obvious, but in the depths of winter it's easy to forget. Perfume likes to breathe on your skin and gently immerse itself into the air around you. So, if you squirt behind your knees and then cover up with thick wooly tights, that heavenly scent will stay in your tights and not get to be unleashed on the world. So, you've got lots of options where to spray, just choose the places you're not about to cover up with clothes. Simple!
Step 5
Just like a lot of things with a naturally-derived, where you store your perfume will factor into its lifespan. The heat and humidity of the bathroom may cause it to disperse its scent quicker, as will a sunny bathroom shelf or bedroom window sill. Best places to pop it are somewhere cool, away from radiators and sunbeams. A cool bathroom cabinet or dressing table out of the sunlight will do the trick nicely.