OUR RESPONSE TO COVID-19
In these extraordinary times, it can feel like we are facing challenges at every turn. But we're a business that's always done things a little differently. Our founder, Anita Roddick, believed in the power of small acts of kindness to make a difference to people's lives. We're continuing to put people first by implementing important new measures to safeguard our staff and make shopping easier for our customers.
As Anita would say, it's 'business as unusual'.
DELIVERY AND RETURNS
Stay at home and we'll come to you. We've extended our returns policy to 60 days. Our carriers UPS, FedEx and TForce are following protocols to ensure safe delivery.
It's worth noting that due to the increased numbers of online orders and the measures we have put in place to keep our colleagues safe, some orders may take a bit longer to be delivered. We hope you will understand, and we will work to get your order to you as soon as possible.
REOPENING OUR STORES
Like many retailers, we've had to work very fast and flexibly to respond to the impacts of COVID-19 and to reflect the ever-evolving government advice that varies by country.
The health and wellbeing of all our teams and customers is crucial to us and will always be our number one priority. We've worked with independent health and safety experts to put in place measures to ensure the safety of everyone in our stores when they reopen. Here's what to expect:
1
New store opening hours to help our teams travel safely.
2
We're limiting the number of people allowed instore.
3
Our teams will be following social distancing and there will be 2m floor markings.
4
We're encouraging contactless card payments.
Alaska:
Dimond Center (Sept 4)
Arizona:
Chandler Fashion Center (July 31)
California:
Irvine Spectrum (July 3) University Town Center (July 3) Hillsdale (July 17) Valley Fair (Sept 1) Brea (Sept 2) Century City (Sept 4) San Francisco Centre (Sept 5) Great Mall (Sept 5) Sunvalley Mall (Sept 5) Arden Fair (Sept 5) Fashion Fair (Sept 25)
Colorado:
Cherry Creek (July 3)
Flat Iron Crossing (July 3)
Park Meadows (July 3)
Denver Airport Concourse C (July 17)


Connecticut:
Westfarms Mall (July 3)
Buckland Hills (Sept 4)
SoNo (Sept 4)


Delaware:
Christiana Mall (July 17)


Florida:
Sawgrass (June 20)
Florida Mall (July 22)
Tampa Airport (Sept 4)
Fort Lauderdale (Sept 28)


Georgia:
Lenox Square (July 17)
Perimeter Mall (July 17)


Illinois:
State & Madison (July 17)
Fashion Outlet of Chicago (July 17)
Woodfield (July 17)
WaterTower Place (Sept 4)


Indiana:
Fashion Mall at Keystone (July 3)


Maine:
Maine Mall (July 3)


Michigan:
Twelve Oaks (July 3)
Detroit Air (July 31)


Maryland:
Annapolis Mall (July 17)
Columbia Mall (July 17)
BWI Airport (July 31)
Towson Town Center (Sept 4)
Montgomery Mall (Sept 4)


Massachusetts:
South Shore Plaza (July 17)
Natick Mall (July 17)
Burlington Mall (July 17)


Minnesota:
Mall of America (July 31)
Southdale Centre (Sept 4)


Missouri:
St Louis Galleria (July 31)


Nevada:
Meadowood (July 3)
Fashion Show (July 31)
Miracle Mile (Sept 4)


New Jersey:
Willowbrook (July 17)
Menlo Park Mall (July 17)
Quakerbridge Mall (July 17)
Newport (July 31)
Garden State Plaza (July 31)


New Hampshire:
Rockingham (Sept 4)
Mall of New Hampshire (Sept 4)


New York:
Colonie Center (July 31)
Roosevelt Field (July 31)
Walden Galleria (Sept 4)
Queens Center (Sept 18)
Hudson Yards (Sept 18)
Kings Plaza (Sept 18)
Staten Island (Sept 25)


North Carolina:
SouthPark Mall (July 3)
Charlotte Kiosk (July 17)
Charlotte D&E (July 13)
CLT - Terminal A (Sept 4)
Crabtree Valley (Sept 8)


Ohio:
Easton Town Center (July 3)


Oregon:
Washington Square (July 3)
Valley River Center (Sept 4)


Pennsylvania:
Liberty Place (July 31)
King of Prussia (Sept 4)


Texas:
Stonebriar Mall (June 20)
Barton Creek (June 20)
Baybrook Mall (July 21)
Houston Galleria (July 17)
Houston Air (July 31)
Northstar Mall (Sept 4)


Utah:
Fashion Place Mall (July 3)


Vermont:
Church Street (July 3)


Virgina:
Dulles Town Center (Sept 4)
Fair Oaks Shopping Center (Sept 4)


Washington:
Alderwood (July 17)
Bellevue Square Mall (July 17)
Vancouver Mall (July 17)
Columbia Center (Sept 4)
Southcentre (Sept 4)
ENSURING THE SAFETY OF OUR STAFF
The health, safety and well-being of all our colleagues is crucial to us and will always be a top priority. We've put in place new measures to ensure the safety of our colleagues packing orders in our distribution centers, and also with our distribution companies.
We are reviewing the latest government and medical advice and are updating our procedures on a daily basis. We regularly communicate to everyone working in the warehouses, so they understand the new rules for safe working. These include ensuring that employees are working at least six feet apart from each other, reduced team sizes, breaks between shifts and regular sanitization of work areas. We're incredibly grateful to our committed staff who are continuing to support our customers and communities through their work.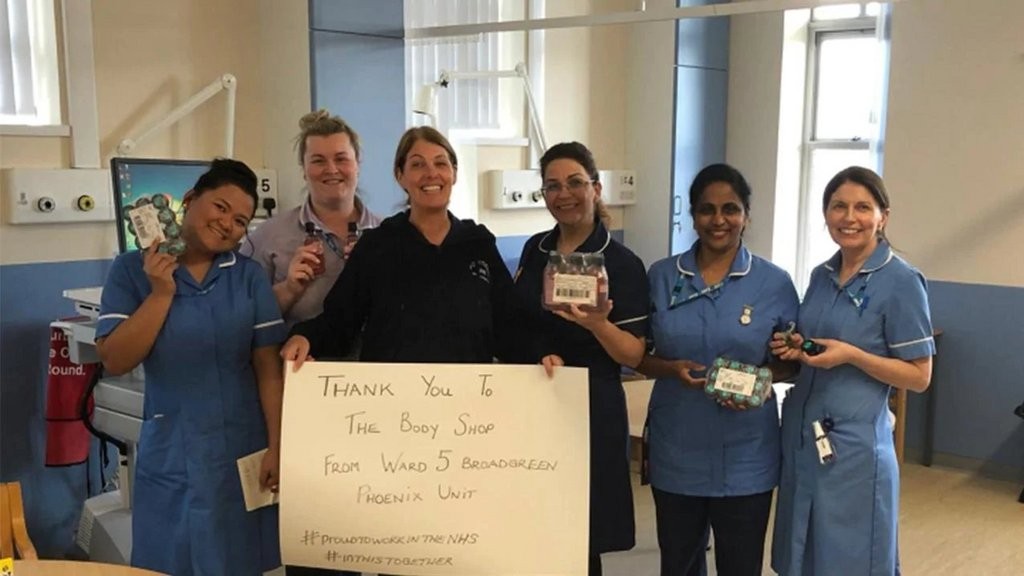 HELPING OUR COMMUNITIES
We are working hard to get donations of our products out to frontline workers across the world and are continuing to find ways to support, help and take care of our communities.
WE'RE HERE TO HELP
Whether you need a routine to calm your mind, body and soul, some skincare advice or recommendations for the perfect gift, thebodyshop.com is open around the clock and has a wealth of tips, advice and how-to guides.
Our Live Chat is available for order support between 9am-10pm, or you can contact our customer care team by email or telephone. Please expect a short delay in our response from the team as we are expecting a higher volume of delays than usual.
We love hearing from you, and now more than ever. Don't forget to keep in touch with us on Instagram and Twitter, always tagging @thebodyshop to make sure we see your message. Stay in touch!