Grapeseed Glossing Serum
For dull hair
Fruity scent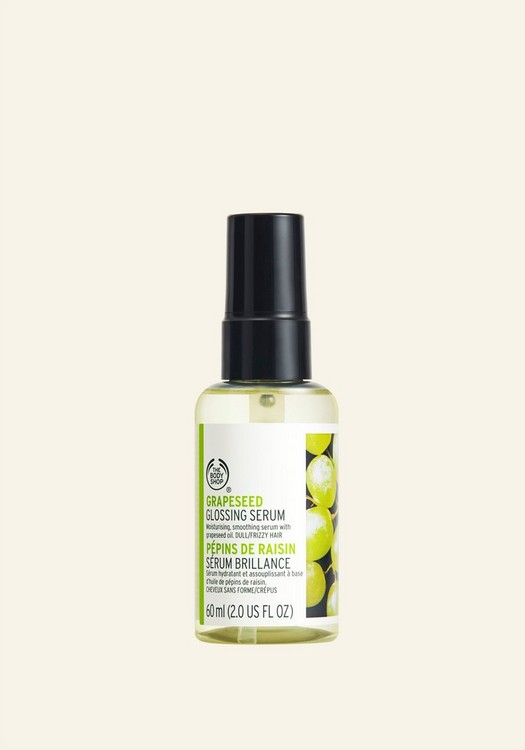 What does it do for you ?
Smooth your hair and increase the shine with this glossy serum. Apply a small amount through your hair, for the best results.
Hair serum
Adds gloss
Easily washed out
For dull, frizz prone hair
Contains grapeseed extract
Community Trade sesame seed oil
Ingredients
2
---
---
---
My hair needs this
Grapeseed Glossing Serum
ChrissieBes
Posted date:
October 2021
When they repackaged this, and yes decreased the amount per bottle, it wasn't available and I was not looking forward to finding something to use in its place. It is perfect for my dry, fine hair. It always calms the frizz without weighing it down. Im so happy it is available again! A little bit goes such a long way, that regardless of the amount reduction, you will have it forever. I highly recommend it.
Was this helpful?
1 of 2 found this review helpful
---
Inflation, by any other name
Grapeseed Glossing Serum
I often, but not too frequently, purchase Grape Seed Serum for my hair as it seems be a very light oil on application, but leaves no greasy residue. With the last batch I purchased I noticed a small change in the bottles containing the serum. On further examination I noticed that the containment had also reduced from 75ml to 60ml - a 20% reduction. I did not notice any significant reduction, if any, in price. Inflation by stealth comes to mind!
Was this helpful?
1 of 14 found this review helpful
---