Calm & Camomile Cleansing Gift Set
$40 VALUE
FOR SENSITVE SKIN
CHRISTMAS GIFT SET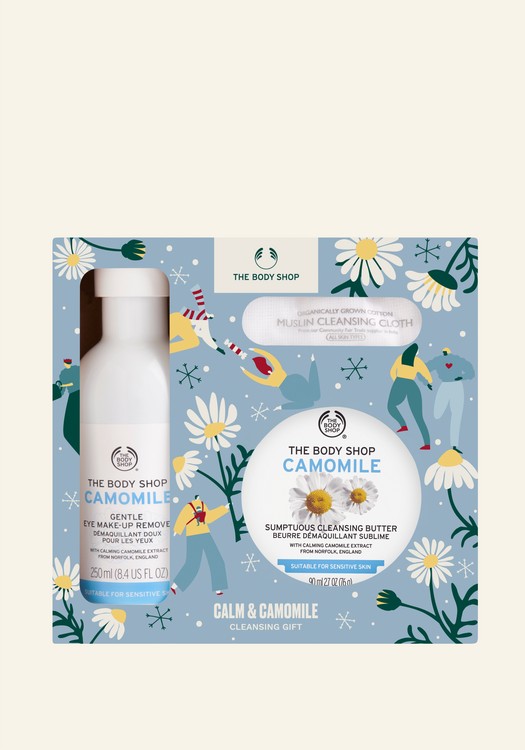 Gently remove the toughest makeup this Christmas with our Calm & Camomile Cleansing Gift set. Enriched with camomile extract, this vegan duo is perfect for Christmas party aficionados with sensitive skin.
Calmly and caringly melts away makeup and any trace of impurities with our Cleansing Butter. Use regularly to help reduce blocked pores and leave that beautiful skin feeling refreshed and nourished.
Next, remove mascara, erase eyeshadow and eliminate eyeliner with our Eye Make-Up Remover. Whether you love bold glitter, winged eyeliner or statement smokey eye, this remover will be your new best friend for Christmas and beyond. It's kind to the delicate skin around your eyes and leaves it feeling super soft.
Paired with our organic Muslin Cloth, they're the ultimate dream team. This gift set is the perfect stocking filler, festive treat or Secret Santa surprise.
This gift doesn't just bring joy to the people you love. Discover how it also helps spread the love and share the joy with the most selfless people in our community.
Camomile Gentle Eye Make-Up Remover 8.4 FL OZ
Camomile Sumptuous Cleansing Butter 3 FL OZ
Camomile Muslin Cloth
Calm & Camomile Cleansing Gift Set