Box of Wishes Advent Calendar
Beauty advent calendar
24 little surprises
Countdown to Christmas 2022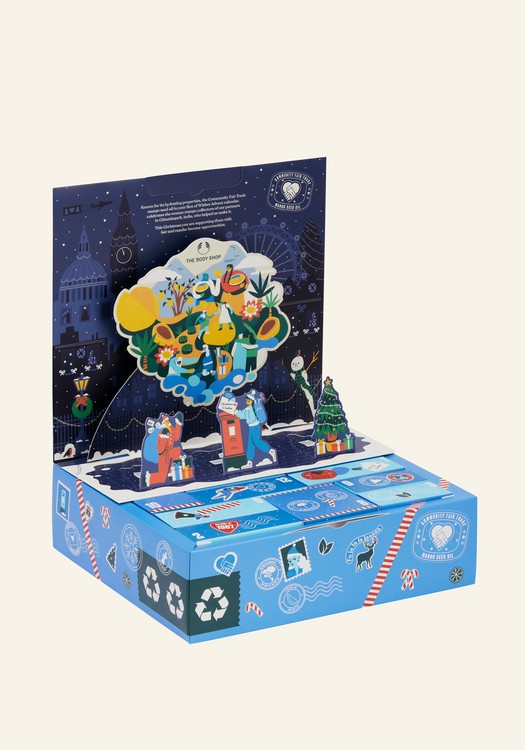 What does it do for you ?
Find daily joy as you count down to Christmas Eve with the 24 little surprises inside our Box of Wishes Advent Calendar.

Our new beauty Advent calendar features an amazing pop-up construction that transports you to the world of the women who make our Community Fair Trade mango seed oil in Chhattisgarh, India.

We won't give too much away, but you can be certain that it's bursting with head-to-toe treats for keeping that beautiful body of yours feeling pampered this Christmas...

Perhaps you'll find a couple of our wonderfully fragrant Shower Creams. Or our must-have Mango Body Butter, enriched with Community Fair Trade mango seed oil, to help hydrate your skin. There might even be a Sheet Mask or two to love your face in time for Christmas Day.

We'd love you to wait to discover what else is hidden inside, but if that's just too hard our menu below gives the game away.

With every Box of Wishes, you'll also find little facts about our Community Fair Trade partners or an act of kindness, so you can share some wonder and joy with your friends, family and community. You can even reuse the pop-ups as gift tags, and the drawers are great for storing crafts and other little bits and bobs, long after Christmas.

And remember, this Advent calendar doesn't just bring you and the people you love, happiness; it also supports our global partners in India with fair and regular income opportunities.

Christmas gifts really don't get much more wonderful than this.
1. Strawberry Shower Gel 60ml
2. British Rose Hand Cream 30ml
3. Raspberry Born Lippy
4. Bath Lily Mini Ramie Gift
5. British Rose Shower Gel 60ml
6. Tea Tree Face Wash 60ml
7. Satsuma Soap 100g
8. Mango Body Butter 50ml
9. Shea Hand Balm 10ml
10. Vitamin C Glow Sheet Mask 18ml
11. Shea Intense Repair Shampoo 60ml
12. Shea Intense Repair Conditioner 60ml
13. Pink Grapefruit Shower Gel 60ml
14. Strawberry Lip Butter 10ml
15. Mango Shower Gel 60ml
16. Himalayan Charcoal Purifying Glow Mask 15ml
17. Hair Claw (1 piece)
18. Almond Milk Shower Cream 60ml
19. British Rose Shower Scrub 50ml
20. Vitamin E Quench Sheet Mask 18ml
21. Shea Soap 100g
22. Strawberry Hand Cream 30ml
23. Avocado Shower Cream 60ml
24. Almond Milk Body Butter 50ml
Ingredients
201
---
---
---
Buy it!
Box of Wishes Advent Calendar
AimeeS
Time using product:
1 week
Received Free Product:
No
Posted date:
November 2022
This was my first purchase from the body shop. I had never tried their products. I highly recommend the almond body butter, tea tree facial wash and the shea shampoo and conditioner if you have frizzy, thick, dry hair. So glad I was able to sample their products! Oh, and their sheet masks will make your skin glow like you wouldn't believe even after applying makeup. Awesome!
---
A literal box of wishes!
Box of Wishes Advent Calendar
Lauralou92
Time using product:
1 week
Received Free Product:
No
Posted date:
September 2022
I missed out on advent calendars last year so I was determined to get one for myself this year… I just can't wait until December! Extremely fast delivery and love every single product in here! Amazing service thank you!
---
Box of Wishes Advent Calendar
BobcatHarley
Time using product:
1 month
Received Free Product:
No
Posted date:
November 2022
---