Coconut And Yuzu Hair & Body Mist
Fresh scent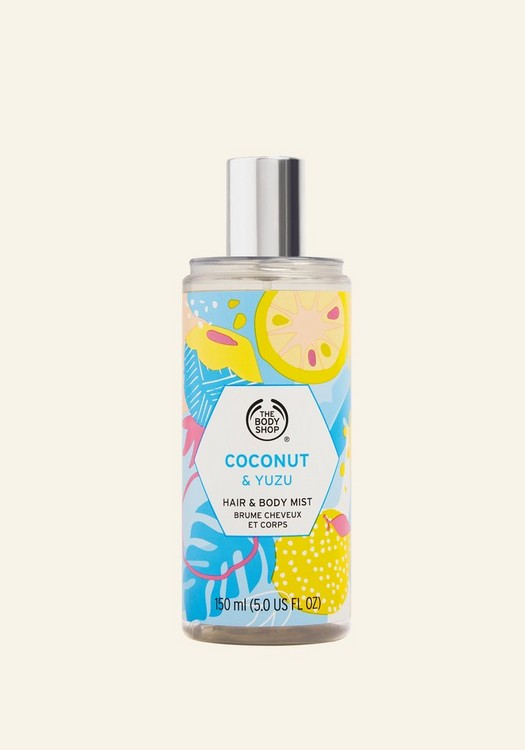 What does it do for you ?
Get a refreshing and uplifting burst of fragrance with our superfood-inspired Hair & Body Mists. Perfect for when you need a quick pick-me-up, these cute and colorful mists are inspired by ingredients from around the world to freshen up your hair and body, and gives you those feel-good vibes wherever you are. Pick Coconut & Yuzu for a fresh, tropical scent to make you feel like you're on holiday. Grab one in every flavor to stash in your desk drawer, handbag and gym bag. Mix it up, swap them, and carry one everywhere.
Portable fragrance mist
Fresh scent with notes of yuzu, coconut and jasmine
Perfect for spritzing on-the-go
Ingredients
3
---
---
---
Didn't like it
Coconut And Yuzu Hair & Body Mist
Domenick
Posted date:
October 2020
I thought this would actually smell like coconut and yuzu but it doesn't smell anything like it. It's a very strong alcohol smell. Nothing like what I was expecting from a BS product. I gave it to my Mom thinking she may like it and she didn't either.
Was this helpful?
0 of 0 found this review helpful
---
Lovely
Coconut And Yuzu Hair & Body Mist
Craze4coconut
Posted date:
September 2020
I was nervous purchasing this online before trying, but I love it. The Yuzu is unique and pairs great with the coconut. Glad I got it.
Was this helpful?
1 of 2 found this review helpful
---
Love the scent!
Coconut And Yuzu Hair & Body Mist
This is a review for the coconut yuzu body and hair mist. It has a soft, summery (but would happily wear it in the winter) scent that is perfectly balanced- not too heavy or light like it will wear off too fast. The balance between the coconut and yuzu is well done- the yuzu is a bit sweet & citrusy and comes through more than the coconut. It isn't artificial smelling and it is adult like. I really want to smell the others!
Was this helpful?
1 of 11 found this review helpful
---