Coconut And Yuzu Hair & Body Mist
Fresh scent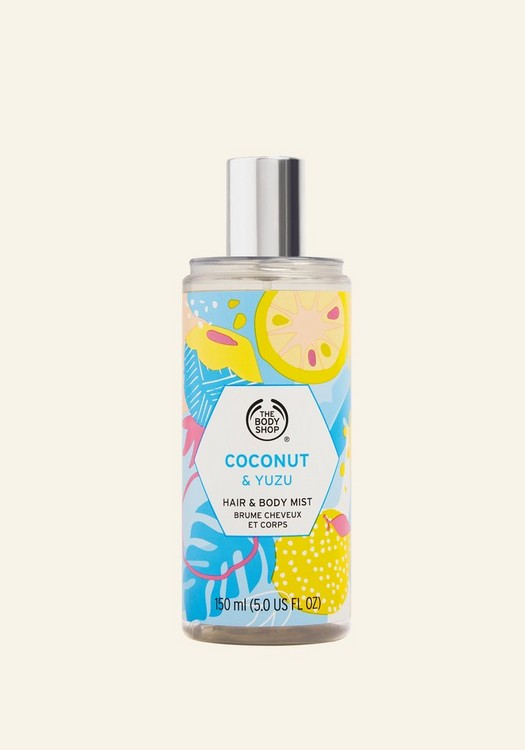 What does it do for you ?
Get a refreshing and uplifting burst of fragrance with our superfood-inspired Hair & Body Mists. Perfect for when you need a quick pick-me-up, these cute and colorful mists are inspired by ingredients from around the world to freshen up your hair and body, and gives you those feel-good vibes wherever you are. Pick Coconut & Yuzu for a fresh, tropical scent to make you feel like you're on holiday. Grab one in every flavor to stash in your desk drawer, handbag and gym bag. Mix it up, swap them, and carry one everywhere.
Portable fragrance mist
Fresh scent with notes of yuzu, coconut and jasmine
Perfect for spritzing on-the-go
Ingredients
Coconut And Yuzu Hair & Body Mist
8
---
---
---
This scent is EVERYTHING
Coconut And Yuzu Hair & Body Mist
LCopes
Time using product:
1 month
I bought this scent as a perfume for my hair and am not disappointed. It has a lovely scent that puts me in a good mood every time I smell it. I bought the coconut along with the berry scent, I now wish I had just bought two coconut ones.
---
Absolutely disappointed
Coconut And Yuzu Hair & Body Mist
Njshore
Time using product:
1 week
I always buy your products. I ordered this and was truly disappointed in this product it has a very strong odor and it doesn't smell so good. I was excited to try the product since I love coconut. I personally didn't like this product and asked my family if anyone liked the odor including friends. No one wanted it so it went into the trash. Disappointed that I wasted my money on this.
---
Nope
Coconut And Yuzu Hair & Body Mist
I didn't like this at all. Coconut. Where? All I hit from this was Yusuf which is what I assumed was the strongest note in the fragrance because the coconut was non existent. I would've returned it but their return process is too much of a hassle so, I gave it away.
---