Aloe Soothing Day Cream
For sensitive skin
Soothing
Vegan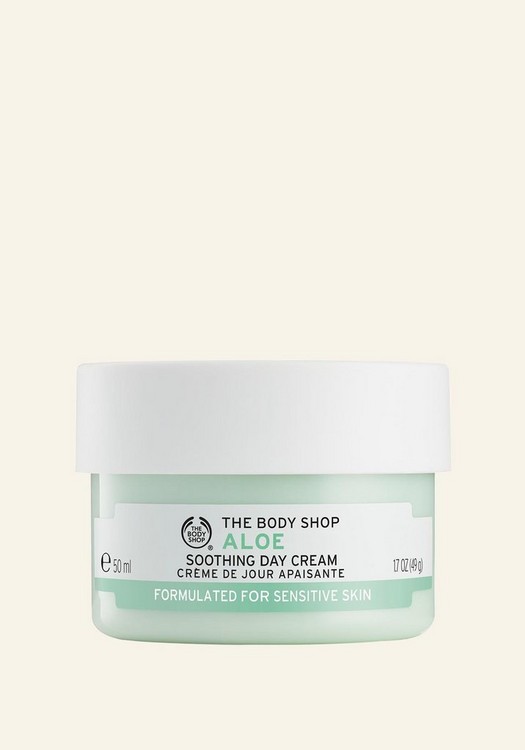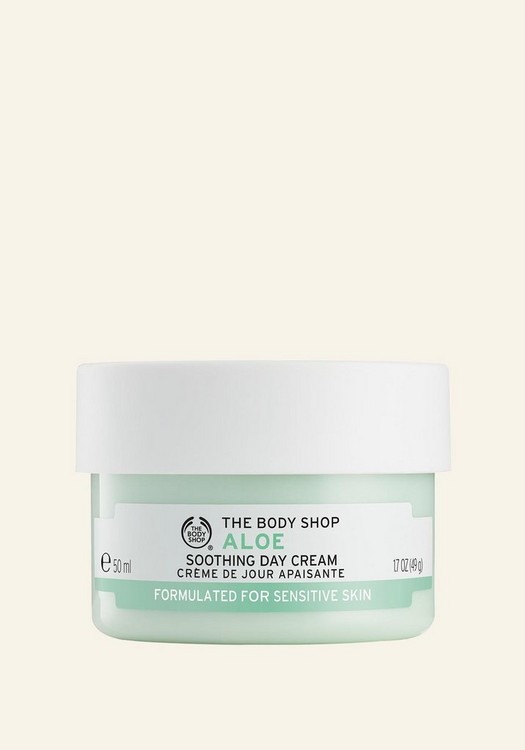 "I love this face cream, it's made my skin appear so much younger and smoother."
What does it do for you ?
Our Aloe Soothing Day Cream is like a little hug for sensitive skin, gently smoothing its way over dry patches leaving skin that feels refreshingly cool and beautifully soft. Breathe in, breathe out and soak up the wonders of our aloe vera moisturizer.
It's enriched with Community Fair Trade aloe vera from Mexico: spiky on the outside, gentle soothing gel on the inside. Our aloe vera moisturizing cream formula is a handy one to have in the bathroom cabinet, especially if you're looking for a soothing addition to your dry skincare routine. It feels oh so soothing as it glides on and skin will feel nourished in no time.
Like many of the goodies in our Aloe range, The Body Shop's Aloe Day Cream is kind, caring and loving towards dry or sensitive skin types. It's got your back when dry areas become bothersome or your skin is feeling less than impressed. So make room for one more and start your day right with our clever aloe moisturiser.
A kind, caring and gentle formula for sensitive skin
Enriched with Community Fair Trade aloe vera from Mexico
Use daily for healthy-looking skin
Ingredients
Community Fair Trade organic aloe vera
Naturally soothing on easily upset skin
Aloe vera is known for being ultra-gentle and soothing on skin. It's helped us formulate our Aloe range to handle sensitive skin with kid gloves.
It's a naturally hardy plant. Our aloe vera leaves are harvested and filleted by hand within 6 hours, which preserves the freshness and makes sure the aloe is the highest possible quality.
We source our organic aloe vera from Campeche in south-east Mexico. We work with expert farmers who really know their stuff, and can harvest the aloe while causing minimal harm to the environment. This is particularly important since the land is close to three precious rainforest biosphere reserves in the Yucatan peninsula.
Read more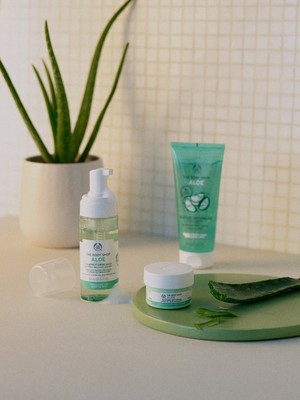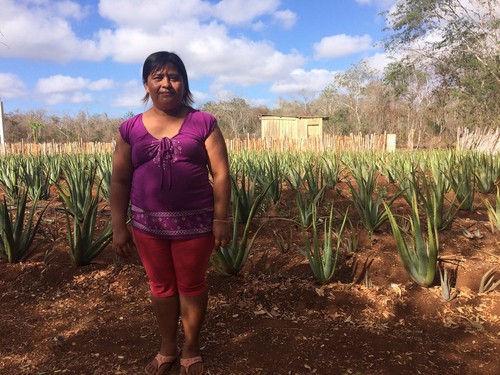 Since 2015, our trade has helped support the indigenous female farmers living on the edge of these rainforests, who could otherwise face discrimination and limited work opportunities.
233
---
---
---
Fantastic Face Cream
Aloe Soothing Day Cream
JulieS
Posted date:
September 2018
I love this face cream, it's made my skin appear so much younger and smoother.
Was this helpful?
1 of 4 found this review helpful
---
THE ONE!!
Aloe Soothing Day Cream
CarolineMarie
Posted date:
February 2012
I'm not kidding when I say that I found "the one". This cream has done wonders for my face. I love that its a cream, but not so thick like a cream. TBS did a great job at making this moisturize all day, without the greasy feeling and without the goopy thickness! Also, my makeup applies beautifully! No more rough patches or dry nose for me! If you have very dry, sensitive skin, give this cream a try!
Was this helpful?
1 of 7 found this review helpful
---
Great product
Aloe Soothing Day Cream
zippy1
Time using product:
1+ year(s)
Posted date:
October 2020
I've been using the Body Shop's aloe based face products for years. I have sensitive skin and eyes, and find that the aloe foaming cleansers, plus day and night creams, do a great job of cleaning and moisturizing my face without causing any skin or eye irritations.
Was this helpful?
0 of 0 found this review helpful
---
37 questions and 96 answers
---
Hi. Is this product fragrance free and alcohol free? I have sensitive, dry and acne prone skin. Thank you

0 answer
I have very very dry skin. I get dry patches and even hyperpigmentation. Will this be hydrating enough for my skin?

1 answer
Can I use this moisturizer day and night for dry and sensitive skin?

2 answer