Vitamin E Eye Cream
For all skin types
Smoothes
Vegan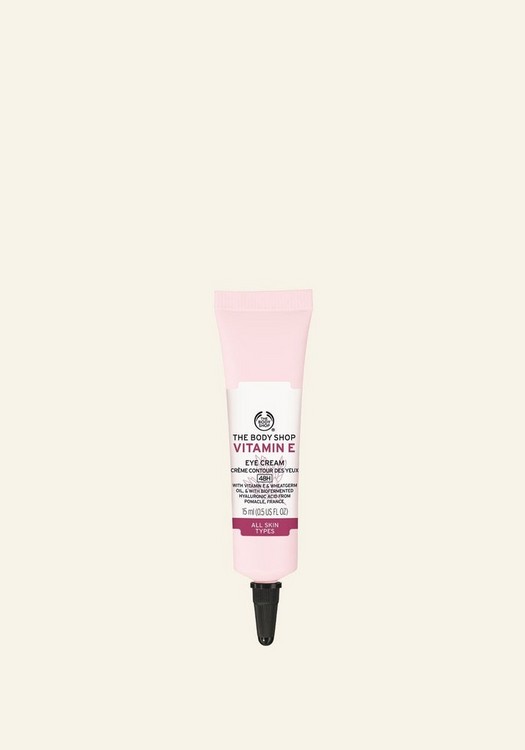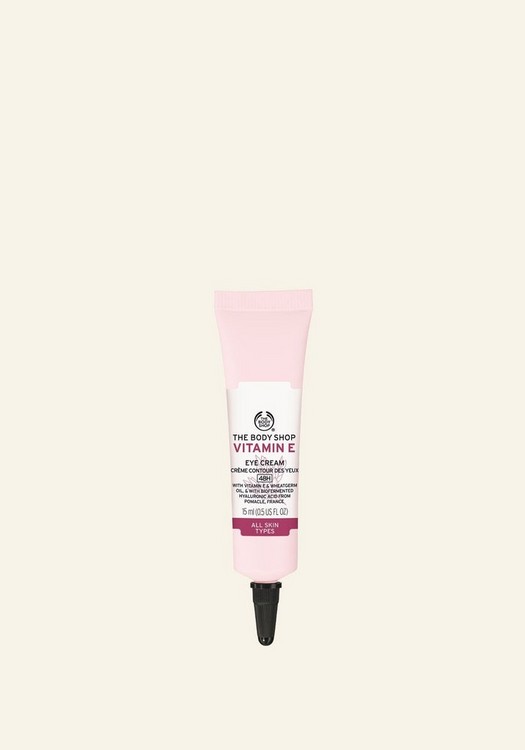 "I love this eye cream, not just the quality, the price too. I use it everyday."
What does it do for you ?
This refreshing, hydrating tube of nourishment leaves your peepers feeling perfectly pampered.
When you think about it, the eyes have a pretty tough job. Constantly blinking, helping us snooze and even helping us express emotions - a smile wouldn't be a smile without them! And since the skin around our eyes is uber-delicate, there's even more reason to give them some extra special moisturising care. Enter the Body Shop's Vitamin E Eye Cream.
With a creamy, luxurious formula enriched with vitamin E and hyaluronic acid, our Vitamin E Eye Cream helps you on your way to bright-eyed perfection. It's a bestseller in The Body Shop's Eye Cream range for a very good reason. This iconic formula helps the skin around your eyes feel smoother, more supple and also helps to reduce the appearance of fine lines. It's like a wonderland of refreshment for tired eyes too.
Hey there, bright eyes.
For every day and every skin type
Enriched with vitamin E and biofermented hyaluronic acid
Iconic eye cream in our bestselling skincare range
Ingredients
Daily Moisturizing Vitamin E Skincare
complete your routine
509
---
---
---
the most cost effective eye cream
Vitamin E Eye Cream
eyebaby
Received Free Product:
No
Posted date:
November 2019
I love this eye cream, not just the quality, the price too. I use it everyday.
---
Hydrating
Vitamin E Eye Cream
Teasel
Time using product:
1 month
Wonderful - it hydrates my skin & keeps the under eye shadows at bay!
---
Eyes feeling refreshed
Vitamin E Eye Cream
This product really helps with that sleepy eye look. Has me feeling rejuvenated every morning I apply it on and around my eye.
---
8 questions and 3 answers
---
Has the eye cube been permanently discontinured?? There have been several products that I used habitually that were discontinueed. It would be nice to know what products are ending so I can stock up or atleast experiment with alternatives

1 answer
Can I this for dark circles under my eyes ! My eyes are really dark ?

1 answer
What is the difference between this product and the Vitamin E Moisture Cream?

1 answer