Pink Grapefruit Fragranced Bath Bubble
Citrus scent
For dry skin
20% off Bath, Body & Haircare. Use code: FESTIVE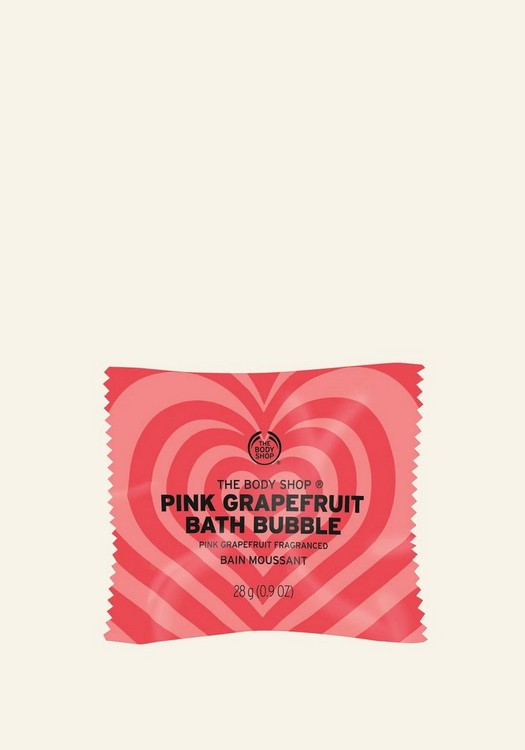 What does it do for you ?
Bring on the bubbles with our fun and fragrant Pink Grapefruit Bath Bubble. It turns your tub into a fresh, juicy treat with an explosion of pretty pink and the scent of zesty, citrusy pink grapefruits.
Heart-shaped bath bubble
Citrusy pink grapefruit scent
Color your bath water pink
Pick and mix bath treats
Ingredients
Pink Grapefruit Fragranced Bath Bubble
155
---
---
---
Pungent & artificial smelling
Pink Grapefruit Fragranced Bath Bubble
Ewmhop
Time using product:
1 week
Posted date:
January 2022
I was very disappointed with this product. I normally love bodyshop products but this one just smelled artificial. Strangely enough even when it was still wrapped there was a pungent smell coming through the wrapper. I liked how the heart looked and the color it turned my bath water, and there was a nice amount of bubbles (even though only half of it disolved under the running water). However, for me bath bombs are mostly about the smell, and this one just smelled cheap. I suspected that rather than natural oils, the product was artificially scented, so I looked up the ingredients and this was confirmed. What's upsetting though is that the ingredients weren't listed on the product when I bought it in-store; I would never have bought an artificially scented bath product…. I guess that's what I get for picking up a cheap bath bomb.
---
Love this
Pink Grapefruit Fragranced Bath Bubble
Fragrant4ever
Time using product:
1+ month(s)
Posted date:
November 2021
You will love this refreshing bath bubble. It lasts a long time before dissolving and smells divine.
---
Miracle for my eczema dry skin!
Pink Grapefruit Fragranced Bath Bubble
Lauren99
Time using product:
1 month
Received Free Product:
No
Posted date:
November 2022
These bath bubbles are soooo great on my dry eczema skin. They cause no irritation and leave my hands super soft! This is the only stuff that works for me, all these sensitive dry skin soaps from elsewhere flare up my eczema. This is a miracle!
---