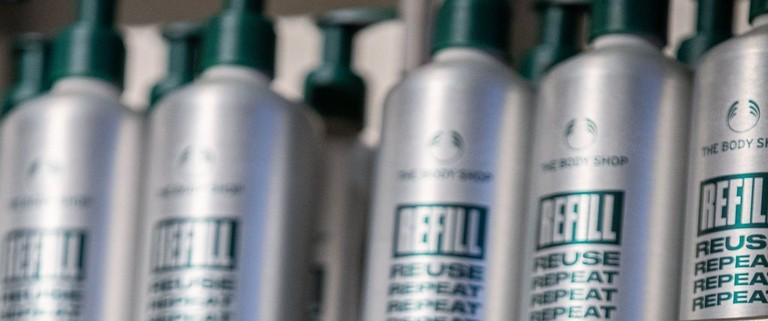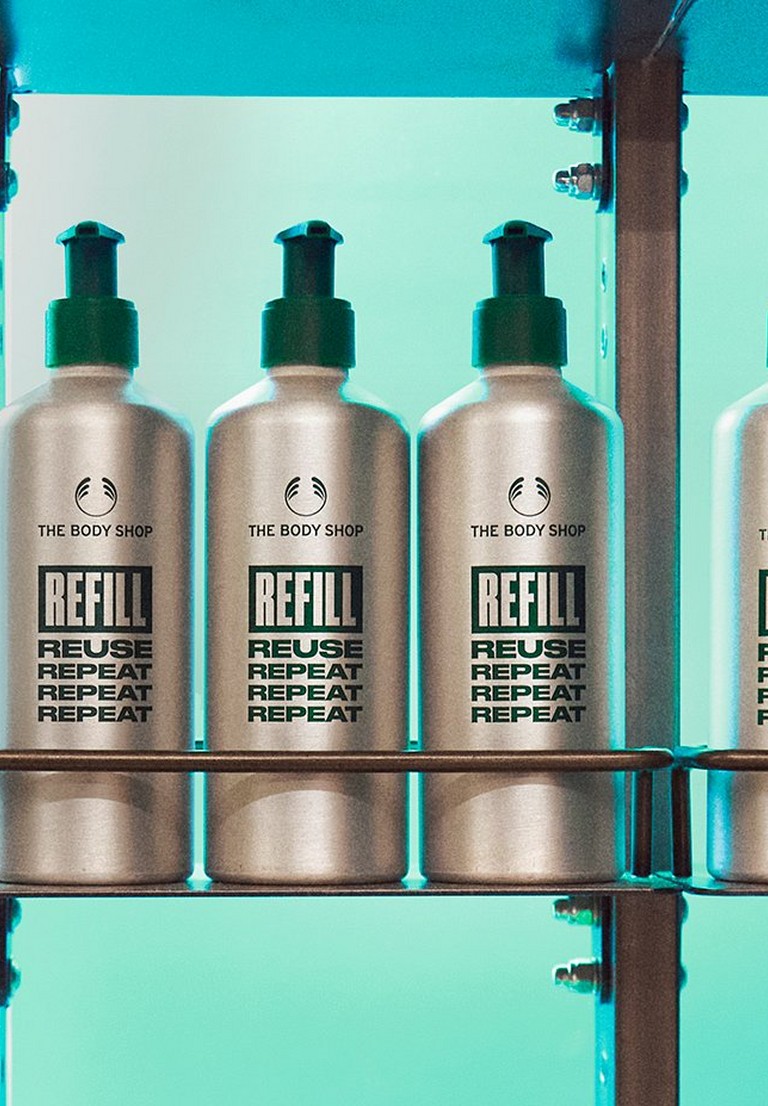 OUR REFILL PROGRAM
"Why waste a container when you can refill it? And why buy more of something than you can use? We behaved as my mother did in the Second World War, we reused everything, we refilled everything, and we recycled all we could (...) The foundation of The Body Shop's environmental activism was born out of ideas like these" - Anita Roddick, Body & Soul
Join the refill revolution with our in-store refill stations.
Join the refill revolution with our irresistible in-store refill stations.
HOW DO I REFILL?
It's as easy as 1, 2, 3. Here's how it works.
STEP 1
Purchase one of our aluminum bottles at a selected store.
STEP 2
Before heading to the register, ask a member of our friendly team to fill it up with your favorite refillable haircare, shower gel or hand wash.
STEP 3
Once you've used all the lovely stuff in your bottle, give it a good rinse and dry, bring it back and refill it.
HOW MUCH DOES REFILLING COST?
Shower Gel or
Hand Wash
Bottle & Refill
Shower Gel or
Hand Wash
Refill Only
1. At selected stores. Refill product availability varies.
2. Calculation is based on 20 months' forecasted sales (for the period from April 2021 to December 2022) from 800 stores, of refillable products being repurchased in refillable instead of non-refillable 250ml variants.
HOW TO RECYCLE AT HOME
Here's a handy guide on how to recycle our products packaged in plastic.
RECYCLE AT HOME
Try to recycle as much as you can at home. Larger single material items can be recycled at home like glass and plastic jars, plastic bottles and aluminum packaging, as well as gift packaging made of card. Still unsure which beauty packaging your local recycling scheme can't take? Just contact your local council to find out what you can recycle at home or in your local area.
Recycling Guidelines
Empty your container and separate the elements if they are made from different materials, if lids are made of the same materials as the container, leave the lids screwed on to make sure they are not filtered out in the recycling process due to their size.
The plastics marked 1-PET, 2-HDPE and 5-PP are commonly recycled. For others you need to be a little more cautious.
BRING TO SPECIAL DROP OFF POINTS
For hard to recycle items that your local recycling scheme can't take such as pesky pumps, plastic pouches and pipettes, small bottles that are less than 1.6 fl.oz., lip gloss tubes and mascaras, seek out a local drop-off point.