Long Game Brow & Lash Serum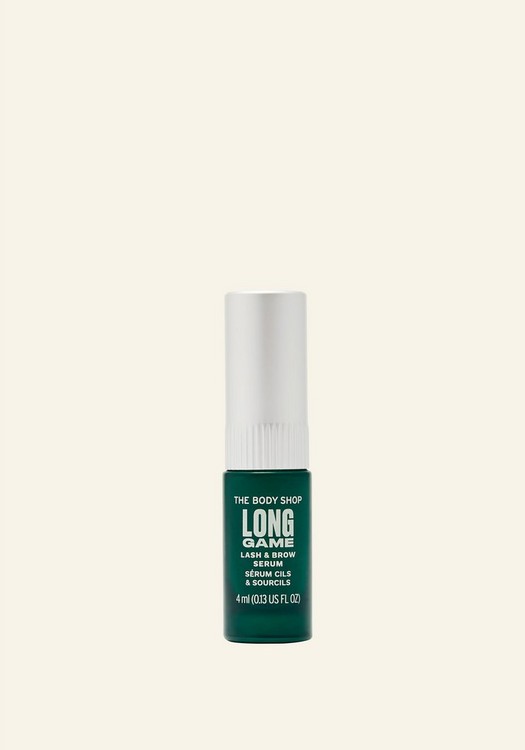 $1,125.00/100 ML (#1017009)
What does it do for you ?
We all love the magic a little makeup can do for our lashes and brows, but it's important to look after them in the long-run too. Don't worry, you don't have to do much.
Want fuller, thicker-looking lashes and brows? Our new Long Game Brow & Lash Serum takes care of your hairs while you go about your day, or even while you sleep. Add the serum as the first step in your make up routine and the final step of your evening skin care for a fuller, thicker-looking, lash and brow game.
Made 98% ingredients of natural-origin, including Jamaican black castor oil, the lightweight, non-sticky formula glides onto the lashes and brows and tends to your hairs , making them look thicker & longer. You can even use it on your beard if you fancy it.
Let the results speak for themselves:
86% of our users experienced longer eyelashes after only 4 weeks with 100% of them noticing denser lashes as well after 8 weeks*
89% of our customers experienced denser eyebrows after 8 weeks*
* Clinical Study results across 22 different subjects
After 1 use:
94% agreed product was comfortable to wear
90% agreed the product is non-greasy and doesn't leave residue on skin after drying
84% felt lash & brow hair moisturised
88% felt beard hair moisturised
But that's not all! At The Body Shop, we're always striving to be as inclusive as we can be. So, we have also trailed and tested our Lash & Brow serum on a diverse panel of six Fitzpatrick scale tones across 109 people on lashes & brows and 100 men on beards, from different genders and age groups, and with different skin tones and skin types, to ensure the product performs well on everyone.
And even more good news: Long Game comes in a recyclable** green glass bottle with an aluminium cap.
** Where local facilities allow. Please remove label before recycling. The cap/wand is not recyclable due to the mix of materials.
Suitable for lashes, brows and beards
Hairs feel and look thicker/fuller
Hairs feel and look longer
Easy and comfortable to apply
98% ingredients of natural origin
The Vegan Society certified
Suitable for sensitive skin
Dermatologically tested
Ingredients