Box of Wonders Big Advent Calendar
BEAUTY ADVENT CALENDAR
25 HEAD-TO-TOE TREATS
COUNT DOWN TO CHRISTMAS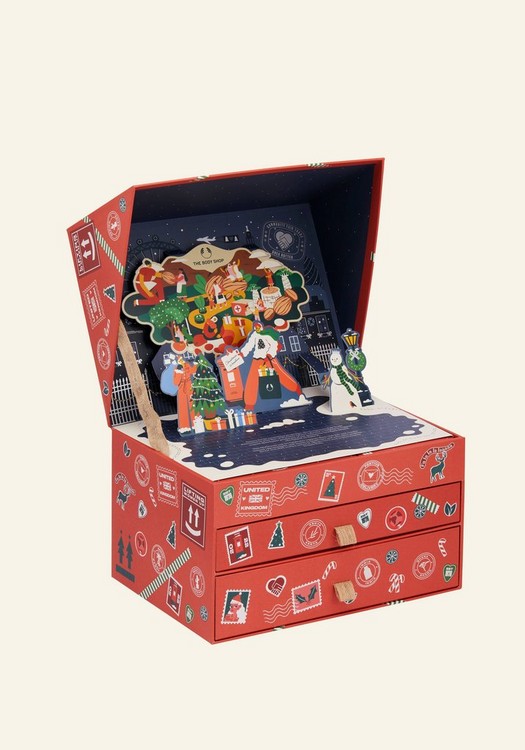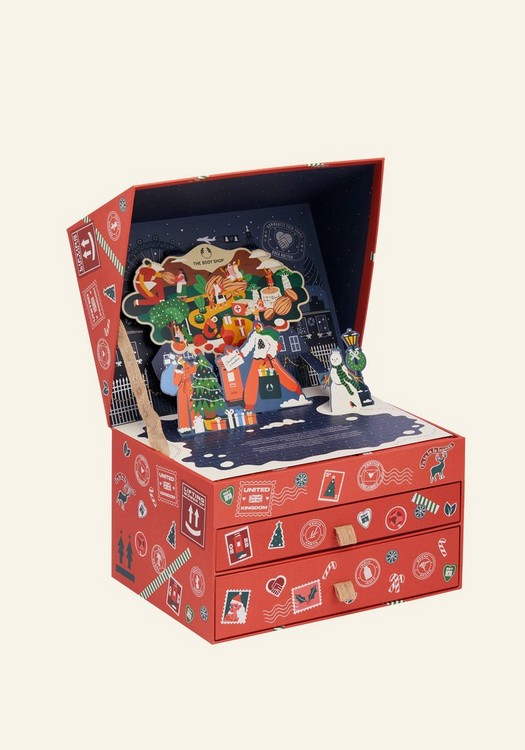 What does it do for you ?
Count down to Christmas Day with the 25 wonder-filled treats hiding inside our Box of Wonders Big Advent Calendar.

Our new beauty Advent calendar features an amazing pop-up construction that transports you to the world of the women who make our Community Fair Trade shea butter in Northern Ghana.

We won't spoil the surprise... but you can be certain that it's packed with some seriously good head-to-toe treats for keeping yourself pampered all Christmas...

Perhaps you'll find a couple of our Body Butters, enriched with handcrafted Community Fair Trade shea butter from Ghana, for nourishing dry skin with 96hr moisture. Maybe you'll discover our mini, skin-tingling Himalayan Charcoal and energising Nicaraguan Coffee face masks. There might even be a Body Scrub for helping to keep your body buffed and polished all season.

We'd love you to wait to discover what else is hidden inside, but if that's just too difficult, our menu below gives the game away.

With every Box of Wonders, you'll also find little facts about our Community Fair Trade partners or an act of kindness, so you can share some wonder and joy with your friends, family and community. You can even reuse the pop-ups as gift tags, and the drawers are great for storing crafts and other little bits and bobs, long after Christmas.

And remember, this Advent calendar doesn't just bring you and the people you love, happiness, it also supports our global partners in Ghana with fair and regular income opportunities, and access to healthcare and education projects. So far over 600 women across 11 villages have seen improvements in their lives.

Christmas gifts don't get much more wonderful than this.
Length 31cm x Depth 22cm x Height 17 cm Weight 2.8 kg.
Shea Hand Balm 30ml
Avocado Lip Care Stick 4.2g
Strawberry Shower Gel 60ml
Camomile Muslin Cloth
Camomile Sumptuous Cleansing Butter 20ml
Aloe Calm Hydration Sheet Mask 18ml
British Rose Shower Scrub 50ml
Bath Lily Large Ramie Gift
Himalayan Charcoal Purifying Glow Mask 15ml
Shea Intense Repair Shampoo 250ml
Avocado Shower Cream 60ml
Mango Body Butter 50ml
Almond Milk Shower Cream 60ml
Tie Front Headband
Nicaraguan Coffee Intense Awakening Mask 15ml
Almond Milk Soap 100g
Pink Grapefruit Shower Gel 60ml
Vitamin C Glow Sheet Mask 18ml
Avocado Body scrub 50ml
British Rose Shower Gel 60ml
British Rose Hand Cream 30ml
Vitamin E Quench Sheet Mask 18ml
Shea Body Butter 50ml
Himalayan Charcoal Skin Clarifying Night Peel 30ml
Breathe Massage Melt 75ml
Ingredients