Almond Milk Shower Cream
DRY, SENSITIVE SKIN
CLEANSE, HELP SOFTEN & COMFORT
VEGAN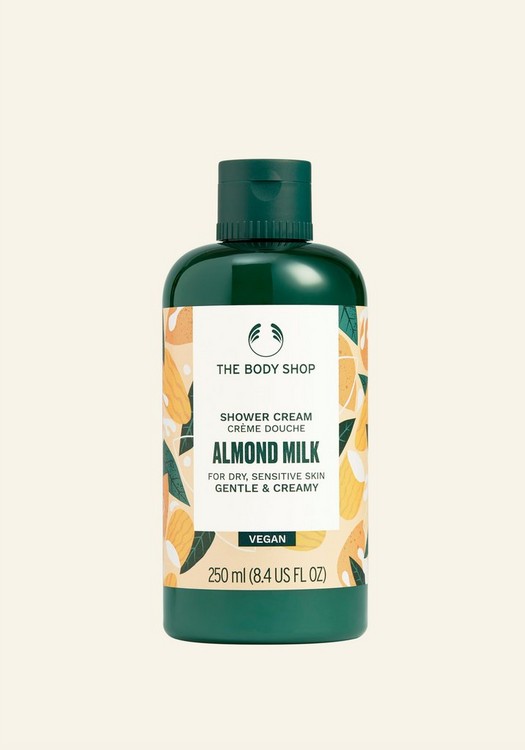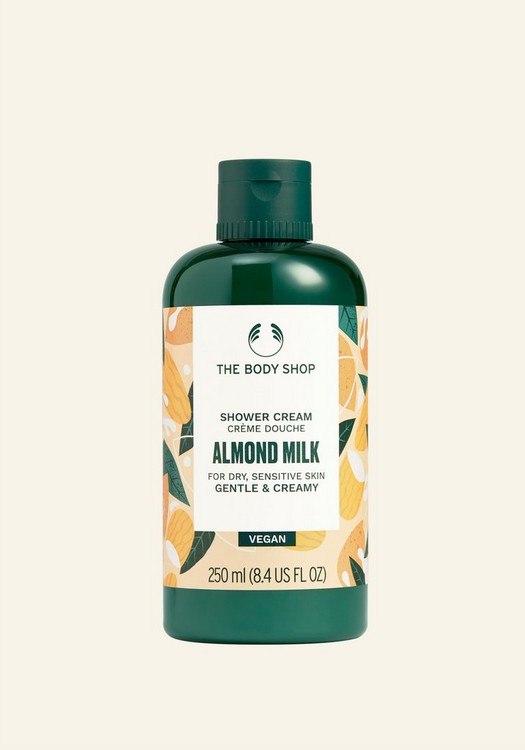 What does it do for you ?
Get that beautiful body feeling cleansed and soothed from feelings of dryness with our hydrating Almond Milk Shower Cream.

Now Vegan Society certified and made with 93% ingredients of natural origin including Community Fair Trade organic almond milk from Spain, our hardworking Shower Cream helps leave skin feeling soft, cleansed and hydrated. This fragrance smells like sweet almonds - it transports you to a sunny almond grove, with hints of sandalwood, jasmine, rose and musk.

Suitable for dry, sensitive skin, it gently lathers up from a rich cream, transforming into a super-soft, gentle milky lather.
The bottle is recyclable and made from 100% recycled plastic, including our Community Fair Trade recycled plastic collected off the streets of Bengaluru, India. You can recycle the cap too! This means you can love your planet every time you lather up and love your body.
Plus, our 750ml bottles include our first ever recyclable pump. How cool is that? Simply twist the ridged section until it clicks to lock and unlock.
Shower cream
Respects the skin's natural moisture barrier
Perfect for dry, sensitive skin
Leave skin feeling soft, cleansed, comforted and hydrated
Nutty and creamy scent
93% ingredients of natural origin
Now certified by The Vegan Society
Dermatologically tested
Ingredients
Community Fair Trade organic almond milk and oil
Nutty goodness your skin loves
We love almond milk and oil for their hydrating, skin-loving properties and rich vitamin E content. We've teamed up with Mañán in Spain (the 'Almond Experts', no less) to produce the Community Fair Trade almond milk and oil in our products.
Mañán are based in Alicante. They work with a cooperative of local, small-scale farmers and set a market price, which helps offer a bit of stability for local farmers.
Mañán use sustainable farming methods to grow their organic almonds. They respect the local environment (including working with the area's water shortages), and their farms are a haven for bees. Almond plantations are natural fire barriers, which helps protect natural habitats from forest fires. Pretty amazing, right?
Discover the Almond range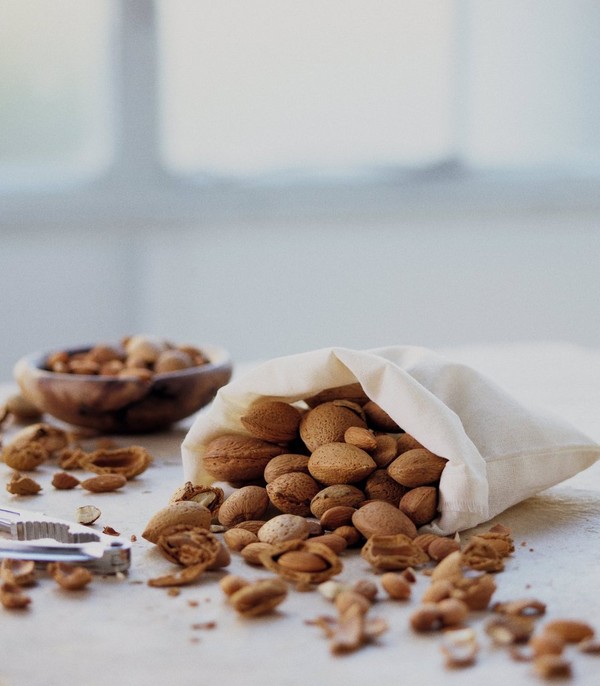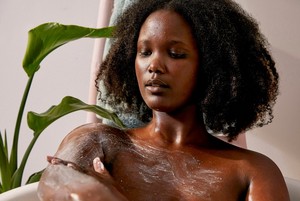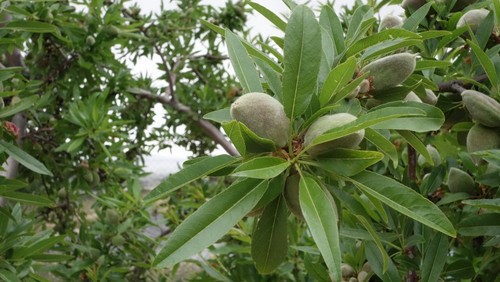 Our organic almond oil is made from broken nuts that aren't usually sold for food, and unwanted almond husks are turned into compost to help minimise waste. It's one way we make sure we're taking care of the planet.