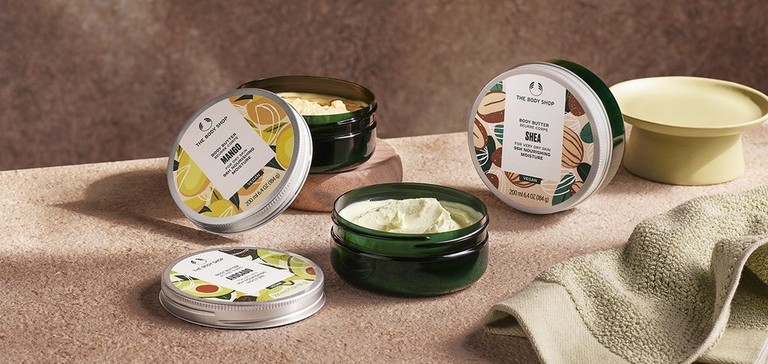 Body butter buying guide
Looking for something that'll love and nourish your skin like never before? You've come to the right place. No matter your skin type – sensitive or ultra-dry – our Body Butters have got your back (and your arms and legs). Read our guide to finding the best Body Butter for your skin type and get ready to seriously love yourself.
Our Body Butters are now better than ever
Superior Nourishment
There's 96hr moisture packed into every tub. Just scoop and slather on to help skin feel moisturised all day without feeling greasy or sticky.
Natural-origin Ingredients
Each tub boasts at least 95% natural-origin ingredients, including Community Fair Trade shea butter from Ghana. All our new Body Butters are even registered by The Vegan Society.
Sustainable tubs
Our new packaging is made with aluminium lids and 100% recycled plastic tubs. That means there's 241 tonnes less virgin plastic in the environment every year. Cool, huh?
Body Butters for Dry Skin
If your skin is on the slightly dry side and needs a good slathering of moisture, our Body Butters for dry skin are just the ticket. With a rich texture, they're ideal from the feet up.
Avocado - NEW
With a superbly creamy texture, our Avocado Body Butter is a great choice for dry skin. It's enriched with Hass avocado oil and Community Fair Trade shea butter.
Shop now
Mango
Our Mango Body Butter is the perfect buddy for dry skin. It's enriched with Community Fair Trade mango seed oil and delivers a ripe and juicy scent.
Shop now
Moringa
Our florally scented Moringa Body Butter is enriched with Community Fair Trade moringa seed oil. Its fresh scent makes it a perfect everyday Body Butter.
Shop now
Body Butters for Very Dry Skin
Our Body Butters for very dry skin boast intensely rich textures that have been perfectly blended to help soothe and soften your skin type. And they feel oh-so good while doing it.
Body Butter for Dry, Sensitive Skin
We have just the trick for dry, sensitive skin. Hint: it's moisturising and richly creamy. Grab a tub of this soothing Body Butter and give your skin that extra bit of TLC.
Body Butters for Normal Skin
Skin not quite on the dry side but could do with a dose of moisture? Our Body Butters for normal skin have a beautifully creamy texture making them perfect for your skin type.
Body Butter for Ultra-Dry Skin
Skin crying out for some serious nourishment? Don't fear – we've got a super nourishing, incredibly hardworking Body Butter perfect for ultra-dry skin.
"Our Body Butters have been around for nearly 30 years. That's 30 years of helping you nourish and connect with every inch of that beautiful body. Now, they're better than ever. Just grab a tub and go love your body like never before."
Global Bath & Body Brand Manager At The Body Shop