It's simple: by becoming an Independent Consultant, you get to share and sell the products you love with the people you love.
Share the love. Make a profit.
Perks & benefits
Earn up to 35% from personal product sales, and we'll throw in some pat-on-the-back perks and benefits as your business blooms.
Commissions
When one of you succeeds, all of you succeed! Earn commission on your team's product sales.
Rewards
There's something for everyone at every rank. Receive well-earned rewards at every level, based on sales performance.
Bonuses
Feel loved and luscious – as you hit sales milestones in your first 90 days, we add in some of our favourite iconic products en route.
It is illegal for a promoter or a participant in a trading scheme to persuade anyone to make a payment by promising benefits from getting others to join the scheme. Do not be misled by claims that high earnings are easily achieved.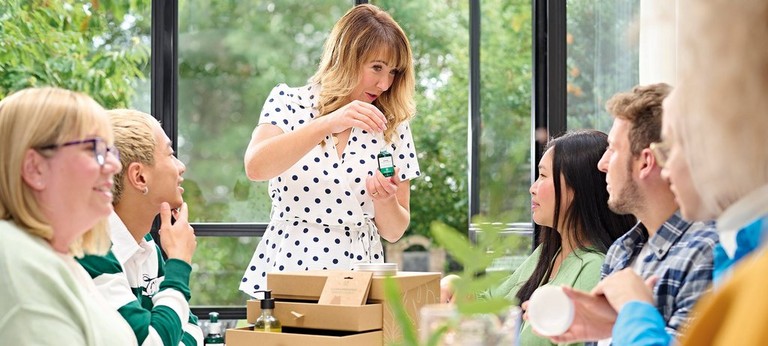 For yourself, never by yourself
We pride ourselves on having one of the most supportive, planet-loving communities across the globe. When you dive into our business support ecosystem, you'll find all the online support, tools, training and knowledge you need for a thriving business.
Digital marketing
A digital toolkit with easy-to-use social sharing tools to help promote your business online.
Business training
In-depth product and business knowledge from experts in the field.
Sales
Must-have training programmes to upskill your sales know-how.
Community
Networking with other Independent Consultants at our famously fab conferences.
Discover The Body Shop At Home™