Aloe Calming Toner
For sensitive skin
Soothing feeling
Vegan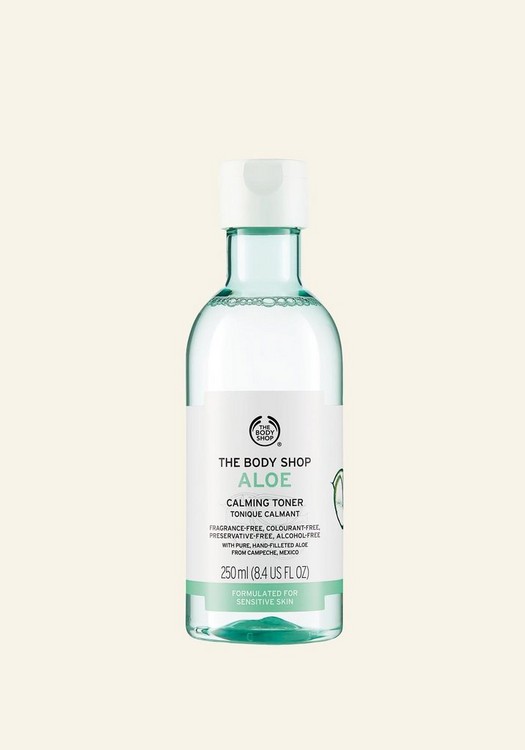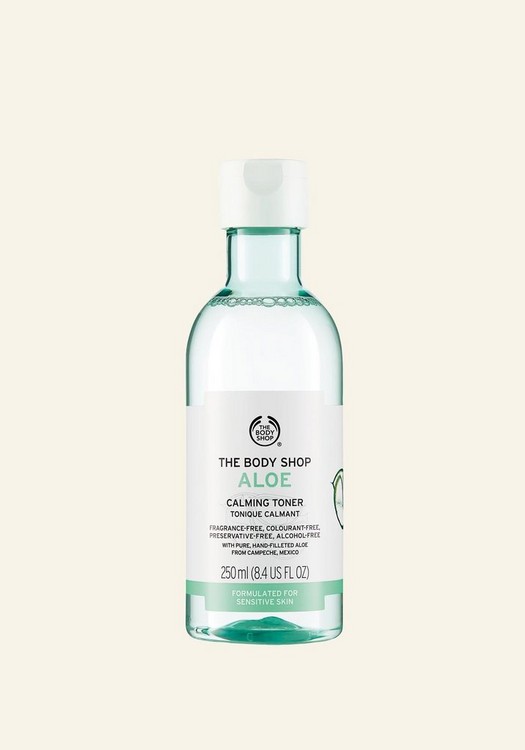 "Very good product, very soothing and gentle to the skin"
What does it do for you ?
Let the feeling of calm wash over you with our Aloe Calming Toner. It's a refreshing formula that helps to keep skin in check. A gentle little number too.
To tone or not to tone? Seems to be a pretty common question. But if you have dry, sensitive skin then an aloe vera toner is an absolute must. Why? Not only can it help soothe your sensitive soul, but it also helps to remove the stuff that can get left behind after cleansing: dirt, grime, makeup and those pesky dead skill cells that keep your skin looking duller than it needs to be.
Gone are the days of drying toners that strip the skin of all its goodness. Just a refreshing swipe of our enriched-with-aloe toner across your visage will help to keep things feeling replenished and hydrated, letting your beautiful skin shine through.
The Body Shop's Aloe Calming Toner is enriched with C ommunity Fair Trade aloe vera from Campeche, Mexico. It may look all tough with its spiky exterior, but on the inside aloe vera is a big softie. That's why it's perfectly suited to soothe dry, sensitive skin. What a relief!
Specially formulated to soothe and replenish dry, sensitive skin
Helps skin to feel hydrated, softer and more supple
Enriched with Community Fair Trade aloe vera from Campeche, Mexico
Ingredients
Aloe Essentials
complete your routine
Community Fair Trade organic aloe vera
Naturally soothing on easily upset skin
Aloe vera is known for being ultra-gentle and soothing on skin. It's helped us formulate our Aloe range to handle sensitive skin with kid gloves.
It's a naturally hardy plant. Our aloe vera leaves are harvested and filleted by hand within 6 hours, which preserves the freshness and makes sure the aloe is the highest possible quality.
We source our organic aloe vera from Campeche in south-east Mexico. We work with expert farmers who really know their stuff, and can harvest the aloe while causing minimal harm to the environment. This is particularly important since the land is close to three precious rainforest biosphere reserves in the Yucatan peninsula.
Read more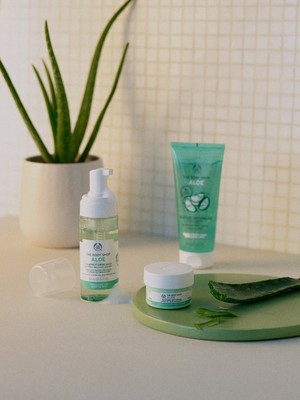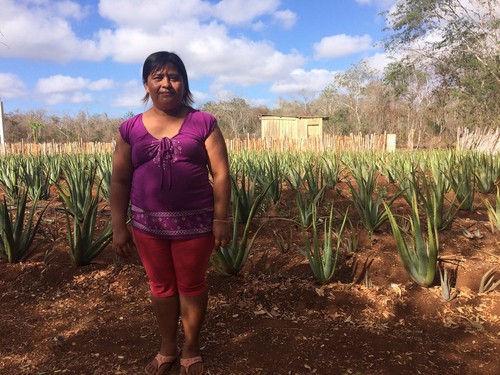 Since 2015, our trade has helped support the indigenous female farmers living on the edge of these rainforests, who could otherwise face discrimination and limited work opportunities.
301
---
---
---
Linnit
Posted date:
January 2020
Very good product, very soothing and gentle to the skin
Was this helpful?
1 of 32 found this review helpful
---
Excellent Item
Aloe Calming Toner
I have combination skin and was using the seaweed products but found the toner quite stringent for evening use so switched to this aloe product and it is lovely! I've continued using the seaweed day cream and then this at night and it's working a treat. Skin is softer from this and clearer from the face cream - it's the ideal combination and one I won't be changing!!
Was this helpful?
1 of 114 found this review helpful
---
Great for a deep cleanse!
Aloe Calming Toner
CDM95
Time using product:
1 month
This toner is great for getting off particles of dust/dirt that I didn't know were there after cleansing. It was a bit stingy on sensitive parts of my face (like under the eyes) but it didn't last long and you could tell it was doing it's job. Love my new skin care routine with this product.
Was this helpful?
0 of 0 found this review helpful
---