Florals & Frost White Musk® Big Gift
SENSUAL & FLORAL
CHRISTMAS GIFT SET
VEGAN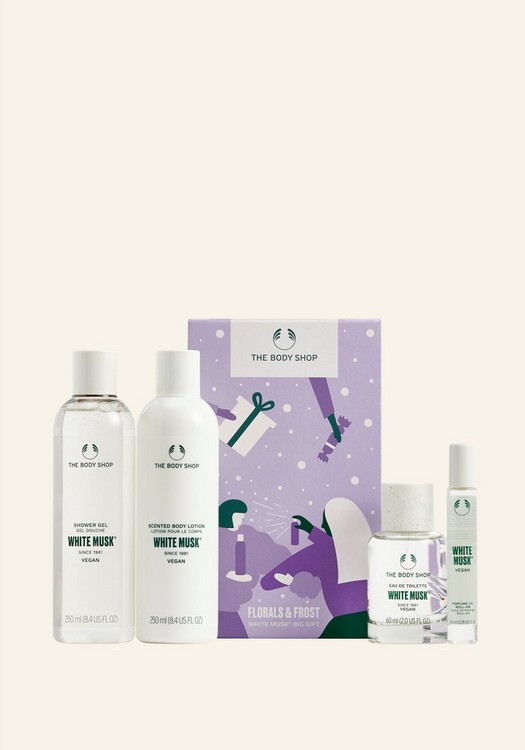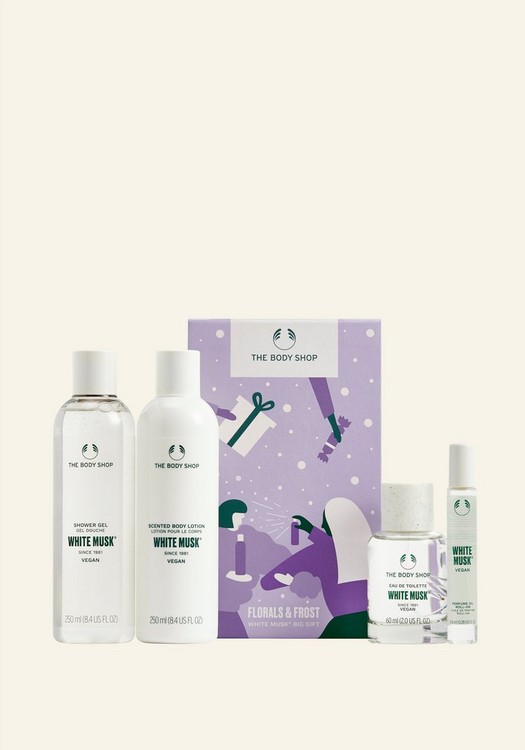 Our Florals & Frost White Musk® Big Gift set is the ultimate vegan surprise for lovers of our iconic fragrance.
Hop into the shower and wash your cares away with our Shower Gel. It leaves skin feeling refreshed and squeaky-clean and smelling wonderfully musky. Next towel dry and squirt on a dollop of our fragrant Body Lotion to leave skin feeling softer and smoother. Finally, layer up with a few spritzes of our Eau de Toilette and a couple of swipes of our Perfume Oil Roll On.
Infused with notes of cruelty-free musk, rose, jasmine, amber and wood, this gift set is the perfect stocking filler or Secret Santa surprise for someone who wants to smell refreshingly floral and musky, head-to-toe.
This gift doesn't just bring joy to the people you love. Discover how it also helps spread the love and share the joy with the most selfless people in our community.
White Musk® Shower Gel 250ml
White Musk® Body Lotion 250ml
White Musk® Eau de Toilette 60ml
White Musk® Perfume Oil Roll On 10ml
Florals & Frost White Musk® Big Gift
2
---
---
---
Classic, nostalgic, beautiful White Musk :)
Florals & Frost White Musk® Big Gift
Reblou
Time using product:
1 week
Classic White Musk; I purchased for nostalgic reasons & the fragrance is just as beautiful as I remember. Great value box set & a star buy. The box is a very cute & has various drawers & compartments so I'm going to keep it for stationary (very handy). I'm sorted all round with the products & the perfume layered on top of the body lotion makes the fragrance last even longer. So pleased with it...5 stars
---
Nothing like original. Won't buy again
Florals & Frost White Musk® Big Gift
Gillyhtfc26
Time using product:
1 week
Not as good as original. I thought I was buying white musk original gift set. However it smells a lot lot lot weaker. Very dissatisfied and won't be buying again. I've bought white musk product since it was an oil in the 80's.
---