Creamy & Dreamy Coconut Big Gift
FOR VERY DRY SKIN
CHRISTMAS GIFT SET
96HR MOISTURE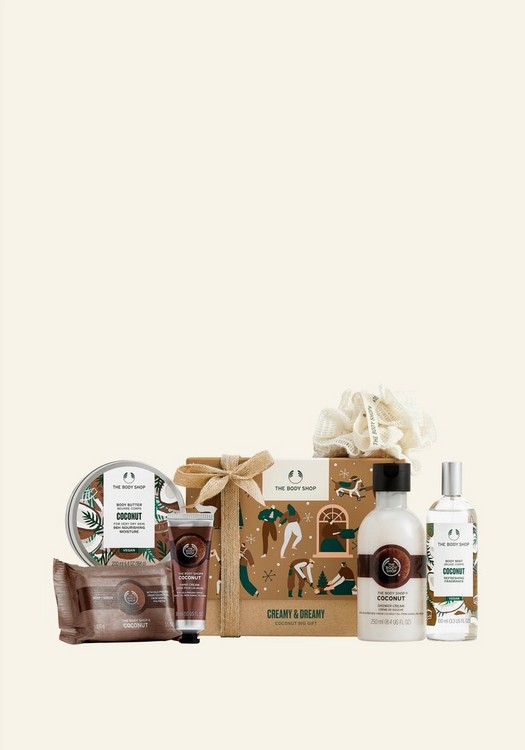 Dial up the indulgence for very dry skin with our Creamy & Dreamy Coconut Big Gift set this Christmas.
Start your day by lathering up and gently cleansing skin with our Shower Cream. You can also bring on those bubbles with our Soap, perfect for leaving bodies and hands feeling squeaky-clean.
While you soap and cleanse, gently exfoliate that beautiful body with our Ramie Bath Lily. It's made with durable, sustainable, eco-friendly fibres that help scrub up and soften skin with minimal environmental impact.
Hop out, towel dry and slather skin with a dollop of our creamy, vegan Body Butter. Made with 96% ingredients of natural origin, including Community Fair Trade organic virgin coconut oil from Samoa and handcrafted Community Fair Trade shea butter from Ghana, it leaves very dry skin feeling softer, smoother and nourished with 96hr moisture.
Let your body moisturiser sink in before adding a few spritzes of our vegan Body Mist. Made with 96% ingredients of natural origin, it leaves you feeling instantly refreshed and smelling as sweet as a coconut from head to toe.
Finish with our hydrating Hand Cream. Just squeeze, smooth on and rub those hands together whenever palms and pinkies need a little pick-me-up.
Who wouldn't love finding this Christmas gift under their tree? Warning: they'll need a big tree to fit this surprise.
This gift doesn't just bring joy to the people you love. Discover how it also helps spread the love and share the joy with the most selfless people in our community.
Coconut Shower Cream 250ml
Coconut Body Butter 200ml
Coconut Body Mist 100ml
Coconut Hand Cream 30ml
Coconut Soap 100g
Ramie Bath Lily
Creamy & Dreamy Coconut Big Gift
Fair Trade organic virgin coconut oil
A legendary moisturiser for dry skin
Coconut oil has always been a bit of a wonder oil, and has been moisturising skin, hair and bodies forever.
Our coconuts come from the shores of Samoa. Coconut harvesting is a family business here, involving multiple generations. It helps everyone benefit from the island's resources, following the island's ethos of Fa'a Samoa – 'The Samoan Way'.
Coconuts are gathered up, hand-cracked, pressed and filtered to release pure, high-quality oil.
Each coconut is picked for its 'good smile' – meaning, our local experts can tell from the look of the shell whether it's good quality and ready to harvest. They're grown and wild-harvested without chemicals, so we can guarantee the oil is organic.
Read more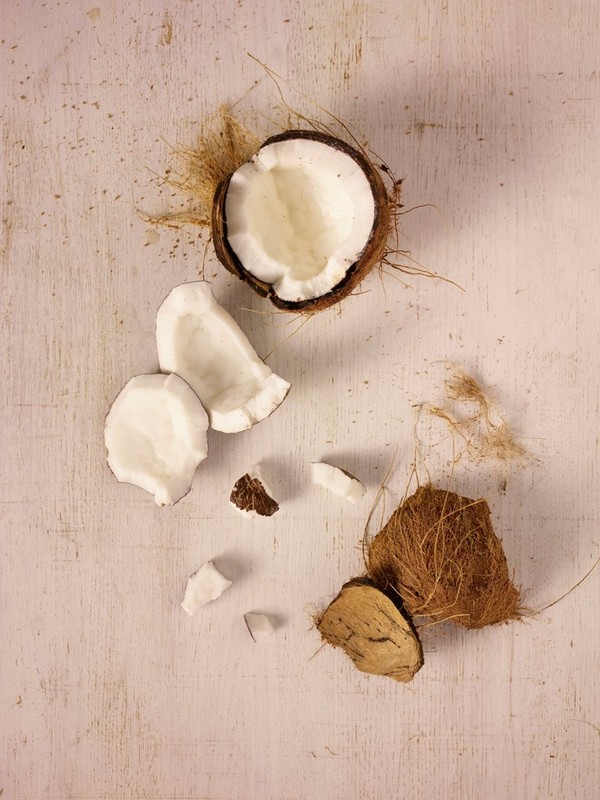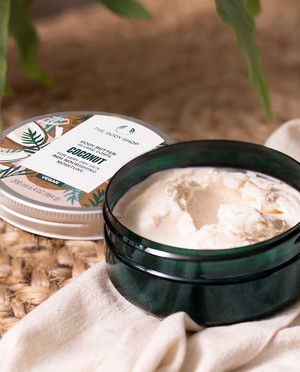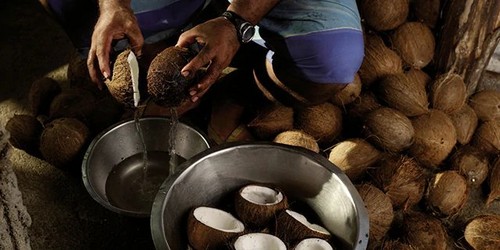 Our Community Fair Trade supplier, Women in Business Development Inc., help families to create a sustainable income by using Samoa's rich natural resources. They've won awards and gained global recognition for their brilliant work.
2
---
---
---
ORDERED BECAUSE THERE WAS A OFFER WITH A FREE GIFT
Creamy & Dreamy Coconut Big Gift
DIDNT RECIVE GIFT
Time using product:
1+ year(s)
WILL NOT BE ORDERING AGAIN
---
Gorgeous products and lovely presentation.
Creamy & Dreamy Coconut Big Gift
Bought as a Christmas present for my daughter. She loves your products for a lovely pampering evening.
---