Sweetness & Sunshine Mango Big Gift
FOR DRY SKIN
CHRISTMAS GIFT SET
96HR MOISTURE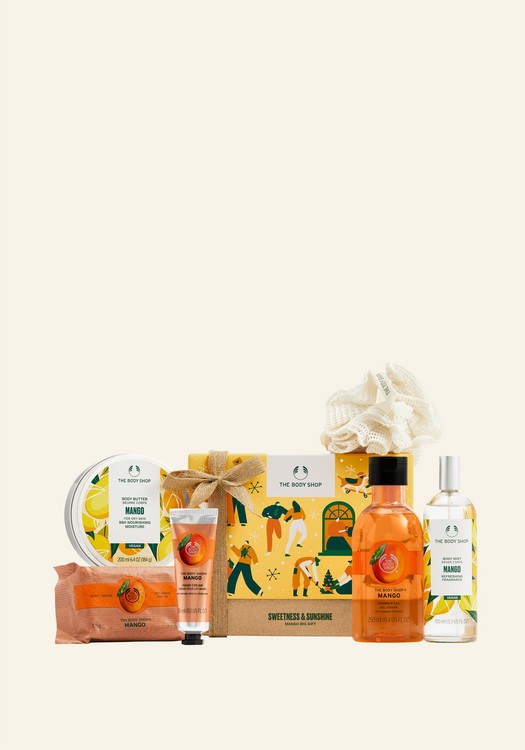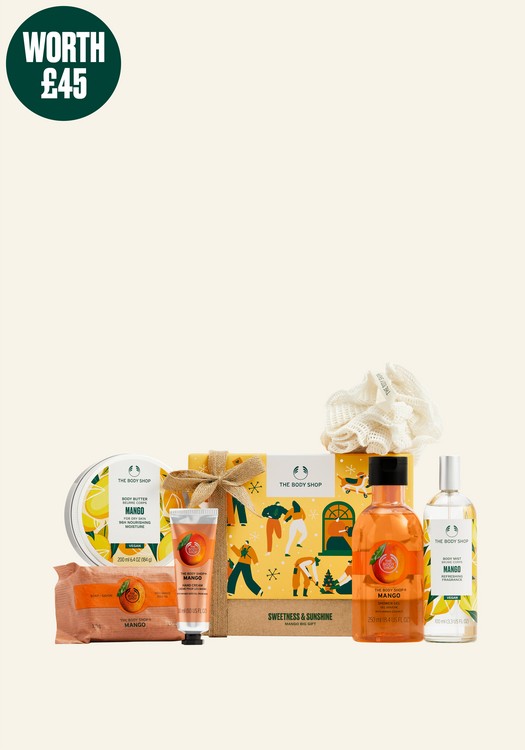 A cracker of a Christmas pressie for dry skin, give our Sweetness & Sunshine Big Gift set to someone very special.
Jump into the tub or shower, lather up and transport yourself to tropical paradise with our refreshing Shower Gel. Perfect for hands or bodies, our Soap will also leave you feeling squeaky-clean.
While you soap and cleanse, gently exfoliate that beautiful body with our Ramie Bath Lily. It's made with durable, sustainable, eco-friendly fibres that help soften and scrub up skin with minimal environmental impact.
Hop out, towel dry and slather skin with a dollop of our creamy, vegan Body Butter. Made with 96% ingredients of natural origin, including Community Fair Trade mango seed oil from India and handcrafted Community Fair Trade shea butter from Ghana, it leaves dry skin feeling softer, smoother and nourished with 96hr moisture.
Let your body moisturiser sink in before adding a few spritzes of our vegan Body Mist. Made with 97% ingredients of natural origin, it leaves you feeling instantly refreshed and smelling like a ripe and juicy mango from head to toe.
Finish with our hydrating Hand Cream. Just squeeze, smooth on and rub those hands together whenever palms and pinkies need a little pick-me-up.
Unwrap the sunshine with this luxurious Christmas gift set.
This gift doesn't just bring joy to the people you love. Discover how it also helps spread the love and share the joy with the most selfless people in our community.
Mango Shower Gel 250ml
Mango Body Butter 200ml
Mango Body Mist 100ml
Mango Hand Cream 30ml
Mango Soap 100g
Ramie Bath Lily
Sweetness & Sunshine Mango Big Gift
1
---
---
Very nice products
Sweetness & Sunshine Mango Big Gift
Marty B
Time using product:
1 week
This was a present, so its difficult to comment. Good delivery, products look lovely but I cannot comment fully.
---