Lather & Slather Coconut Big Gift Case
Body care gift set
For dry skin types
Cleanse, refresh & moisturise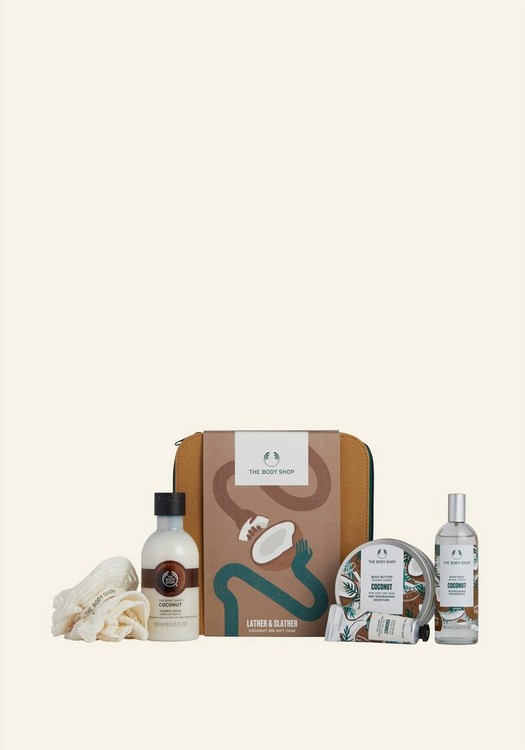 What does it do for you ?
Know someone that deserves a seriously nutty treat? Our Lather & Slather Coconut Big Gift Case makes the perfect present for those who like to indulge dry skin with some creamy and moisturising TLC. It will cleanse, moisturise, fragrance and love their unique body from head-to-toe.
But this gift set doesn't just love their body. It supports our Community Fair Trade partners who helped us make it. Our nourishing Body Butter is made with handcrafted Community Fair Trade shea butter from Ghana that helps provide financial independence to over 600 women. All our treats are also made with Community Fair Trade organic virgin coconut oil from Samoa that helps support community development projects.
And our Body Butter tub is made with 100% recycled plastic, including Community Fair Trade recycled plastic collected off the streets of Bengaluru, India. Our partnership with Plastics for Change helps provide waste pickers with a fair price and improved working conditions.
Suvarna, a sorter at Plastics for Change, says: "Working at Plastics for Change has improved my economic status by giving me access to health insurance and social security schemes. This helps give me and my family some financial security. Being the primary responsible earner in my household, the stable income that I earn is helping me send my children to school and repay my loans."
Our gift case is crafted from FSC-certified paper and made to be reused, repurposed and to hold all the treats.
Discover how else we're supporting communities and fighting for a fairer and more beautiful world.
Coconut Shower Cream 250ml
Coconut Body Butter 200ml
Coconut Body Mist 100ml
Coconut Hand Balm 30ml
Large bath lily
Ingredients
Lather & Slather Coconut Big Gift Case
Fair Trade organic virgin coconut oil
A legendary moisturiser for dry skin
Coconut oil has always been a bit of a wonder oil, and has been moisturising skin, hair and bodies forever.
Our coconuts come from the shores of Samoa. Coconut harvesting is a family business here, involving multiple generations. It helps everyone benefit from the island's resources, following the island's ethos of Fa'a Samoa – 'The Samoan Way'.
Coconuts are gathered up, hand-cracked, pressed and filtered to release pure, high-quality oil.
Each coconut is picked for its 'good smile' – meaning, our local experts can tell from the look of the shell whether it's good quality and ready to harvest. They're grown and wild-harvested without chemicals, so we can guarantee the oil is organic.
Read more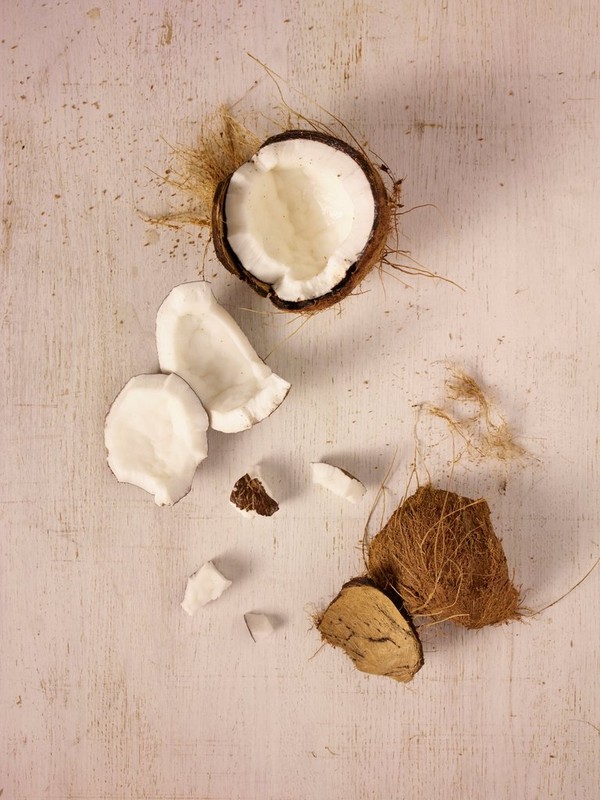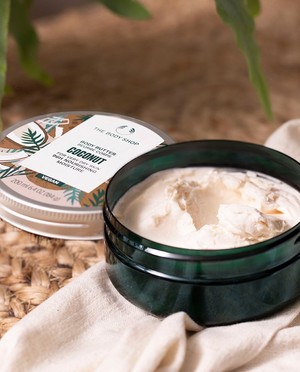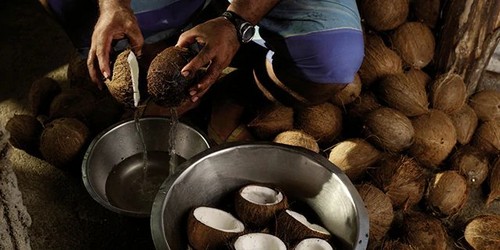 Our Community Fair Trade supplier, Women in Business Development Inc., help families to create a sustainable income by using Samoa's rich natural resources. They've won awards and gained global recognition for their brilliant work.
3
---
---
---
Aux natural is BEST!
Lather & Slather Coconut Big Gift Case
Susan Donoghue
Time using product:
1 week
Received Free Product:
Yes
Posted date:
September 2022
My mums allergic to lots of ingredients but I'm over the moon that I've found something she can use, thank you Body shop !
Was this helpful?
0 of 0 found this review helpful
---
Smells good
Lather & Slather Coconut Big Gift Case
Afiq
Time using product:
1 week
Love the smell and look of it. Beautiful. Just problem with the box for lather, it's a little crumpled.
Was this helpful?
0 of 0 found this review helpful
---
Amazing
Lather & Slather Coconut Big Gift Case
Sunny 9
Time using product:
1+ month(s)
I bought this 2 months ago and I use it every 2nd day it really stops dry skin and works with sensitive skin.
Was this helpful?
0 of 0 found this review helpful
---