Indian Night Jasmine Eau de Toilette
Floral scent
Vegan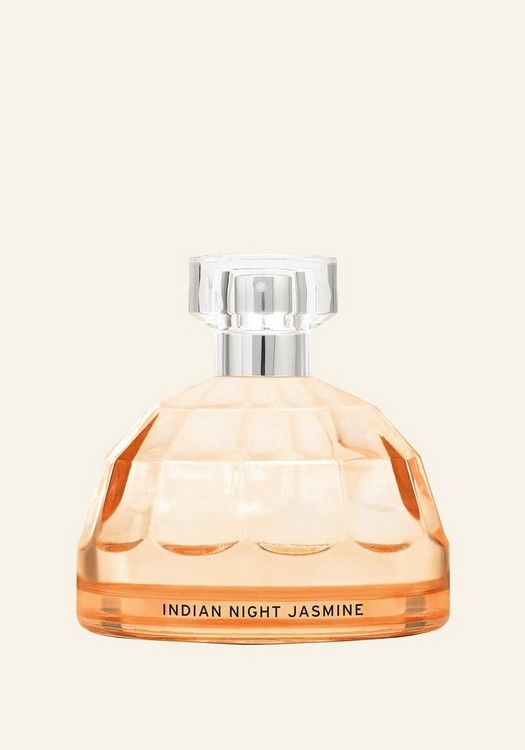 What does it do for you ?
This warm and floral eau de toilette is made with jasmine blossoms that are hand-picked just before sunrise, when they exude the most potent scent, and then blended with fragrant violet leaf and rich sandalwood.
Eau de toilette
Warm, opulent, floral scent
Contains extract of hand-picked jasmine blossoms from India
Engraved multi-faceted glass bottle
The Voyage collection
Ingredients
100
---
---
---
Heavy scent - expensive mistake purchase
Indian Night Jasmine Eau de Toilette
I am sure lots of ladies love this scent and I was thinking this scent would resemble the freshness of fresh jasmine so I really regret purchasing this scent. Its heavy, really sickly sweet and doesn't match up to the quality of other scents made by the Body Shop. Having purchased it during lockdown, so couldn't test it before purchasing and now it is sitting on my dressing table.
Was this helpful?
0 of 1 found this review helpful
---
Fresh smell
Indian Night Jasmine Eau de Toilette
Jasmine smells lovely & stays on well. I wish body shop sold a body butter in jasmine as I like to wear both. Would definitely recommend. I have other perfume from body shop. They all smell wonderful & the body butters to match. A very happy customer.
Was this helpful?
1 of 3 found this review helpful
---
My new fave EDT!!
Indian Night Jasmine Eau de Toilette
Oh look, what a surprise... Another amazing review (LOVE this scent)... I thought because it's so hot and I would be a bit sweaty (obvs) the fragrance wouldn't last long. How wrong was I?! Sprayed it on my neck early this morning (only 3 sprays) and after chasing my boys around the garden I can still smell it on myself now! My expensive designer perfumes don't even give me this long on hot days like this!! I love this perfume! Highly recommend!
Was this helpful?
1 of 5 found this review helpful
---