Vitamin E Gel Moisture Cream
For dehydrated skin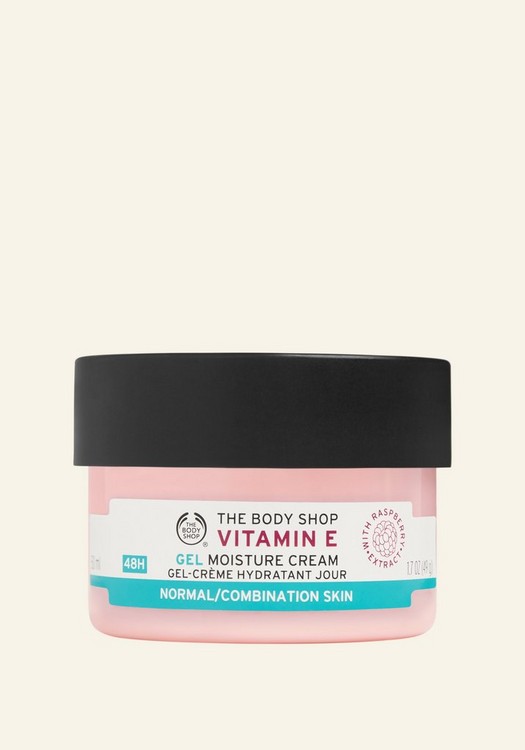 What does it do for you ?
Hydrate every day with our fast-absorbing Vitamin E Gel Moisture Cream. It's oil-free and perfect for combination skin. Feels super light and refreshing. And moisturises and protects skin with 48hr hydration. Made with raspberry extract, welcome to a whole new world of hydration.
Daily moisturiser
48hr hydration, perfect for combination skin
Super light and refreshing texture
Non-greasy and fast-absorbing
Oil-free , so skin looks less shiny
Made with hyaluronic acid and raspberry extract
Dermatologically tested
Ingredients
Community Fair Trade organic aloe vera
Naturally soothing on easily upset skin
Aloe vera is known for being ultra-gentle and soothing on skin. It's helped us formulate our Aloe range to handle sensitive skin with kid gloves.
It's a naturally hardy plant. Our aloe vera leaves are harvested and filleted by hand within 6 hours, which preserves the freshness and makes sure the aloe is the highest possible quality.
We source our organic aloe vera from Campeche in south-east Mexico. We work with expert farmers who really know their stuff, and can harvest the aloe while causing minimal harm to the environment. This is particularly important since the land is close to three precious rainforest biosphere reserves in the Yucatan peninsula.
Read more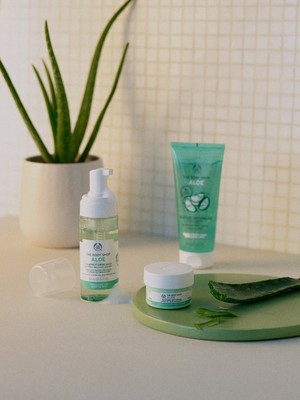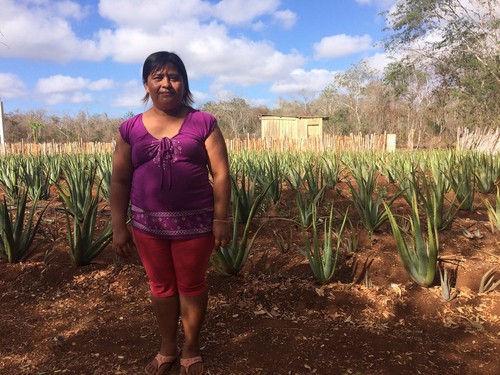 Since 2015, our trade has helped support the indigenous female farmers living on the edge of these rainforests, who could otherwise face discrimination and limited work opportunities.
53
---
---
---
Pleasantly surprised with the new formula
Vitamin E Gel Moisture Cream
Amanda11223
Time using product:
1 week
Posted date:
September 2020
I used the old formula a couple years ago and I did really like it but I found the oil control not very effective in my T-zone so I switched to Seaweed Gel Cream. I have combination skin (oily t-zone, dry everywhere else and blemishes on my forehead and chin area). I found the seaweed not very moisturising and didn't see it helping my blemishes so I thought I'd give the new Vitamin E formula a try. I read the reviews and was a bit worried because of the mixed opinions but now I'm getting older I thought I should incorporate hyaluronic acid into my skin routine. I also noticed it contained salicylic Acid which is a bonus for my spots and aloe vera to help with the redness. So I gave it a go and I wish I only started using this sooner! It's simply a life saver. It does smell different more like roses than raspberries previously and it is a little sticky at first but after a few minutes it smooths out my skin ready to apply make up. As the day goes on my skin feels so smooth and fresh. I use it day and night, it controls my oils better than the original version and I feel it makes my skin more matte than the Seaweed Oil Cream, shrinks my spots so they're finally healing now and the redness is finally going away more quickly - It's a miracle! Maybe I needed this all along in my skin care routine after using the tea tree wash and toner day and night. My skin is actually looking healthier and glowing for the first time. Thank you Body Shop for the new formula!
Was this helpful?
0 of 0 found this review helpful
---
Left my skin feeling sticky
Vitamin E Gel Moisture Cream
Trace1982
Time using product:
1 week
Posted date:
September 2020
I brought this because my usual seaweed one had run out and I thought I would try this. How I now wished I had kept my original seaweed one! It smells ok and quite pleasant but it feels much more 'watery' than my other gel cream and it does not work as well in the sense that it dries quickly and leaves my skin feeling moisturised. It left my skin with a sticky claggy feeling all day long and it just did not feel very nice at all. I will stick with my seaweed range in future.
Was this helpful?
0 of 0 found this review helpful
---
Gel vs cream
Vitamin E Gel Moisture Cream
sunshinedaisy
Posted date:
September 2020
I adore the Vitamin E range, and I've been using the Intense Moisture Cream for dry skin for a long time and it works wonders, but I realised my skin doesn't always need so much moisture, especially on those warm days! So I turned to using the Gel Moisture cream in the daytime and it's been fantastic! Sinks into your skin in no time, and it feels light and barely there. It's also great to use before makeup as it leaves your skin as a smooth base to put your foundation/concealer onto, so much so, that I don't always need a primer! Just what you need for one of those more oily skin days.
Was this helpful?
0 of 0 found this review helpful
---