Drops of Light™ Pure Resurfacing Liquid Peel
For dull skin
Gently peels off impurities
Vegan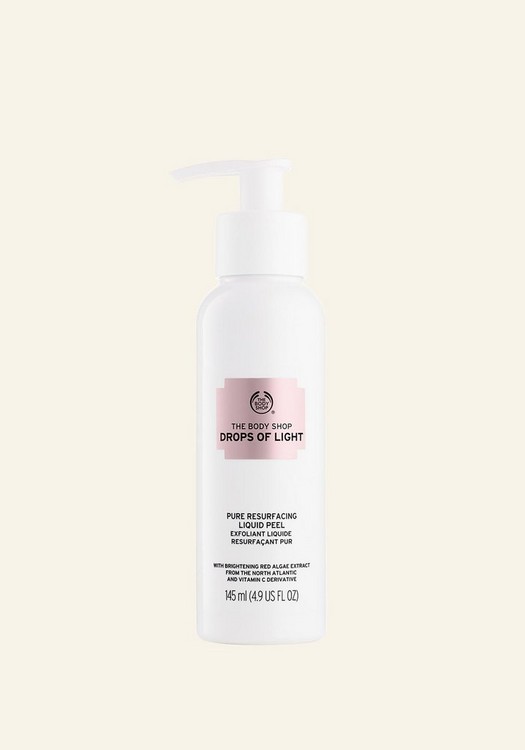 What does it do for you ?
This quick fix brightening essential will visibly brighten appearance after first use. Transforming gel-to-peel technology that traps and gently peels off impurities and dead skin cells to unveil healthy-looking skin that feels resurfaced from first use*. With continued use, skin looks more luminous and skin texture looks refined.* *Tested on 100 women.
With brightening Red Algae Extract harvested from the North Atlantic.
Rich in vitamin C, minerals and nutrients, red algae has grown in bracing oceans for millions of years.
Today we gently extract their potency for our healthy brightening Drops of Light™ range
Ingredients
198
---
---
---
Brilliant
Drops of Light™ Pure Resurfacing Liquid Peel
I was recommended this for dry flakey dull and acne skin by staff. I have been using this product for nearly 8 months now once or twice a week followed by body shop vit c serum which I have been using for nearly 2 years. I thought its a good amount of time for me to leave a honest review. I really like the product it has definitely brightened my skin. My dry flakey skin was gone within 2 weeks of using it and within the first month my acne spots had disappeared. My old blemishes and scars have definitely lightened. I'm so impressed that i recommended it to my sister who also has now purchased the peel and I have now ordered the day cream too. I always wore foundation because of how uncomfortable I was with my skin but since using this I have slowly stopped as I feel my skin looks so much better without foundation. I would definitely recommend it. I was hesitant by reviews that stated the bits that clump together is the actually peel and not dead skin however i have tested this too. I steamed, face masked and washed my face before using this peel and found that very little clumping occurred. In the beginning when I first started using this peel I found that i had alot of clumping but now its very little and my skin feels and looks beautiful. I will be sticking to this peel forever. I now use this peel when I feel my skin needs it often once or twice every 2 weeks.
Was this helpful?
1 of 16 found this review helpful
---
Fantastic
Drops of Light™ Pure Resurfacing Liquid Peel
Can't recommend this highly enough. Suffer with hyper pigmentation which makes me feel very self conscious. This is working miracles and its slowly going and leaving my skin glowing and feels excellent. I don't usually write reviews but this product is so good I have nothing but praise for this. Love the body shop.
Was this helpful?
1 of 17 found this review helpful
---
Dupe For The Wishful Scrub
Drops of Light™ Pure Resurfacing Liquid Peel
This product is a cheaper alternative to the Huda Beauty Wishful Yo Glow Enzyme Scrub. However it is less harsh and so does not remove dead skin as effectively.
Was this helpful?
0 of 8 found this review helpful
---