Shea Body Scrub
Intense sugar body exfoliator
For very dry skin
Vegan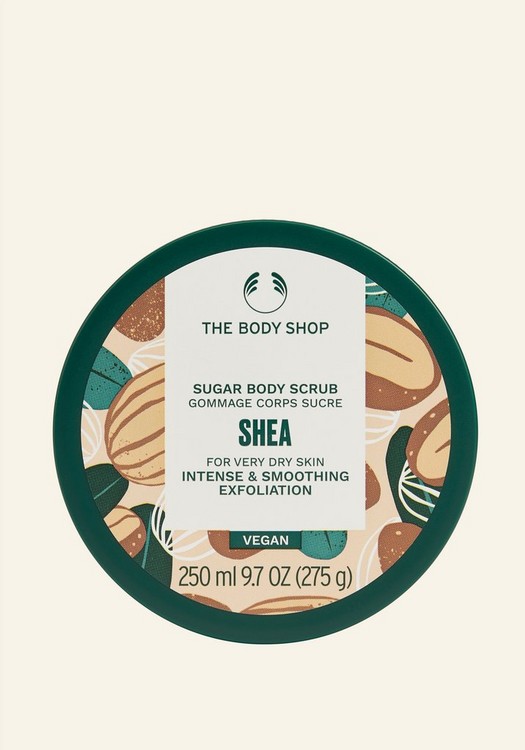 What does it do for you ?
Intensely buff that beautiful body to silky softness with our Shea Body Scrub.

Now made with 95% ingredients of natural origin, including handcrafted Community Fair Trade shea butter from Ghana, our sugar body exfoliator intensely buffs away dead skin cells to leave very dry skin feeling softer, smoother and nourished with moisture. It leaves your birthday suit looking radiant too.

This delicately nutty scrub now comes in recyclable packaging.* The tub is also made with 100% recycled plastic, including Community Fair Trade recycled plastic from India. This means you can love your planet while you love and buff your body.

*Where local facilities allow.
Intense sugar body exfoliator
Perfect for very dry skin
Leave skin feeling softer and nourished with moisture
Smell delicately nutty
Made with 95% ingredients of natural origin
Certified by The Vegan Society
Ingredients
5
---
---
---
Like bathing in grease
Shea Body Scrub
Shebrv
Time using product:
1+ year(s)
It's horrible The shea scrub was the only thing that would help my skin and now it's just like rubbing grease on your skin it's hardly scrubs and you have to buy a hard flannel or brush to scrub the grease texture off you other wise it won't come off. For the amount of money it's not worth it anymore
Was this helpful?
0 of 0 found this review helpful
---
Shea body acrub
Shea Body Scrub
Gr8nana
Time using product:
1 week
The brown sugar is a great scrub but the rest is sooooo greasy. It's like rubbing lard on your body and soap won't cut the grease.
Was this helpful?
0 of 0 found this review helpful
---
What have you done?
Shea Body Scrub
Lavenders12
Time using product:
1 week
I used to love the old Shea scrub, and hadn't realised they had changed the formula completely (although I can see the packaging has changed too). There's hardly any scrub pieces compared to before, and the thickness / oiliness of the scrub is bizarre. I know it says it's a intensive scrub for very dry skin & I do actually have very dry skin so it should be perfect for me. The old scrub was quite intensive too. But now it's like spreading actual butter on my skin. I scraped at my skin to see if there was any residue, and lots of white buttery oil just came off on my hands. It's so oily that I don't feel clean afterwards, I feel sticky and sweaty even after having had a bath! Also, it's so oily that it transferred onto the mid lengths & ends of my hair where it touched my back - to the point I had to wash my hair again as well as my body. Honestly the Shea scrub used to be my favourite product & I have no idea why it was changed so much when it was pretty much a perfect product already.
Was this helpful?
0 of 0 found this review helpful
---