Aloe Multi-Use Soothing Gel 200ml
For sensitive skin
Non-greasy, gentle on skin
Vegan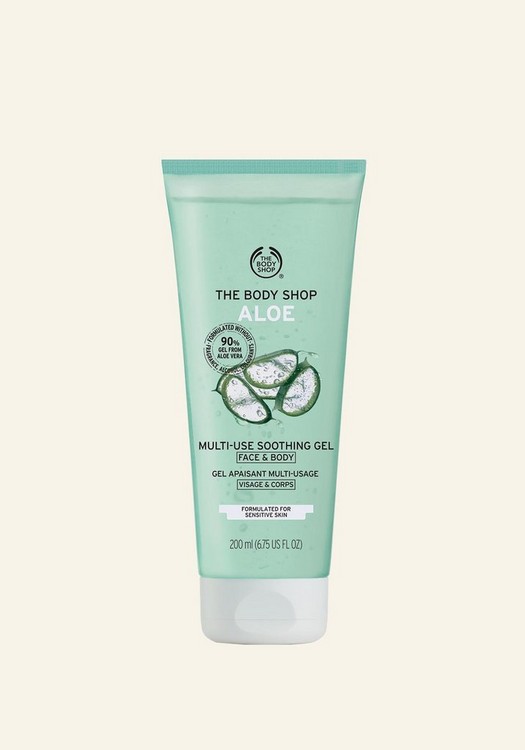 What does it do for you ?
Aloe, aloe, this soothing, hydrating tube of refreshment leaves your skin feeling cool, calm and collected.
Our Aloe Multi-Use Soothing Gel is just the thing for dry or sensitive skin. Infused with Community Fair Trade organic aloe vera from Mexico, it helps to soothe and quench skin that's in need of a little TLC, leaving it feeling softer and looking healthier. This aloe vera gel is non-greasy, lightweight and easily absorbs into your skin. Liberally apply our kind-to-skin formula, we've got your sensitive skin covered.
There are so many wonderful ways to use this aloe gel: as an everyday moisturiser and an overnight mask, to name a few. Whether you're using our aloe vera gel for face or skin, you can soak up all the benefits of this handy, hard-working aloe vera product.
Can't get enough of our aloe vera soothing gel? Well, there's plenty more where that came from in our aloe vera skincare range.
Helps soothe and cool top-to-toe
Ultra-hydrating and blissfully refreshing
Gentle for sensitive skin
Nothing greasy here
Dermatologically tested
Ingredients
Community Fair Trade organic aloe vera
Naturally soothing on easily upset skin
Aloe vera is known for being ultra-gentle and soothing on skin. It's helped us formulate our Aloe range to handle sensitive skin with kid gloves.
It's a naturally hardy plant. Our aloe vera leaves are harvested and filleted by hand within 6 hours, which preserves the freshness and makes sure the aloe is the highest possible quality.
We source our organic aloe vera from Campeche in south-east Mexico. We work with expert farmers who really know their stuff, and can harvest the aloe while causing minimal harm to the environment. This is particularly important since the land is close to three precious rainforest biosphere reserves in the Yucatan peninsula.
Read more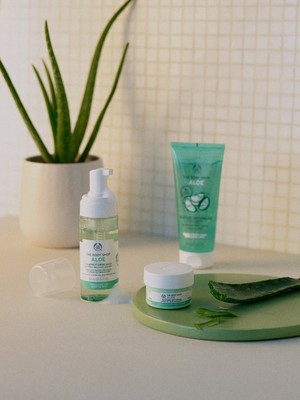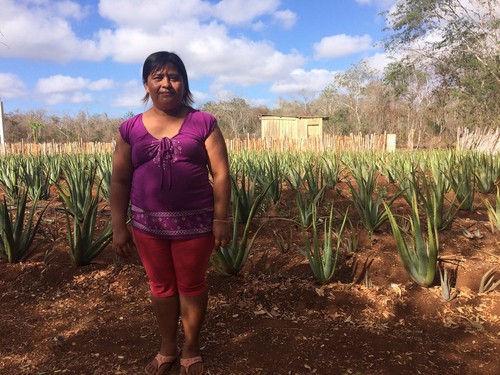 Since 2015, our trade has helped support the indigenous female farmers living on the edge of these rainforests, who could otherwise face discrimination and limited work opportunities.
36
---
---
---
Lovely gel
Aloe Multi-Use Soothing Gel 200ml
Bookworm123
Time using product:
1+ month(s)
Posted date:
September 2020
I bought this in the store earlier in the year, and I use it as a daily moisturiser. It's not super moisturising like a heavy face cream (it's light) but I like it because it's oil free and I hate really oily face creams. I have combination skin and this works so well on my oily patches. It's also very soothing with the aloe Vera and doesn't irritate my sensitive skin. It absorbs well and is great to use on other parts of your body also. I haven't had breakouts like I have done with other face creams. So I love that this is a gel instead! It suits my skin. Its great that it also has fewer ingredients. I love it. Please, The Body Shop don't ever stop making it! It is quite expensive however it lasts for a very long time
Was this helpful?
1 of 3 found this review helpful
---
Really soothing gel
Aloe Multi-Use Soothing Gel 200ml
This gel is great for soothing skin, especially after being out in the sun all day. It has a really cool feel when applied. It's also good as an after shave gel.
Was this helpful?
1 of 1 found this review helpful
---
Love it!
Aloe Multi-Use Soothing Gel 200ml
This Aloe Multi-use soothing gel does exactly what it says! I used it originally to soothe the light sunburn on my shoulders and it definitely took the sting out of it and reduced the redness. It instantly cools and absorbs really well, no greasy residue left behind. I also use this as an overnight cleansing/moisturising mask as it says on the bottle and this works well in reducing the inflammation around angry spots - win win!
Was this helpful?
1 of 3 found this review helpful
---