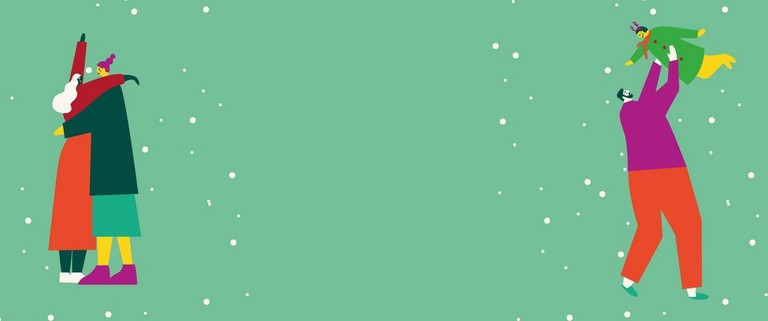 How to have a more
sustainable holiday
During the holidays it's easy to get carried away. We love our family, we love our friends — naturally we want to spoil them. But hey, despite all that love flying about, we've got to consider the impact it has on our planet.
By being mindful of the way we celebrate this year, we can make sure the world we live in is a cleaner one. So, as you're preparing for the festive season, why not put a little extra thought into how it impacts the planet? Here are our top ten tips on how to have a more sustainable holiday season, from sustainable gifting to eco-friendly Christmas decorations.
1. Think about your decorations
We create 30% more waste in the UK during the festive season (1), so why not reuse the nativity set that's been in the family for generations instead? If you don't have any, look out for decorations that are made from brass, glass and wood rather than plastic.
2. Buy eco-friendly gifts
Making sure gifts are responsible can be tricky. So whether you're looking for gifts that give back to local communities, or want to ensure the packaging on your gifts is reusable, we've created a handy gift guide.
3. Swap incandescent lights for LEDs
Use LED bulbs instead of incandescent ones as they last a lot longer, meaning they're much more environmentally friendly and will see you through the years.
4. Switch to eco-friendly Christmas crackers
According to The Scotsman, it's estimated 40 million Christmas crackers are binned on Christmas day (2). Typical holiday excess, but terrible for the planet. Instead, opt for eco-friendly Christmas crackers that are made from recyclable cardboard, or find ones with gifts inside that are made from natural materials, or even food, like chocolate!
5. Choose an eco-friendly Christmas tree
When picking the perfect pine, avoid artificial trees. They're not recyclable and have more than twice the carbon footprint of a real tree. You can find your sustainable tree locally, or maybe even buy a pot-grown tree so that when Christmas is over, you can plant it in the garden or re-pot it and use it again next year.
6. Upcycle or Recycle Your Gifts
According to the Sydney Morning Herald, in 2018 Australians spent around $400m on 10 million unwanted gifts (3). And each year the UK spends a combined total of around £700m on unwanted presents. Try refilling old jars with new wax, making for the perfect DIY candle, or decorating and reusing old boxes to wrap your gifts in to make for more sustainable gifts.
7. Use eco-friendly wrapping paper
Choose gifts that come in boxes or bags that can be reused for the next festive season, and buy wrapping paper that's free of foil or glitter, as these cannot be recycled. If anything you receive comes with tape, remember to remove it before popping in the recycling bin.
8. Reduce your food waste
Cooking during the holidays is enough heat to keep anyone out of the kitchen, so make sure to plan meals in advance to ensure nothing is wasted, shop locally and organic where possible, and donate unopened food to a food bank (often found in local supermarkets). Want to go the extra mile? Try meat-alternatives to your ordinary roast. You might just start a new holiday tradition!
9. Choose a reusable advent calendar
Waste and recycling company BusinessWaste estimates there were 16.5 million advent calendars containing single-use plastics in circulation in 2019 (4), enough to stretch from London to the North Pole. . To help reduce that number, choose larger calendars with doors that you can refill with little treats each year, and check out our Advent Calendar Guide to shop and find more tips for reusing our calendars.
10. Take a tote bag when holiday shopping
Small change, big impact. Pick up one of our limited edition totes made from organic canvas and crafted by our Community Fair Trade partner Teddy Exports in India. They provide fair pay and work for over 600 people.