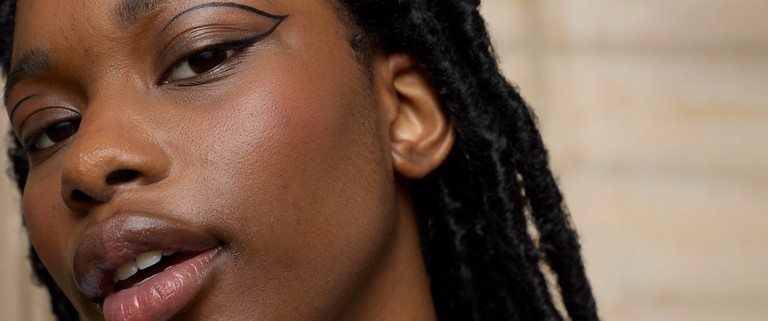 How to apply eyeliner
One of the trickier makeup skills to master, getting your eyeliner just right needs a steady hand and a little bit of confidence... Or the help of our handy guide that'll show you how to apply eyeliner, whether you want a smokey look, a feline flick or a pop of color.
What are the different types of eyeliner?
Great eyeliner starts with great products, and you might find that your skills are more suited to a specific formula. For example, you might be a whizz with a liquid eyeliner but a little unsteady with a crayon. Luckily, at The Body Shop, we stock both, so you're sure to find your perfect partner.
Liquid Eyeliner
Want to create a fierce flick? Our Wake-up Call Liquid Liner is a long-lasting, ultra-black formula that leaves behind a clean, sharp line with a matte finish. Packed full of natural-origin ingredients like upcycled coffee powder and coffee seed oil, and enriched with Community Fair Trade aloe vera, it's easy to apply, gliding across the eyelid giving you freedom to create. And while it might give a sharp line, it's that it's gentle on the delicate skin around the eye.
Shop eyeliner
Pencil Eyeliner
If you're a fan of a softer line, a pencil eyeliner like our Freestyle Multi-tasking Crayon in Black is for you. This versatile, blendable formula glides across the skin, helping you to create a unique look, whether it's a smoky eye or a graphic line. Enriched with Community Fair Trade shea butter, this jumbo pencil is super moisturizing and kind on the skin. And if black isn't your color, there's nine other shades to choose from.
Shop crayon
How to apply pencil eyeliner to your waterline
Lining your upper and lower lashes, or tightlining, adds definition to your eyes and makes your lashes look thicker.
Make sure your eyeliner pencil is freshly sharpened - this'll give you a cleaner, more defined line.

Hold down your bottom lid and gently draw a line along the waterline of your eye.

For the top lid, use your fingers to hold the lid up while you draw beneath the lash waterline.
How to do
smoky eyeliner
This blended, buildable look creates depth, taking your makeup to a whole new level - it's the perfect choice for a full face of makeup.
With your pencil, tightline your upper and lower lash lines, winging it out slightly on your top lash line.

Using a brush or pencil, gently smudge the pencil out in a circular motion, making sure to keep it darkest closer to your eyeline.
How to create a more defined look
You may think darkening your undereye sounds counterintuitive but done right it'll give you natural-looking definition and thicker-looking lashes.
Make sure you've finished the rest of your eye makeup - you want this to be your final step.

Gently draw the pencil on the outer part of your lower lid, building up colour and intensity as you like.

Bring the line into the inner corner of your eye for a super defined look.
Is eyeliner difficult to apply?
Like all makeup, getting your eyeliner just right takes practice but a good place to start is by settling that shaky hand. Try sitting down and planting your elbow firmly on a flat surface, then rest your pinky finger on your cheek to stabilise your hand. Once you've got a steady hand, you're halfway there!
The difficulty also depends on what formula you're using. A liquid eyeliner might help you create bolder lines, but it's also not as easy to remove. If you're a total beginner, try using a pencil instead. They're easier to handle and easier to tweak if it's started to go a little wonky.
Finally, a sharp pencil is your best friend when it comes to eyeliner. It'll ensure more precise application, and you can always build it up as you go.
Where should eyeliner start?
Eyeliner should start either in the middle of your eyelid or in your inner corner. If your eyes are smaller or quite close together, you can create an optical illusion to make them seem a little bigger or further apart. The trick is to draw attention away from the inner corners of your eyes. Start at the middle of your upper lash line and then gently draw the line outwards so that you're only lining the outer half of your eye.
For most other eye shapes, your eyeliner should start at the inner corner of your eye and continue along the lash line or go even further and wing it out. If you're struggling to perfect your eyeliner, try dotting along the lash line and then join them up to create a seamless line.
Can I apply eyeliner to the top and bottom of my eyes?
It totally depends on what kind of look you're after. When you apply eyeliner to your top lash line only, it can give the appearance of bigger eyes. If you're still struggling get a sharp, seamless line on your top lid, applying it to only your bottom lash line is an easy solution. It'll still draw attention to your eye and it's much easier to master! Our top tip to stop just before you get to the inner corner of your eye for a more natural look.
For full drama, apply eyeliner to both the upper and lower lash lines – it'll really make them pop. Or you can get creative and apply a coloured liner on the bottom.
What's the best eyeliner for beginners?
Still finding eyeliner a little tricky? An eyeliner pencil is the easiest way to test the water – it's easy to remove and easy to blend. Use our Freestyle Multi-tasking Crayon to create your initial line and then build it up until you've got the finish you're after. And for more precise application, sharpen your pencil using our Double Pencil Sharpener.