Vitamin E Aqua Boost Essence Lotion
For dehydrated skin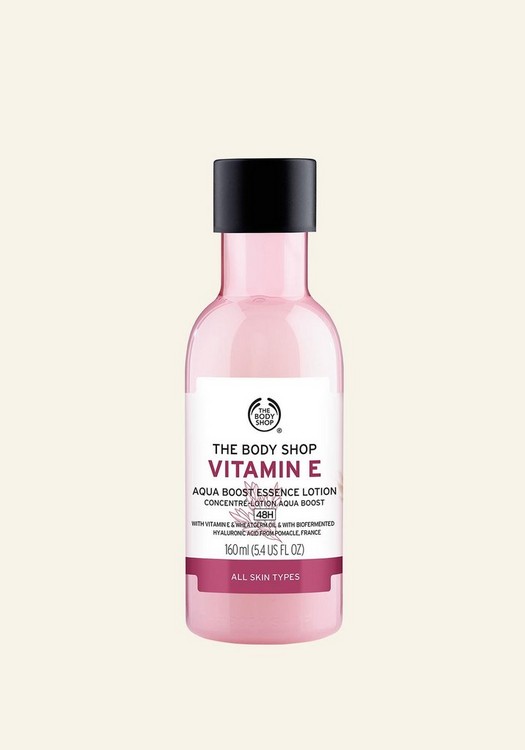 What does it do for you ?
This essence lotion is the perfect addition to your skincare routine - add this step in after cleansing. Lightweight, non-greasy and comfortable on the skin, this product's gellified formula provides up to 48 hours of moisturization, leaving skin feeling soft and smooth.
Skin feels instantly replenished with moisture
Skin feels softer, smoother and more supple
Penetrates quickly with a non-sticky feel Antioxidant properties protect against free radicals
Paraben-free Powered with Biofermented Hyaluronic Acid
Based on a self-assessed study on 108 women Learn more about the moisturizing benefits of Vitamin E for skin.
Ingredients
Vitamin E Aqua Boost Essence Lotion
Community Fair Trade organic aloe vera
Naturally soothing on easily upset skin
Aloe vera is known for being ultra-gentle and soothing on skin. It's helped us formulate our Aloe range to handle sensitive skin with kid gloves.
It's a naturally hardy plant. Our aloe vera leaves are harvested and filleted by hand within 6 hours, which preserves the freshness and makes sure the aloe is the highest possible quality.
We source our organic aloe vera from Campeche in south-east Mexico. We work with expert farmers who really know their stuff, and can harvest the aloe while causing minimal harm to the environment. This is particularly important since the land is close to three precious rainforest biosphere reserves in the Yucatan peninsula.
Read more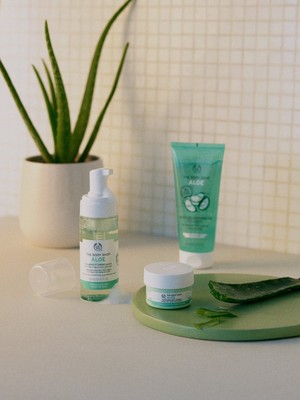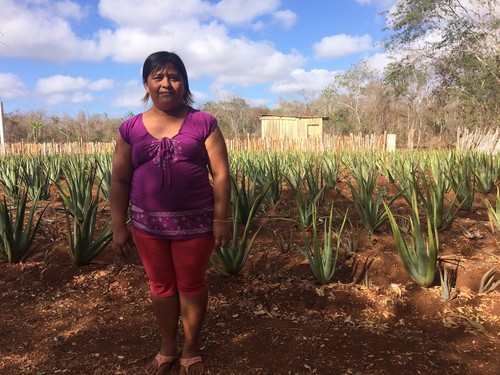 Since 2015, our trade has helped support the indigenous female farmers living on the edge of these rainforests, who could otherwise face discrimination and limited work opportunities.
59
---
---
---
Brilliant buy
Vitamin E Aqua Boost Essence Lotion
This lotion is fantastic, as a 67 year old who has only (from my 30's) used body shop vitamin e products on my face find this lotion really great. It leaves my skin feeling soft and moisturised throuout the day and even seems to plump up my eye area to make my wrinkles show less. I love it. Please don't discontinue it, so many customers love this product.
Was this helpful?
1 of 1 found this review helpful
---
Dream product! Please bring it back!
Vitamin E Aqua Boost Essence Lotion
This is an incredible product that is essential in any skincare routine. It leaves my skin feeling hydrated with no stickiness. I adore it. Please bring this product back! I haven't been able to find it anywhere :( I'm lost without it!
Was this helpful?
0 of 0 found this review helpful
---
Only product I can use on my eyes
Vitamin E Aqua Boost Essence Lotion
I have hypersensitive eyes which stream and sting at the slightest provocation and have tried any number of sensitive eye products, although not designed for eyes this is the only product which soothes the eye area without irritating my eyes. It also feels lovely elsewhere, please don't discontinue it!
Was this helpful?
2 of 2 found this review helpful
---