Cheer & Wonder Orange & Pine Essentials
$28 Value
Holiday gift set
For all skin types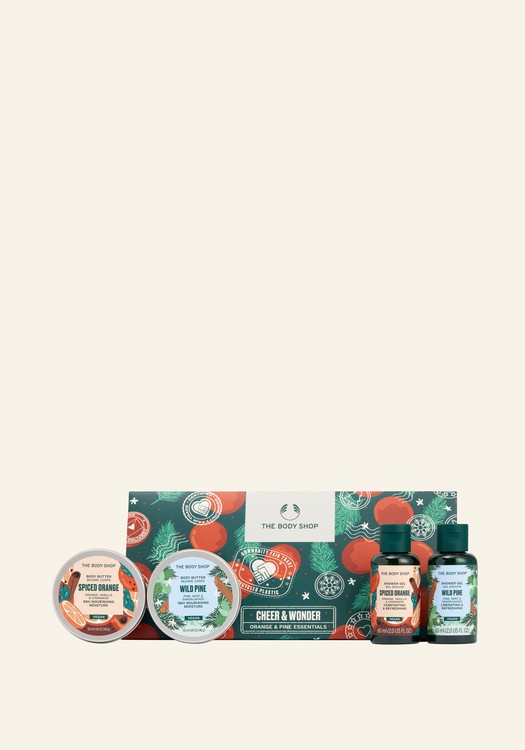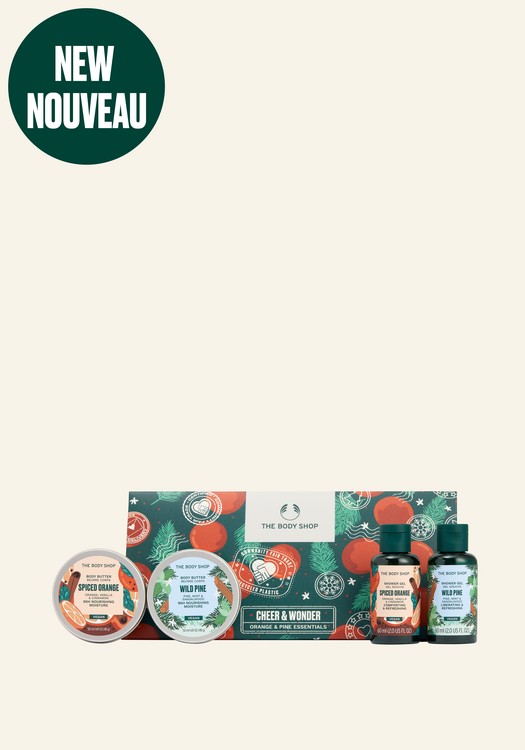 What does it do for you ?
Give someone wonderful those Christmassy feels with our festively-scented Cheer & Wonder Essentials Gift.
Start by lathering up with our refreshingly scented shower gel – will you choose invigorating Wild Pine or comforting Spiced Orange? Next, towel off and slather on a creamy dollop of our Body Butter, made with handcrafted Community Fair Trade shea butter from Ghana. It leaves that beautiful body feeling softer, smoother and nourished with 96hr moisture.
And your Shower Gel bottles and Body Butter tubs* are made with 100% recycled plastic, including Community Fair Trade recycled plastic collected off the streets of Bengaluru, India. Our partnership with Plastics for Change helps provide waste pickers with a fair price and improved working conditions.
The perfect body-loving vegan Holiday gift, give someone that Christmas feeling or keep these surprises for yourself (we wouldn't blame you).
Wild Pine Body Butter 50ml
Spiced Orange Body Butter 50ml
Wild Pine Shower Gel 60ml
Spiced Orange Shower Gel 60ml
Ingredients
Cheer & Wonder Orange & Pine Essentials
3
---
---
---
Not Christmassy scents at all
Cheer & Wonder Orange & Pine Essentials
Pheebo
Received Free Product:
No
Posted date:
November 2022
I didnt care for either scent. Was expecting something Christmassy. Both smell like men's products. Waste of money.
---
Noël
Cheer & Wonder Orange & Pine Essentials
Lapinettesdu57
Time using product:
1 week
Received Free Product:
No
Posted date:
November 2022
Super edition limitee pour Noël, bonne odeur, bien parfumé
---
cool
Cheer & Wonder Orange & Pine Essentials
lapinettedu57
Time using product:
1 month
Received Free Product:
No
Posted date:
October 2022
supers senteurs de noel, bonne qualité, peau douce
---