Share the Love Big Advent Calendar
$193 Value
25 head-to-toe treats
Beauty Advent Calendar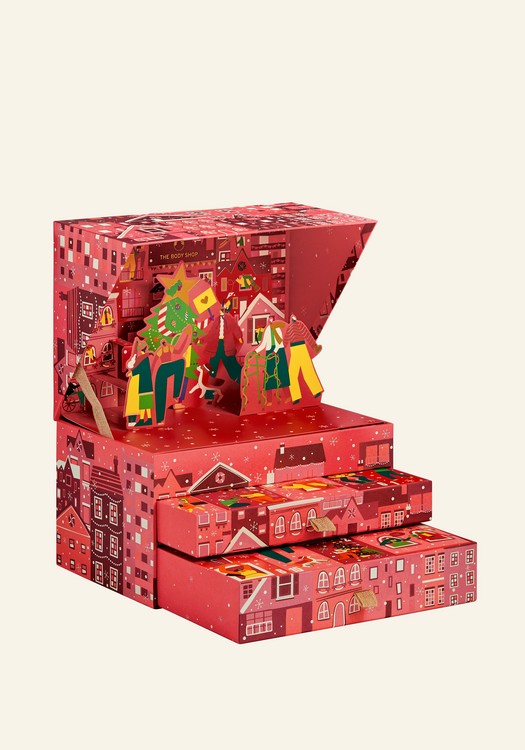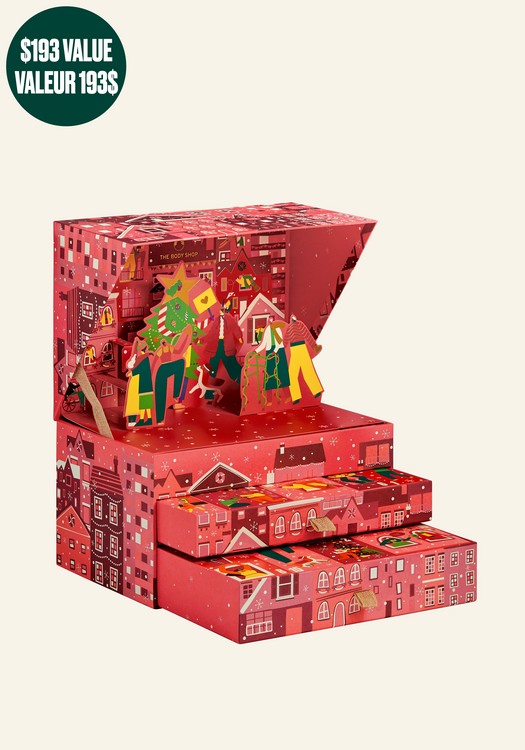 What does it do for you ?
Count down to Christmas Day with the 25 body-loving treats hiding inside our Share the Love Big Advent Calendar.
Not only does our new beauty advent calendar have an amazing pop-up construction that transports you to our joyful Christmas world. It's packed with some seriously good head-to-toe treats for keeping you and that beautiful body pampered all season.
We won't spoil the surprise, but we'll give you some hints on what you might discover inside…
Perhaps you'll find our new, full-sized Avocado Body Butter for nourishing dry skin with 96hr moisture. Maybe you'll find our mini, skin-tingling Himalayan Charcoal and refreshing British Rose face masks. There might even be a Hand Cream or two for keeping palms and pinkies feeling hydrated all season.
You'll have to wait to discover what else is hidden inside. If you can't wait, spoiler alert: our menu below tells you exactly what's waiting for you in this amazing beauty advent calendar.
Inside every box, you'll also find a little act of kindness so you can share some selfless love and joy with your friends, family and community. If you want to spread joy even further, why not share a few of your body-loving surprises with your favourite humans too?
It's not just about the body-loving surprises and acts of selfless love inside – our pop-up beauty calendar's unique drawer construction is also perfect for storing your crafts and other little bits and bobs, which means it can be reused long after Christmas too. What's not to love?
Treat yourself or someone special. Christmas gifts don't get much better than this.
This gift doesn't just bring joy to yourself and the people you love. Discover how it also helps spread the love and share the joy with the most selfless people in our community.
Length 31.7cm x Depth 22cm x Height 17.5cm. Weight 3.2kg
Scroll down to view complete list of contents
Ingredients
Share the Love Big Advent Calendar
168
---
---
---
Awesome Value and Great Variety
Share the Love Big Advent Calendar
PrairieSummer
Received Free Product:
No
Posted date:
September 2022
I bought a smaller advent calendar from TBS last year and I loved it so much that I promised myself the larger one this year. I like that there is a wide variety of interesting smaller-sized products so that I can try some new things without the commitment of a large size. I also love the drawers and that I can repurpose the box to store my Christmas bows, ribbon, name tags, etc. in it. I can't wait for Dec.1st!
Was this helpful?
0 of 0 found this review helpful
---
Advent Calander
Share the Love Big Advent Calendar
SJPople
Posted date:
October 2021
It's great value. I bought it last year and bought it again this year.
Was this helpful?
41 of 49 found this review helpful
---
Love Big Advent Calendar
Share the Love Big Advent Calendar
Wanda Woman
Time using product:
1+ year(s)
Received Free Product:
Yes
Posted date:
September 2022
Second year I have bought an Advent calendar, but wish I had known of this in years past. Can't wait until December 1st. The surprises inside each individual box are enjoyed for days and weeks to come.
Was this helpful?
0 of 0 found this review helpful
---
8 questions and 1 answers
---
Is this a new 2022 calendar with different product than 2021, or is it the same calendar as 2021?

0 answer
The advent calendars currently on the site have the photos from the 2021 editions. Do you have the 2022 editions on sale for order? Thanks.

1 answer
Will this come back in stock before Dec 1?

0 answer