Petal-Soft British Rose Ultimate Collection
Floral scent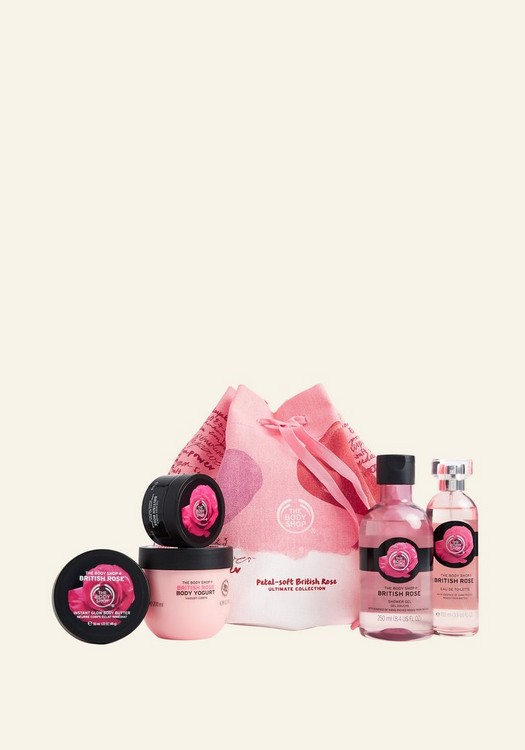 What does it do for you ?
Pamper and moisturize skin in the English countryside with the blooming refreshing surprises packed inside our Petal-Soft British Rose Ultimate Collection. Gently exfoliate with the Body Scrub. Lather up with the cleansing Shower Gel. moisturize with the fast-absorbing Body Yogurt or richly textured, glow-enhancing Body Butter. Spritz all over with the dewy Eau de Toilette. Tied inside a stylish, reusable bag, it doesn't get more luxurious than this perfect gift set for any occasion.
British Rose Shower Gel 250ml
British Rose Body Yogurt 200ml
British Rose Body Butter 50ml
British Rose Body Scrub 50ml
British Rose Eau de Toilette 100ml
Enriched with the essence of roses handpicked in England
Ingredients
Petal-Soft British Rose Ultimate Collection
2
---
---
---
Petal soft British rose it is!
Petal-Soft British Rose Ultimate Collection
I bought the set thinking it was going to be a small kit but was happily surprised with the size and everything in the set. The bag is perfect for travel too. I love the soft rose sent. Would highly recommend to anyone at any age.
Was this helpful?
1 of 4 found this review helpful
---
Mother's Day package
Petal-Soft British Rose Ultimate Collection
I have always enjoyed the body shop products and appreciated that, in the past, they have been naturally and LIGHTLY scented...In my experience, normally, Roses are a very light scent so I was surprised by the heavy scent especially in the Eau to toilet which I had to throw out due to its high perfume. The other three products are a little less perfumed. I hope the developers will consider less perfume in the next batch of "roses for Mom".
Was this helpful?
1 of 4 found this review helpful
---