Peppermint Cooling & Reviving Foot Spray
Fresh scent
Vegan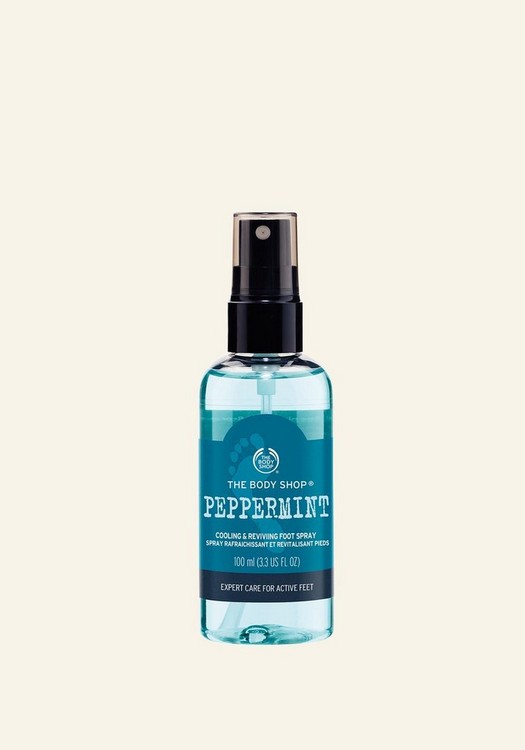 What does it do for you ?
Revive and refresh tired and achy feet with our cooling foot spray. Enriched with English peppermint essential oil, spritz on this foot spray for minty-freshness whenever you need it.
Foot spray
Cooling and refreshing
Refreshing peppermint scent
Expert care for active feet
Community Fair Trade peppermint essence oil from England
Ingredients
35
---
---
---
Trying Something New
Peppermint Cooling & Reviving Foot Spray
The looks of my feet are very important to me! Looking forward to using this as they were out when I went to the store where I live.
Was this helpful?
0 of 0 found this review helpful
---
Nurses Feet
Peppermint Cooling & Reviving Foot Spray
I'm a 62 year old ICU RN and when I come home from a 12 hour shift, my feet are aching. I spray on this Peppermint spray and within 5 minutes the pain in gone. I stubbed my toe last week on a brick and the pain was excruciating. I used my Peppermint spray because I had nothing else and sure enough, it took away the pain almost immediately. I looked Peppermint up online and found this:"Peppermint oil ... has analgesic, antispasmodic, and anti-inflammatory properties." Well it sure does! Absolutely amazing and it smells great too.
Was this helpful?
1 of 5 found this review helpful
---
OMG... I coudn't live (sleep) without!
Peppermint Cooling & Reviving Foot Spray
BodyShopSkin
Posted date:
January 2020
I'm a hiker, and I hike a lot everyday. Like, A LOT. And every night, without prevail, I cannot sleep because my feet - just - burn. I mean, BURN. Unfortunately, it's impossible to find good, hardworking feet products these days. I've tried probably all of the stuff at the drug stores (and there isn't much) and I've tried likely every drug store in my city... and nothing compares to this stuff. NOTHING. AND... it feels sooooo good. I usually use the lotion or cream along side the spray, but the spray is amazing for a quick soothing. I keep it in my bedside table AT ALL TIMES. (Seriously, I wake up in the middle of the night if I don't apply this before I go to sleep). It's worth it if you have sore, tired, burning feet from high usage and they bother you at the end of the days. It's almost a miracle I found this stuff. Definitely worth a try.
Was this helpful?
1 of 4 found this review helpful
---