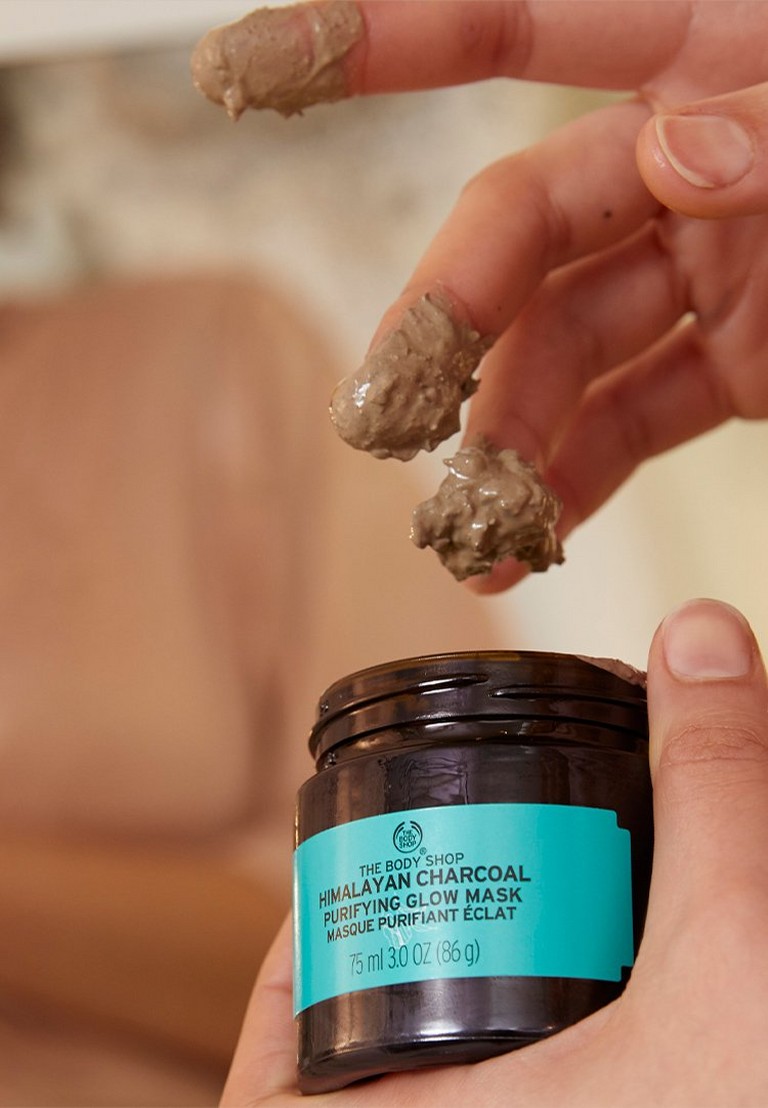 How To Shrink Pores
Pores – we all have them, but what exactly are they and how do we go about minimising their appearance? With our handy how-to guide, we'll go through what they do, why they do it and steps you can take to make them appear a little less obvious.
Pores – we all have them, but what exactly are they and how do we go about minimising their appearance?
5 tips for minimising the appearance of pores
1. Remove Dead Skin
Buffing away dead skin cells is the first step to help unclog pesky congestion in your pores. Use an exfoliator, like our Drops of Youth™ Liquid Peel, which leaves your skin feeling cleansed, free from impurities. An innovative gel-to-peel texture, it's infused with Community Fair Trade moringa seed oil and a blend of three plant stem cells – edelweiss from the Italian Alps, sea holly and criste marine from the Brittany coast.
When you massage the sumptuous gel into the skin, it transforms into noodle-like clumps that help to trap impurities and residue, leaving skin feeling fresh and healthy-looking.
Shop Exfoliators & Peels
Help Remove Impurities From Skin
Coming up against the elements and urban grime many of us face on a daily basis can make you feel like your skin is particularly grubby – and pores clogged. How to reduce pores on faces was the question we were obsessed with when designing our vegan Japanese Matcha Tea Pollution Clearing Mask. It's enriched with Community Fair Trade aloe vera and dandelion extract alongside matcha green tea, and is best applied with our Facial Mask Brush for even coverage. Using this mask 2-3 times a week can help to deeply exfoliate the pores of everyday impurities and reveal more radiant-looking skin. We can't all live next to green fields and babbling brooks, but it's certainly possible to help your skin feel like it's been kissed by nature's goodness if you treat it right.
Shop Face Masks
Always Remove Makeup Before Bed
Want to learn how to make your pores appear smaller? Simply follow good old classic advice and always-always-always remove your makeup before bed. It's essential that makeup particles don't dig into those small outlets in the skin's surface while you sleep. There's a reason our Camomile Sumptuous Cleansing Butter is our best-selling makeup remover. Simply massage this buttery formula into your face, mascara-laden lashes and all, and remove with a damp muslin cloth or reusable cotton pad. Skin is left feeling cleansed and refreshed in time for bed. Now, that's snoozing smart.
Shop Cleansers
Moisturise and Help Protect Your Skin From The Sun
In learning to reduce pores' visibility on the face, another unsurprising tip is to always wear SPF (no matter the weather) for sun protection for skin. Sun damage is not just dangerous, but can also dry skin, making pores seem larger. When you're under the sun's rays, skin tries to up its barrier function by producing more sebum, which can put pores at risk of becoming clogged. And, UV rays can break down skin's collagen and elastin, making the skin look less firm and pores larger. Lots of radiance-compromising reasons to use our Skin Defence Multi-Protection Lotion SPF50 PA+++ religiously, alongside your main sunscreen of course, to help protect skin and re-plump with moisture. This little bottle, designed for dull, uneven skin, helps to moisturise and add vitality, as well as helps to protect against harmful UVA and UVB rays without any stickiness or comedogenic effects (a fancy scientific word for pore-blocking). Talk about putting you in a sunshine state of mind.
Shop Moisturiser with SPF
Balance Excess Oil
For a cleanse specially formulated for faces prone to excessive sebum, our Tea Tree range is the one. Start with our Tea Tree Skin Clearing Facial Wash for a refreshing lather, enriched with Community Fair Trade tea tree oil. It's suitable for everyday use, helping to rid pores of excess oil every morning. Our Tea Tree 3-in-1 Wash Scrub Mask helps to battle blemishes and sebum-saturated skin alike. Use as a foaming face wash, exfoliator or mask as your skin needs to reveal more mattified and clearer-looking skin. Lastly, our bestselling Tea Tree Anti-Imperfection Night Mask is designed to take care of overexcited sebum production while you slumber. Smother it on pre-bed and let the formula, infused with salicylic acid, get to work on helping to balance skin's natural oils, reduce blemishes and get skin looking refreshed and purified.
Shop Tea Tree Range
Excellent product, leaves skin glowing and feeling extremely clean. Skin feels soft to the touch and pores appear minimised.
Shop now
Regime component placeholder. Charcoal Clay Wash + Charcoal Face Mask + Tea Tree Toner + Tea Tree Lotion