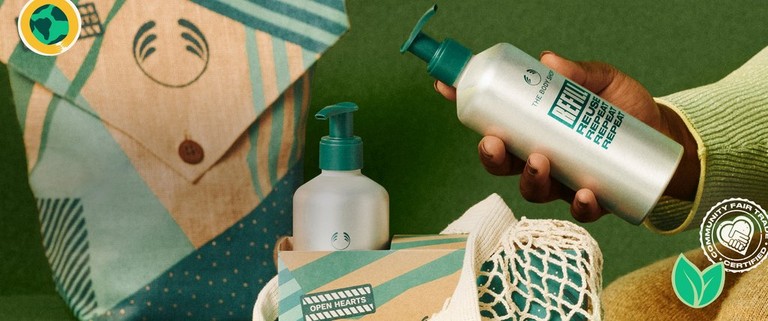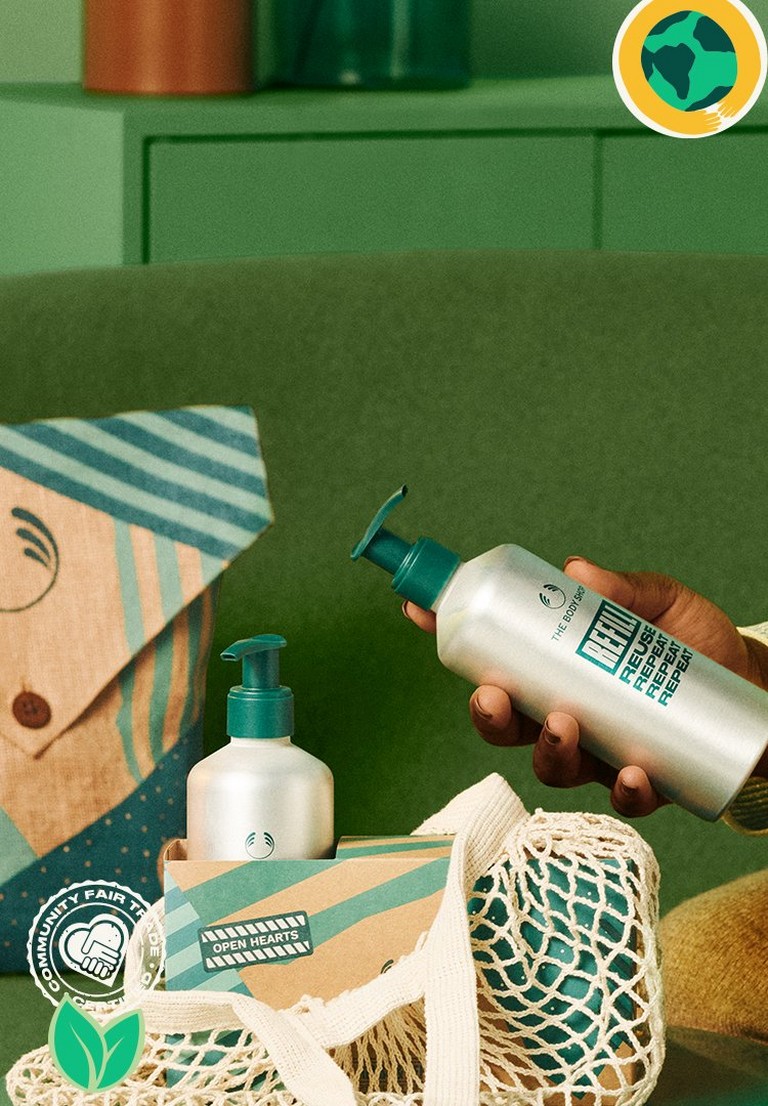 Give a little more sustainably this year with wonder-filled gifts that love your body and are kinder to the planet. From nature-inspired goodies enriched by our Community Fair Trade partners, to treats that can be repurposed or recycled,* this is our ultimate guide to more eco-friendly Christmas gifts.
Our eco-friendly gift guide
Spiced Orange Body Butter, $29
Like a warm, cosy hug, our Spiced Orange Body Butter from our new limited edition body care range feels like pure comfort. This intensely creamy Body Butter helps nourish skin with 96 hr moisture. Its packaging, apart from the lid, is made with recycled plastic, including Community Fair Trade plastic collected from the streets of Bengaluru, India. Our partnership helps support the waste pickers with access to more sanitary working conditions, a fair price and the respect and recognition they deserve.
Shop now
Gift of Wonder, $30
Every single body-loving product in this gift is enriched with ingredients from our Community Fair Trade partners, like our Mango Hand Cream and Shea Body Butter, which helps nourish skin from top to toe. Even the handwoven basket that the gift comes in is crafted with love - it's made with recycled paper designed by Get Paper Industry, our Community Fair Trade partners since 1989. And, the basket is reusable, so you can keep on spreading wonder long after the 25th.
Coming soon
Cleanse & Comfort Camomile Gift, $75
For all the party goers this Christmas, our Camomile Cleansing Butter & oils helps melt away makeup and impurities. With soft, reusable makeup remover pads that will help you cut down on waste and feel gentle on the skin, and a handy 20ml size when you're on the go, this gift will leave skin feeling refreshed and comforted in no time. It comes in a beautiful box too, handmade by our Community Fair Trade partner, Get Paper Industry, based in Nepal.
Shop now
"Working in the partnership has improved my economic status, my stable earning means I am able to access health insurance and other social security schemes, giving my family financial security. I am able to send my children to school and enjoy celebrating festivals at home."
Suvarna, Plastic Sorter within Plastics For Change, Mangalore
Gifts that keep on giving
Everyone loves to spoil their loved ones at Christmas, but we know being conscious about how much we're consuming around this time of year is important too. That's why we've rounded up some goodies that can be reused, recycled* or come in re-giftable packaging. This year, we've switched to reusable vanity cases across many of our bath and body gifts, saving paper. Plus, they're perfect for storing all those beauty essentials once all your goodies are used up.
Soothe & Smooth Almond Milk Mini Gift, $22
Discover three mini must-haves, a Hand Balm, Shower Cream and nourishing Body Butter that helps to soothe dryness with 96hr moisture, in our Almond Milk scent. These little surprises come in a reusable cotton pouch that comes in handy for popping in your bag or refilling with other gifts.
Shop now
Oranges & Stockings Spiced Orange Essentials Gift, $40
Filled with a Shower Gel, Body Yogurt and Hand Balm, all infused with the comforting scent of spiced orange to warm the senses. This limited edition gift comes in our new reusable printed cotton pouch - perfect for keeping goodies in all year round.
Shop now
Fresh & Festive Edelweiss Gift, $75
Spoil someone with this refreshing, skin-loving gift. With a Cleanser, Concentrate and Eye Concentrate from our new Edelweiss range, these essentials will leave skin feeling smoother and hydrated. It comes with a stone Gua Sha for revitalising face massages, and a beautiful reusable drawer box that will keep all your beauty tools nice and organised.
Shop now
Naturally nice gifts
Gifts that are made with naturally derived materials, so we can help cut back on the amount of plastic in the environment. For some of our gifts, we also support small-scale artisans who source and craft them.
Konjac Sponge Collection, $20
Our konjac sponges have an extra-fine texture that softens when wet, making it perfect for gently exfoliating and cleansing skin. This set's got a Charcoal konjac sponge to help clean pores and absorb excess oils, a Pink Clay konjac sponge to help leave skin feeling fresh and bright, and a Green Tea konjac sponge to help refresh skin's natural appearance.
Shop now
Jolly & Juicy Strawberry Essential Gift, $45
Inside this body-loving gift you'll find four essential treats in our much-loved Strawberry scent. Plus, they're all wrapped up in a new vanity case crafted from paper that can be used again and again.
Shop now
Hemp & A Hug Body Care Gift, $80
Treat someone you love to our Hemp Overnight Nourishing Rescue Mask, Hemp Dry Body Oil and Hemp Hand Protector. These hardworking heroes help nourish ultra-dry skin. Plus, the 100% natural jute pouch from Teddy Exports, our Community Fair Trade partner since 1987, is perfect for reusing as a stocking next Christmas. Just fill it back up with treats to give your friends.
Shop now