Grapeseed Hair Serum
For dull hair
Fruity scent
Vegan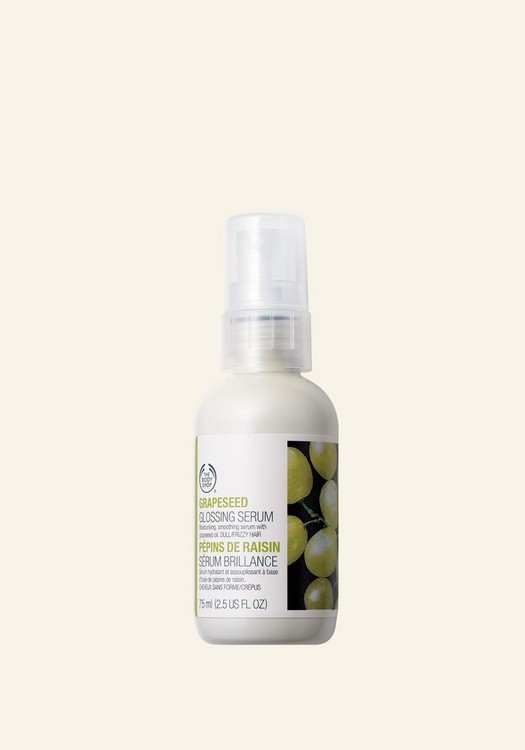 What does it do for you ?
Smooth your hair and increase the shine with this glossy serum. Apply a small amount through your hair for the best results.
Hair serum
Adds gloss
Easily washed out
For dull frizz prone hair
Contains grapeseed extract
Community Fair Trade sesame seed oil
Ingredients
323
---
---
---
Literally amazing!!!!
Grapeseed Hair Serum
I bought this after reading it helps with dry split ends. I don't necessary have the driest ends as I don't use heat on my hair hardly ever. However because I have such long hair down to my bum I need abit more hydration and this serum did not disappoint. The best thing about it is you don't have to style or heat your hair after! I use about 5-10 pumps (I have a lot of hair!) run my fingers through towel dried hair and then I go over it with my wet tangle teezer. Leaving my hair to dry natural with the serum is amazing, my hair feels healthier, split ends are non existent and this was after 1 use! I would recommend this to everyone! I just wish they did a bigger bottle version so I didn't have to buy as often. Btw your hair does not feel oily or greasy at all using this, and I only need to use it once a week! Body shop you have done it again!
Was this helpful?
1 of 6 found this review helpful
---
So shiny and smooth
Grapeseed Hair Serum
Using on damp hair and as a finishing serum, hair is smoother, stronger, shiny and looks so healthy
Was this helpful?
1 of 1 found this review helpful
---
Grape seed hair serum ok but not amazing
Grapeseed Hair Serum
This stuff was nice to comb through wet or dry hair with fingers to take away frizz and you don't need a lot each time you use it. But I would say it's not amazing but maybe because I have straight hair I was looking more for something that makes it shiny
Was this helpful?
1 of 1 found this review helpful
---