Make It Real Together Big Advent Calendar
Christmas gift set
Count down to Christmas with our beauty surprises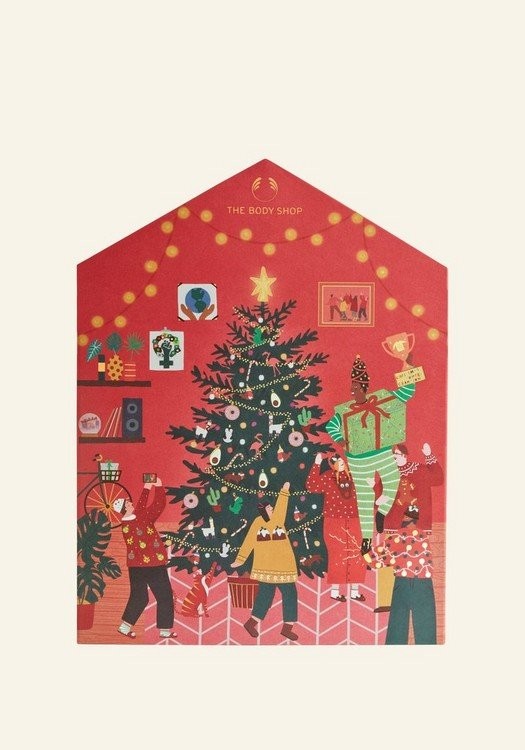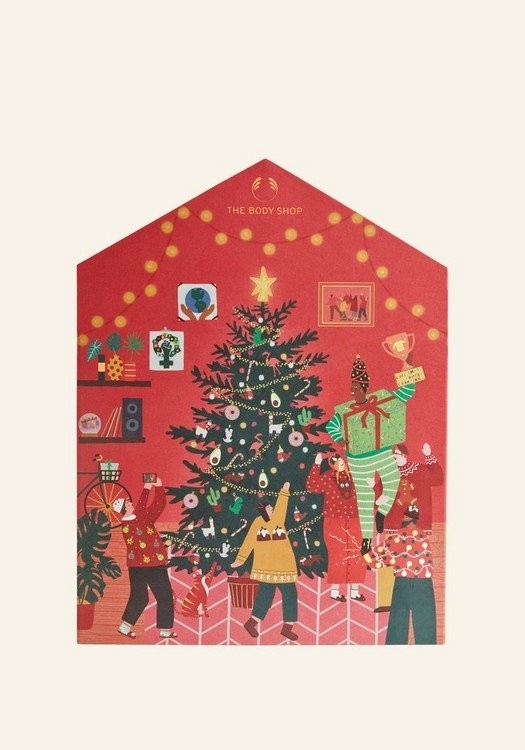 What does it do for you ?
The countdown is on! Celebrate the start of Christmas with our Make It Real Together Advent Calendar. It's packed with surprises to uplift, pamper and rejuvenate, even on the big 2-5.

We don't want to spoil the surprise, but we can't help but drop a couple of (strong) hints. Smooth on our richly-textured Nicaraguan Coffee Intense Awakening Face Mask and let it work its magic – it exfoliates the skin leaving it feeling cleared of impurities and looking radiant. Revive a tired complexion with our iconic Vitamin E Moisturiser made with hyaluronic acid – a true hydration hero. Quench thirsty skin in 15 minutes with our instant-results sheet masks. Smooth on a generous dollop of our full-size ultra-rich, non-greasy Body Butter. It'll leaves dry skin feeling softer and smoother with 48hr moisture. Sweep our full-size Camomile Gentle Eye Make-Up Remover over lids to remove even waterproof make-up. Relax in the tub with our fragranced bath bubbles and let your mind wander.

If you want to feel extra good, share out your treats and celebrate the magic of togetherness this Christmas.
Coconut Hand Cream 30ml
Vitamin C Glow Sheet Mask 18ml
Bath Lily made with recycled plastic
Layers of Fun Nail File
Coconut Lip Butter 10ml
Mango Shower Gel 60ml
Banana Truly Nourishing Shampoo 250ml
Himalayan Charcoal Purifying Glow Mask 15ml
Shea Hand Cream 30ml
Pink Grapefruit Shower Gel 60ml
Coconut Fragranced Bath Bubble 28g
Camomile Gentle Eye Make-up Remover 250ml
Vitamin E Moisture Cream 50ml
Nicaraguan Coffee Intense Awakening Mask 15ml
Banana Truly Nourishing Conditioner 250ml
Strawberry Softening Body Butter 50ml
Nairobi Camellia Matte Lip Liquid 8ml
Vitamin E Quench Sheet Mask 18ml
British Rose Shower Gel 60ml
Mango Lip Butter 10ml
Pink Grapefruit Fragranced Bath Bubble 28g
Vitamin E Gentle Facial Wash 125ml
Star Headband
Seaweed Balance Sheet Mask 18ml
Almond Milk & Honey Soothing & Restoring Body Butter 200ml
Width 36.5cm x Depth 7cm x Height 48cm. Weight 3.02kg.
Ingredients
3
---
---
---
Christmas advent
Make It Real Together Big Advent Calendar
1northernlass1
Posted date:
October 2020
I purchased this for my daughter last year which she loved...I'm sure she will be delighted yet again ..
Was this helpful?
1 of 5 found this review helpful
---
Fantastic
Make It Real Together Big Advent Calendar
Amandar2020
Posted date:
September 2020
This item is fantastic unfortunately I didn't wait to open it. The description list is marker wrong, the banana shampoo and conditioner are both full size not 60ml and 250ml
Was this helpful?
1 of 68 found this review helpful
---
It's huge!!
Make It Real Together Big Advent Calendar
So excited to receive this product today I don't even know if I can wait until December before opening in. Great value for money and fast shipping. Great stuff !!!
Was this helpful?
1 of 83 found this review helpful
---