Healthy-Looking Skin Carrot Collection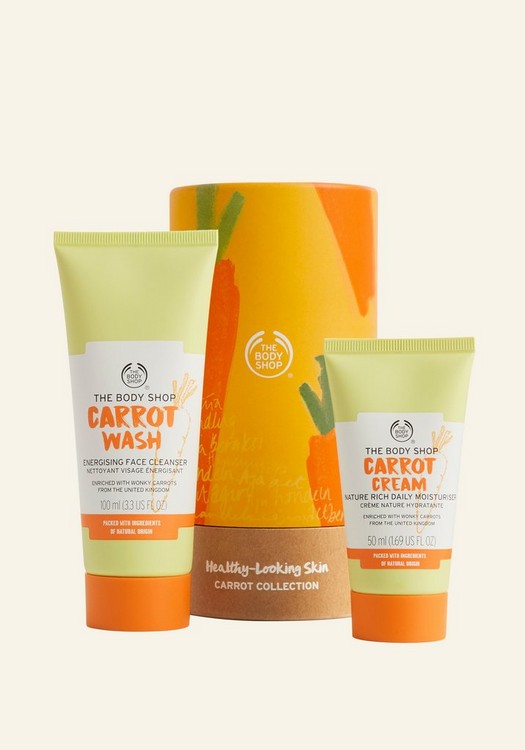 What does it do for you ?
This classic Carrot skincare set is the perfect gift for any-bunny looking to get started in skincare – or anyone who likes to keep it simple. Based on our original Carrot skincare, the Carrot Wash Energising Face Cleanser lathers up instantly for skin that feels cleansed, energised and purified, while the Carrot Cream is a daily moisturiser that helps restore your skin's moisture barrier and give it a healthy-looking glow. Both products are made using organic carrots, enriched with Community Fair Trade organic aloe vera from Mexico.
Ingredients
Community Fair Trade organic aloe vera
Naturally soothing on easily upset skin
Aloe vera is known for being ultra-gentle and soothing on skin. It's helped us formulate our Aloe range to handle sensitive skin with kid gloves.
It's a naturally hardy plant. Our aloe vera leaves are harvested and filleted by hand within 6 hours, which preserves the freshness and makes sure the aloe is the highest possible quality.
We source our organic aloe vera from Campeche in south-east Mexico. We work with expert farmers who really know their stuff, and can harvest the aloe while causing minimal harm to the environment. This is particularly important since the land is close to three precious rainforest biosphere reserves in the Yucatan peninsula.
Read more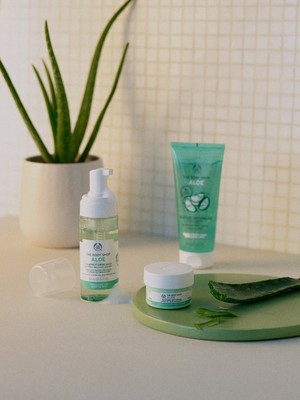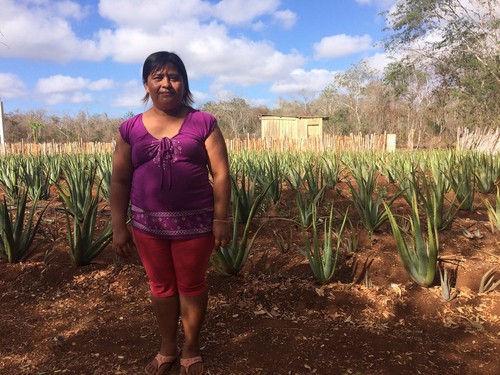 Since 2015, our trade has helped support the indigenous female farmers living on the edge of these rainforests, who could otherwise face discrimination and limited work opportunities.
8
---
---
---
Carrot love
Healthy-Looking Skin Carrot Collection
I'm not sure why I initially picked this product, it sounded wholesome and earthly ... I got it home and slathered it on, immediately a familiar smell filled the room, I was taken back to my pre teen years when I frequented a riding school, I was a little put off by the smell of horses but my husband assured me I didn't smell of a farmyard (to be fair, he's used to me using the hemp range, and that smell is a whole other one to explain!) I was honestly really pleasantly surprised by the carrot range, my skin felt soft and smooth and immediately glowy, the moisturiser is a orange colour when it comes out of the bottle, I wasn't sure if it was that making me feel all glowy, but whatever it is it definitely works! It's perfect under make up, it's not heavy at all but as someone with an oily t zone and dry cheeks it works perfectly! Highly recommend!
Was this helpful?
1 of 8 found this review helpful
---
I love this collection
Healthy-Looking Skin Carrot Collection
This carrot cream and wash products are amazing, made my skin so soft. I'm sticking to this product. The best facial cream I've used.
Was this helpful?
1 of 2 found this review helpful
---
Carroty delight.
Healthy-Looking Skin Carrot Collection
I expected great things on the first use. I expected my face to glow (not an orange glow) & it didn't happen. Of course it didn't. It took a week for my skin to get used to this & now it feels lovely on my face. Its very gentle but moisturising & is great for sensitive skin. Both are orange which I didn't expect, I'm not sure why but it was a nice surprise & I like the carroty scent. It feels very fresh & my skin likes it a lot.
Was this helpful?
1 of 3 found this review helpful
---