Lather & Slather Mango Gift Case
BODY CARE GIFT SET
FOR NORMAL SKIN TYPES
CLEANSE & REFRESH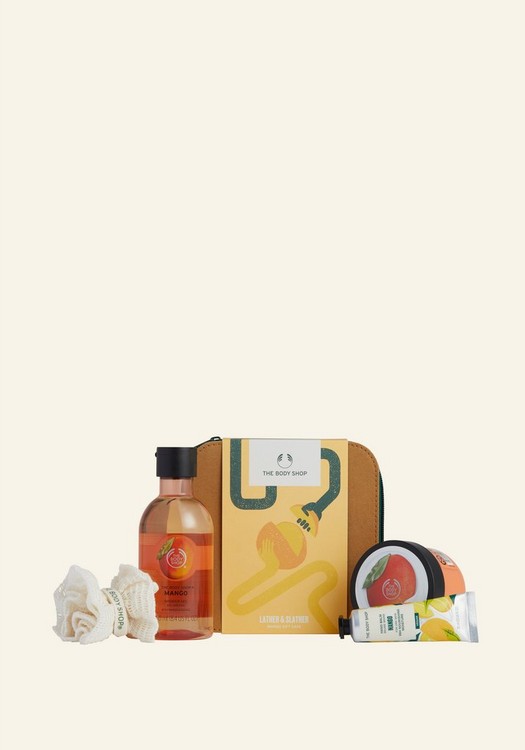 What does it do for you ?
A seriously sweet gift for someone special, our Lather & Slather Mango Gift Case makes the perfect treat for body care afficionados. It will cleanse and moisturise normal skin types and love their unique body from head-to-toe.
But this gift set doesn't just love their body. It supports our Community Fair Trade partners who helped us make it. Our nourishing Hand Balm is made with handcrafted Community Fair Trade shea butter from Ghana that helps provide financial independence to over 600 women across 11 villages.
We also pay a premium on top of a fair price to help invest in community projects. Today, over 49,000 people benefit from this premium fund, including healthcare, sanitation and education projects. So far, six schools and a health clinic have been built from these investments.
And Community Fair Trade mango seed oil from India that helps empower local women, supporting them with job prospects, opportunities for increased responsibility and a steady income.
Our gift case is crafted from FSC-certified paper and made to be reused, repurposed and to hold all the treats.
Discover how else we're supporting communities and fighting for a fairer and more beautiful world.
Mango Shower Gel 250ml
Mango Body Yogurt 200ml
Mango Hand Balm 30ml
Small bath lily
Ingredients
Lather & Slather Mango Gift Case
Community Fair Trade organic almond milk and oil
Nutty goodness your skin loves
We love almond milk and oil for their hydrating, skin-loving properties and rich vitamin E content. We've teamed up with Mañán in Spain (the 'Almond Experts', no less) to produce the Community Fair Trade almond milk and oil in our products.
Mañán are based in Alicante. They work with a cooperative of local, small-scale farmers and set a market price, which helps offer a bit of stability for local farmers.
Mañán use sustainable farming methods to grow their organic almonds. They respect the local environment (including working with the area's water shortages), and their farms are a haven for bees. Almond plantations are natural fire barriers, which helps protect natural habitats from forest fires. Pretty amazing, right?
Discover the Almond range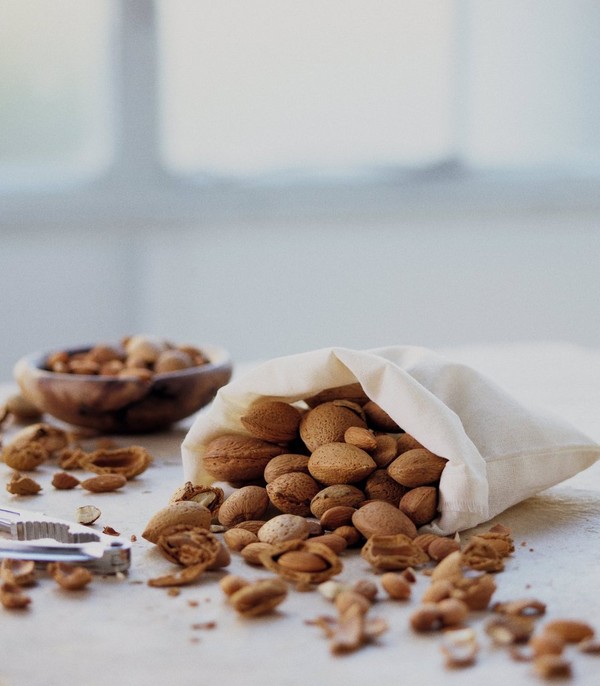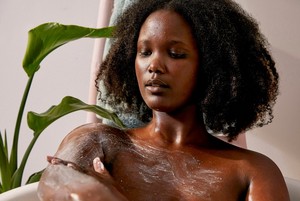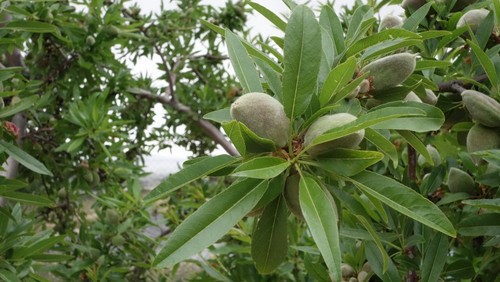 Our organic almond oil is made from broken nuts that aren't usually sold for food, and unwanted almond husks are turned into compost to help minimise waste. It's one way we make sure we're taking care of the planet.
4
---
---
---
Amazing gift case! Little pricey.
Lather & Slather Mango Gift Case
MangoLover3
Time using product:
1 week
Received Free Product:
No
Posted date:
September 2022
I bought this for myself and I absolutely love it! The mango scent is sooo good and all the products work really well. Note: the products look bigger in the picture than they actually are. I use the case for cosmetics during travel and so far I've had no problems! It is a little bit expensive for what you get, but the scent almost makes it worth it!
Was this helpful?
0 of 0 found this review helpful
---
Not good enough as a gift
Lather & Slather Mango Gift Case
Arrived with the case/box dented... I have ordered this as part of a birthday gift but looks shabby... The products inside the cardboard gift box I cannot comment on as it was for a gift.
Was this helpful?
0 of 0 found this review helpful
---
Goodies
Lather & Slather Mango Gift Case
Was this helpful?
0 of 0 found this review helpful
---