Creamy & Dreamy Coconut Mini Gift
FOR VERY DRY SKIN
CHRISTMAS GIFT SET
96HR MOISTURE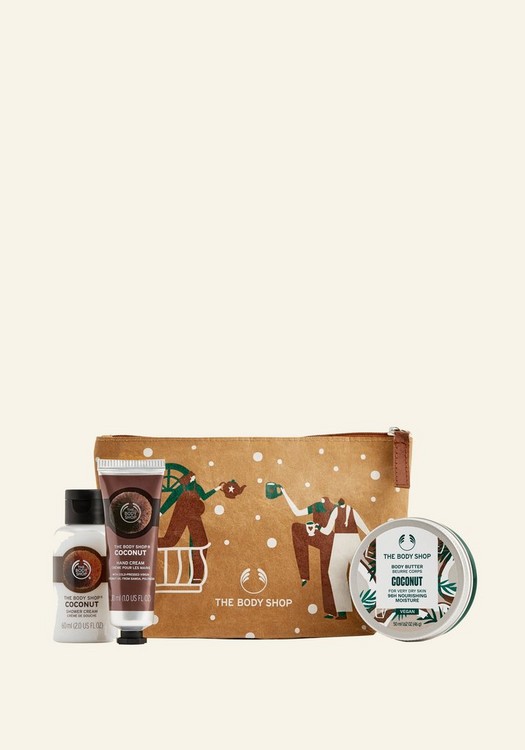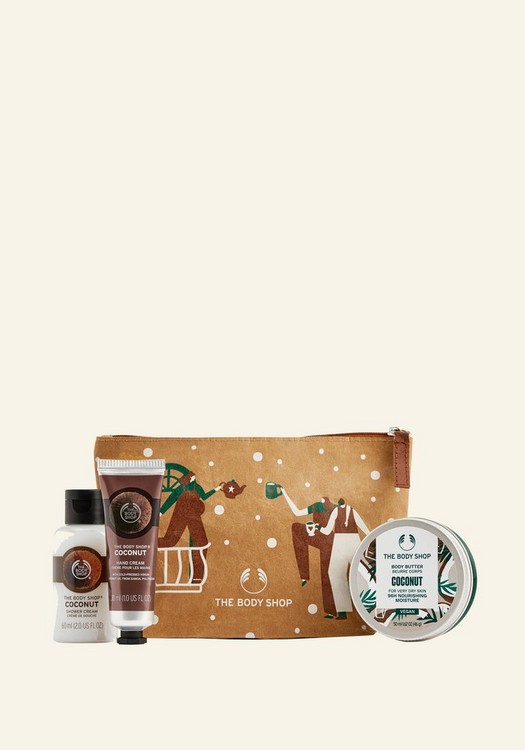 What does it do for you ?
Give very dry skin the TLC it deserves with our Creamy & Dreamy Coconut Mini Christmas Gift set.
Bring on those bubbles! Start by lathering up and gently cleansing skin with our nutty-scented Shower Cream.
Next, towel dry and slather on a dollop of our nourishing Body Butter. Intensely creamy, it's vegan and made with 96% ingredients of natural origin, including Community Fair Trade organic virgin coconut oil from Samoa. It leaves that beautiful body feeling softer and smoother with 96hr moisture.
Finish with our hydrating Hand Cream. Just squeeze, smooth on and rub those hands together whenever palms and pinkies need a little pick-me-up.
Slip this Christmas gift into their stocking or give as a Secret Santa surprise.
This gift doesn't just bring joy to the people you love. Discover how it also helps spread the love and share the joy with the most selfless people in our community.
Coconut Shower Cream 60ml
Coconut Body Butter 50ml
Coconut Hand Cream 30ml
Ingredients
Community Fair Trade organic olive oil
Liquid gold for your skin (and your salad)
Just ask our friends in the Mediterranean about olive oil – this skin-softener's been used for thousands of years to take care of skin. It's one of the reasons it's known as the 'liquid gold' of the Med.
The olives that make the oil in our products are indigenous to the Cilento National Park in Campania, Italy. The farmers employed by our Community Fair Trade partners, Nuovo Cilento Cooperative, hand-harvest the olives using traditional techniques that are handed down to younger generations.
The olives are then cold-pressed to extract high-quality oil. The method is organic, and no pesticides are used. The olive husks are even reused as fertiliser, returning nutrients to the soil of the groves.
Discover the Olive range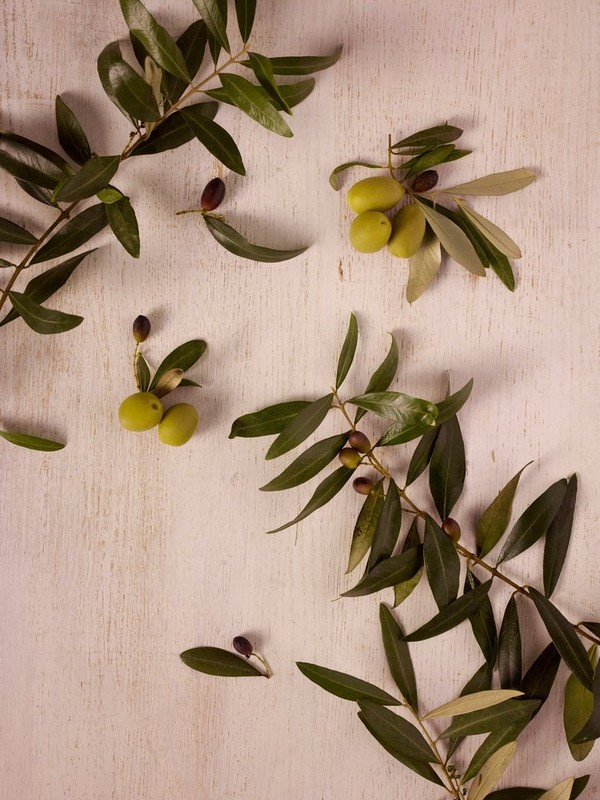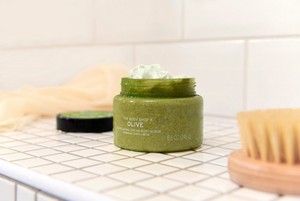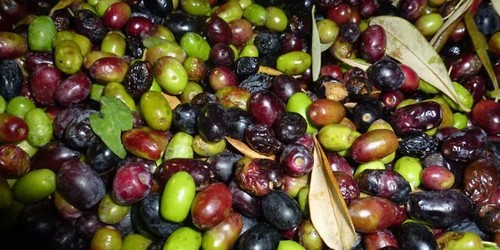 We've worked with Nuovo Cilento Cooperative since 2000. The partnership has a positive impact on job opportunities in this rural area, where there's a risk of unemployment and migration.
15
---
---
---
Great for teenagers
Creamy & Dreamy Coconut Mini Gift
Riss freckles
Posted date:
December 2021
This is great little gift and smells so lovely my niece has been asking for this gift for a couple of months
Was this helpful?
0 of 0 found this review helpful
---
Coconut Gift set
Creamy & Dreamy Coconut Mini Gift
Mollie Larcombe
Time using product:
1 week
Lovely little gift set, I would recommend this product.
Was this helpful?
0 of 0 found this review helpful
---
These are the only products that help my dry hands
Creamy & Dreamy Coconut Mini Gift
Eren Jäeger
Time using product:
1+ month(s)
Posted date:
February 2022
I absolutely love these products! I work in a produce department where my hands are constantly exposed to cold temperatures and then warm, and then cold again. That, plus the winter dryness, means my hands are always cracking and bleeding which is really nasty. My aunt bought me these for Christmas and I'm not even kidding when I say it has saved my hands. The smell isn't super overpowering either. Love them!
Was this helpful?
1 of 1 found this review helpful
---