Tea Tree Night Lotion
For blemished skin
Hydrating
Vegetarian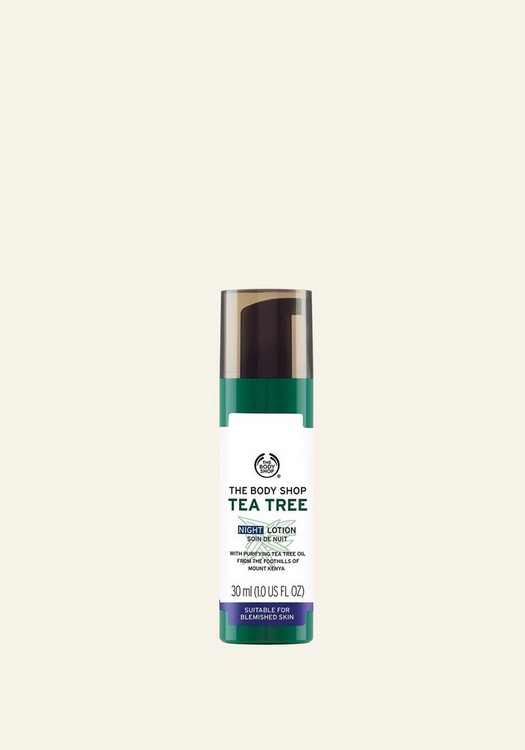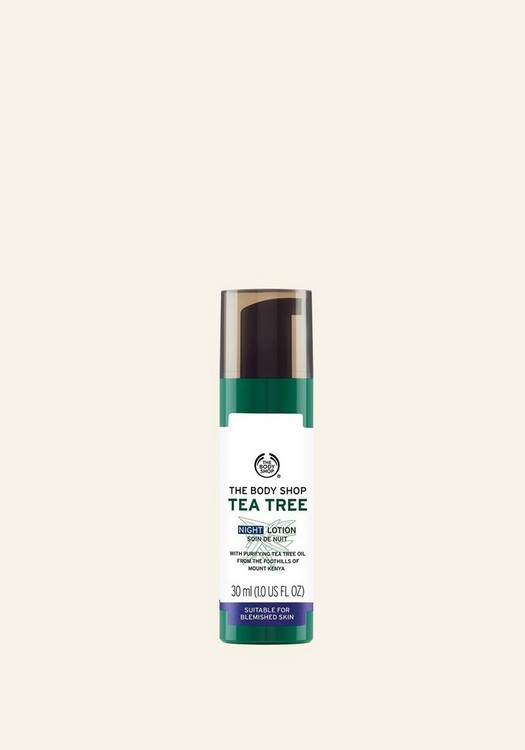 What does it do for you ?
Our Tea Tree Night Lotion helps you snooze your way to dreamy looking skin. Blemishes? Time for this little guy to get to work.
While you sleep your skin is in recovery mode and so it's the perfect time to slather on some hard-working skincare. This lightweight night lotion helps your skin feel moisturised while absorbing excess oil and sebum, so you can wake up to refreshed skin that looks and more balanced. Sounds like a dream, right?
Sourced from thousands of tea tree leaves in Kenya, The Body Shop's Tea Tree Night Lotion is enriched with Community Fair Trade tea tree oil. This not only helps the local farmers, but also funds community projects in the local area. It's a real winner, and your skin will thank you too.
And if you're on the hunt for more than just a night lotion, The Body Shop's Tea Tree range is full of more blemish-battling goodies.
Enriched with Community Fair Trade tea tree oil from Kenya
Helps balance excess oil while keeping oily skin hydrated
Formulated for blemish prone skin
A bit of overnight TLC to help with the appearance of blemishes
Ingredients
Community Fair Trade tea tree oil
Small but mighty
Known for its naturally purifying prowess, tea tree oil has always been a winner for oily and blemished skin. That's why we love it in our Tea Tree skincare range.
Our Community Fair Trade tea tree oil is sustainably sourced in Kenya. We partner with a number of independent farmers who steam-distil the leaves within 12 hours of harvest, to make sure we're bottling our purest and most potent oil. The oil from around 15,000 tea tree leaves goes into every 20ml bottle of Tea Tree Oil.
We take a lot of pride in making sure we source the highest quality ingredients, while making sure they're having a positive impact on people and the planet.
Discover the Tea Tree range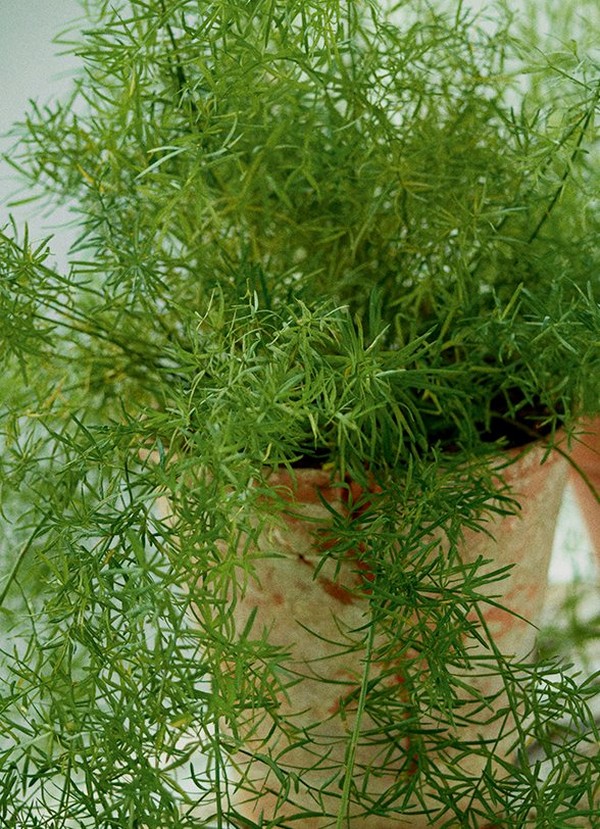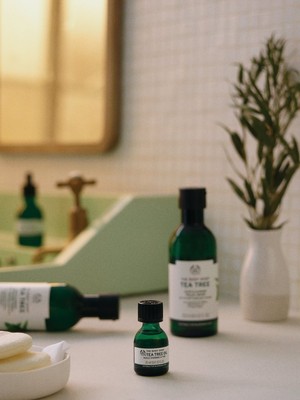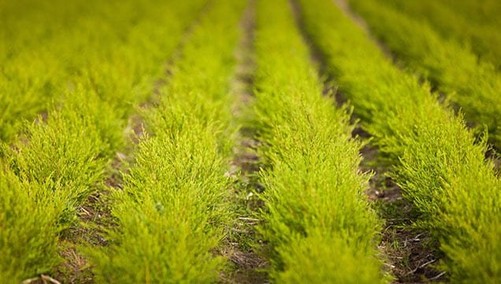 Our trade provides a fair price and stable income to hundreds of farmers belonging to Kutoka Ardhini (which means 'from the ground' in Swahili) in rural Kenya, where employment opportunities are low.
72
---
---
---
Can't go wrong with this one
Tea Tree Night Lotion
Sharaa
Posted date:
September 2021
Omg ! This product has changed my life. I've used the most expensive face cream and serum to get rid of my acne and none of them lived up to my expectations or cleared my acne.Amazing product for acne prone skin and feels really good post application. Must try and you'll never regret it.
Was this helpful?
0 of 0 found this review helpful
---
IN LOVE
Tea Tree Night Lotion
imanz03
Time using product:
1+ month(s)
Posted date:
September 2021
I bought this product about 4 months ago, and i would never leave it out of my skin care routine!!! I am working on my blemishes, and this lotion is just amazing!!! it feels beautiful on my skin, leaving it moisturised, glowy, and clean! I have noticed a significant difference in the prominence of the blemishes on my forehead and on the corners of my mouth. I was sceptical to begin with, but this product has been nothing but perfect for my skin!! I was setting up my skincare routine with a body shop employee, and she said that even though its night cream, it is perfect for daytime as well! I use it in both my morning and night routines!
Was this helpful?
0 of 0 found this review helpful
---
Must have for spot treatment
Tea Tree Night Lotion
Sonia L
Time using product:
1+ year(s)
A trusting product that has been in my skincare routine for many years. It is excellent for treating acnes scars and pimples.
Was this helpful?
1 of 1 found this review helpful
---