Strawberry Soap
Fruity scent
Vegan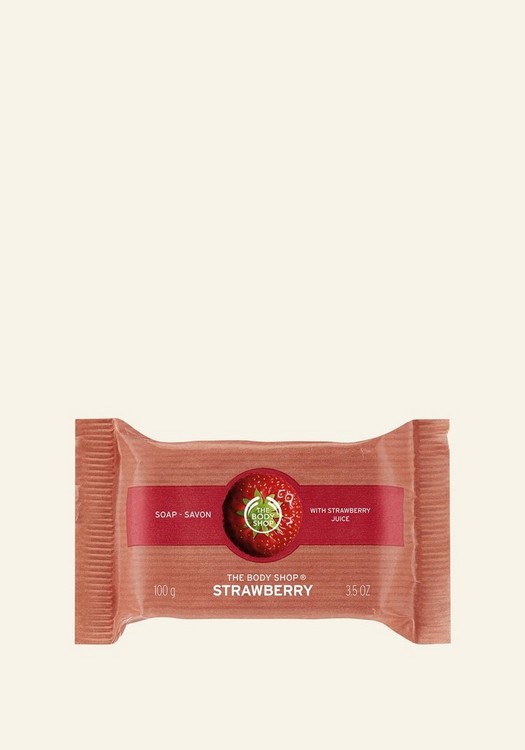 What does it do for you ?
Wake up your shower with fresh bursts of strawberry. Work this vegetable based bar into a rich lather for skin that feels thoroughly cleansed. Strawberry seed oil will leave you feeling softer and hydrated.
Soap
Non-drying
Leaves skin cleansed and feeling softer.
Generous lather
Vegetable based bar
Cold-pressed strawberry seed oil
Certified sustainable palm oil
Ingredients
60
---
---
---
Doesn't meet expectations.
Strawberry Soap
DaleIcious
Posted date:
September 2020
Smells great in it's dry state, and smells better than the mango soap during use - not as strong as I would like, the fragrance is more subtle. Much like the mango soap, the soap does not leave it's scent on the skin, which I would have preferred rather than not, and also leaves a chalky feel to the skin - skin feels dry even though it's wet.
Was this helpful?
1 of 2 found this review helpful
---
Beautiful scent
Strawberry Soap
I've been swapping my favourite shower gels to soap to save on plastic, and I have to say this soap smells lush. Feels clean after and smelling fresh
Was this helpful?
1 of 3 found this review helpful
---
Strawberry soap
Strawberry Soap
Stormy 01 by
Time using product:
1+ year(s)
Strawberry soap has a lovely fragrance and makes you feel lovely and fresh
Was this helpful?
1 of 2 found this review helpful
---